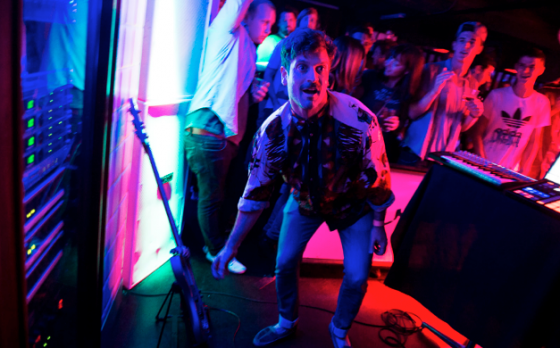 Following the phenomenal reception of his two latest releases on Future Classic, Show Me and Pizza Guy, I sat down (via Skype) with Australian producer Touch Sensitive to find out everything there is to know about him.  Touch Sensitive's latest release, a remix of Permission To Love by Hayden James, is out now and it'll blow you away. Give it a listen down below.
Hey man, how are ya today?
Very well, thank you, haha.

Tell me a bit about yourself , what are some need-to-know tidbits?
I'm from Sydney, Australia, I enjoy collecting records and cats (I only have two cats so far, they're Burmese brothers called Kevin and Cosmo). I also until recently had a very healthy synth collection but I've trimmed some fat because they cost so much in repairs and I'm not going to learn to fix them anytime soon, so…

Now where does the name "Touch Sensitive" come from?
Not 100% sure as they were hazy days, but it probably had something to do with synths. That's a difficult question — I need to make some calls, haha.

Can you explain your aesthetic to me? The cover art for Real Talk and Pizza Guy is gorgeous.
I agree. All the Future Classic artwork is done by their Art Director, Jay Ryves. The funny thing is with that stuff is that with the Pizza Guy artwork, somewhere along the line I accidentally stopped being CCd, but when I saw it on the Amazon pre-order page I really liked it. It's not very often you get artwork back from someone and like it first go, so obviously we're on the same page.
That's hillarious, haha…. .ahhhh. Anyway, when did you start making music?
I started making music in about 1998. I sold my double bass and went halves with a friend of mine in a 909 drum machine and an EMU sampler. I remember being at an American house night in Sydney — it was called Stateside, and they had DJs like Paul Johnson, Mark Farina, DJ Gemini, Gene Farris, Stacey Pullen, Roy Davis Jr — and hearing looped disco for the first time. Being a bass player studying performance and composition and, in particular, minimalism at university, it was just really cool. This was, as I said, in 1998, when electronic music was made with actual electronics, rather than with a computer, so I didn't immediately know they were disco samples. I was blown away by the discipline of the loop, and how someone could play the same thing over and over so well. I became obsessed with loops and disco records.

Why did you start – was there a catalyst? Who was the inspiration for your first productions?
I was at university and I heard Daft Punk's Homework, which is when I decided I didn't want to play double bass in an orchestra, or try to be Stanley Clarke. I started buying records based on the year it was made and what instruments were in the credits, for example if there was a Prophet 5 or a LINN Drumlisted in the credits I'd buy it.

What's your production setup? Favourite piece of equipment? 
Dave Smith Instruments — my Prophet 12 with serial number 24 arrived in the country today, I'm just about to go and pick it up, so I'm very excited. Native Instruments Maschine, MPC 3000, MemoryMoog, and I love the UAD stuff, this all goes into Ableton or sometimes Logic depending on how I'm feeling.

There's a one year gap between the oldest track on your SoundCloud and the next. Can you explain the hiatus?
I've been busy with another band that I'm in, and never really had time or felt like it was the right time. Now I feel like it's time, and I play keyboards in my other band, whereas this is bass-focused, and it's exciting to be responsible for the way people move again.

Do you have any upcoming projects that you can talk about? Instagram tells me that you've been hanging out with Flume.
I'm always working with other people. Flume and I sometimes hang out in the studio, but we're mainly just swapping samples and listening to stuff.

I understand you'll be in North America for some time this summer. Is there anything specific about the visit that you're excited for? Can we expect a Boiler Room LA set from you?
Yes, I'm very excited to be coming to America. I'm not sure about a Boiler Room set but I do have lots of shows booked and also a tour that I can't talk about just yet.

Do you stick to your production style when you play shows, or do you branch out more?
I try to branch out. I include some extra edits, I improvise sections, and it's also quite a bit faster tempo-wise.

What's the best track you heard this week?
My girlfriend showed me a track by a Japanese producer, KZA, called 'Le Troublant Acid'. I put it in a mix I made this week, in fact.

Alright, I just have one last question and I'm sure that it's one that our readers are dying to know: It's 3am and you're drunk in McDonald's somewhere in Sydney. What do you order? 
I'm more of a Hungry Jack's person, and I get a Junior Whopper with no cheese.
Touch Sensitive on:
SoundCloud |Facebook | Twitter