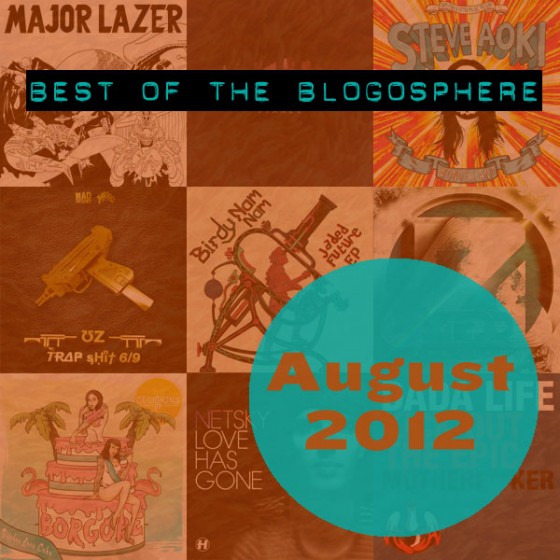 Hey Salacious Sound readers! My name is Filippo and I'll be taking over the Blogosphere article every month! As head of the site, Cal has been super busy so he passed the torch down to me! Don't worry, I'm going to deliver the same great content you guys have grown accustomed to.
This months edition might be a bit longer than past editions, I'll be covering June-July in this issue. I've had a blast writing for the site and I couldn't be more excited to be covering this article every month! My goal every month is to bring you more variety than before.
This edition will feature two standout tracks!
Standout Tracks
Madeon-Finale

Hot Chip – Look at Where We Are (Major Lazer vs Junior Blender Remix)


Moombahton
Nicky Da B – Express Yourself (Skullee Bootleg)

Victor Niglio-Disco Bitch

Steve Aoki-Control Freak (Dillon Francis Remix)

UZ-Trap Shit V7 (Kid Antoine Moombah Fuckup)

Invader!-Moomvader (Get Loose)

Birdy Nam Nam & Skrillex-Goin' In (Victor Niglio's Goin' Harder Mix)

Major Lazer-Original Don (Sazon Booya Edit)

Zedd-Spectrum (Bobby Duque Remix)


Trap
Dada Life-Kick Out The Epic Motherfucker (Ace Future Remix)

D!rty Aud!o-Pourin' Up

Dillon Francis-Masta Blasta (THE REBIRTH)

UZ-Trap Shit V7

Birdy Nam Nam-Goin' In (Skkrillex Goin Down Mix)


Dubstep
Skism & DC Breaks-Killer Feat. Dee Freer

501-Chasing Stars

Borgore-Decisions

Tim Ismag-I made this for you

Dada Life-Kick out the epic motherfucker (Datsik Remix)


Drum N Bass
Netsky-Love Has Gone

Rusko-Thunder (Tantrum Desire Remix)

Birdy Nam Nam- Goin In (Goin Hard Remix)

House
Usher-Scream (R3hab Remix)

Griz-The future is now

3LAU-Guilty Pleasure 93LAU Bootleg)
Swedish House Mafia – Don´t You Worry Child, You Won't Fade Into Darkness (Jakob Liedholm Edit)