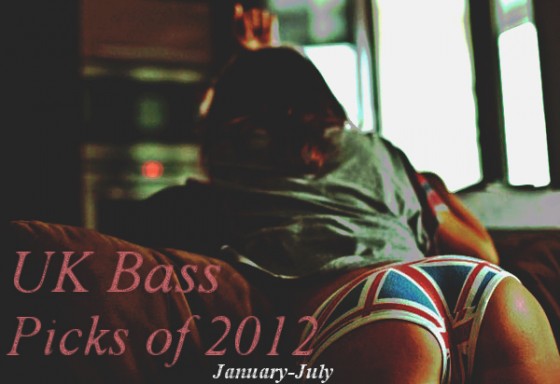 Much has been written about the ambiguity of this genre, with UK Bass transcending mellowed-down dubstep, hyped-up electronic dance and everything in between. Yet many of these artists endear themselves to a wide range of musical taste palates; the love of a good bassline is really all that counts here, and everything else is as abstract and ever-changing as the definition of this genre.
Not content with providing the world with David Beckham, the British Isles are producing some of the hottest talents on the EDM scene today. Here's a brief look at some of the UK Bass releases setting high standards for the rest of 2012.

TNGHT – TNGHT EP
Beginning this list with one of Montreal's hottest properties doesn't really count as UK Bass, but the collaboration of Canada's Lunice & Glaswegian Hudson Mohawke results in bass's first supergroup, TNGHT. Anticipation for this EP has genuinely been scary; rarely has 5 minutes of an EP's snippets generated so much hype, but TNGHT pack more energy into 30 seconds than [insert your own embarrassing lovemaking tale here]. The hip-hop influences from Lunice are seriously hard-hitting, whilst HudMo patches together the most obscure, yet  replayable, R&B samples into a clean sound – this EP could be something special.
Kidnap Kid – Alphaville EP
An emerging star of London-based label Black Butter, Matt Kidnap is a fine exponent of taking the softer, slower elements of old-skool two-step and adding the heavy basslines that are so heavily associated with UK Bass music. With support from the likes of Diplo, Skream, Bassnectar and others, it'd be unjust to simply state that Kidnap Kid makes good beats; tracks such as "Lazarus Taxon" are a great demonstration of layering smooth vocals over a progressive, yet never overwhelming set of clicks & whistles. And with the accompanying video for "Vehl" having enough Nouveau Vague references and black-and-white symbolism to evoke the hipster in all of us, the Alphaville EP is a terrific portrayal of what UK Bass has to offer.
Burial – Kindred EP 
The shy & elusive Will Bevan has gained an almost cult-like following of devoted fans, with Burial's releases & YouTube tracks rarely generating discussion on his music itself, but rather all the emotions and evocation produced from his songs. Yet for those of you unfamiliar with this artist, it really is no exaggeration to describe the south Londoner as a revolutionary post-dubstep artist; given "Ashtray Wasp" – a 12-minute composition of otherworldy vocals, fragmented percussion & simply genius music production – you'll soon realise that listening to Burial is a thought-provoking and conversation-starting experience of its own. Fans and journalists alike are unrelenting in their verbal masturbation over this guy, and whilst many people struggle to engage with Burial – long stretches of the Kindred EP are nothing but white noise – you just can't argue that Burial is an intriguing player in the UK Bass scene.
Two Inch Punch – Saturn: The Slow Jams
Okay, a change in mood is needed; UK Bass isn't as dark as this article's making it out to be. And with Two Inch Punch promoting the notion of "lovestep" for several years now, young producer Ben Ash makes bass-heavy music saturated in warm, swoony synths – bringing a real Valentine's Day feel to the loneliest of July evenings. The captivating, melodic swings heard in "Moonstruck" have been covered by Salacious already, and with offerings like Saturn: The Slow Jams, Two Inch Punch could very well be at the heart of UK Bass in years to come.
Saulya – Effort Isn't Enough EP
A product of the influential bass music scene found in Nottingham, Saulya demonstrates yet another dimension of UK Bass, drawing upon futuristic-sounding synths and bleeps in his productions. On first listening, it may feel as though tracks such as the opener "effort Isn't Enough" lack great depth, yet what remains unshakeable are the funkiness, the bounce, the verve this artist offers. Arguably best demonstrated in EP highlight "I Don't Want To Sleep", Saulya might not be a name making the rounds as frequently as other artists in his field, yet there's plenty of reason to hold high hopes for this artist's future releases.
Lockah – When U Stop Feeling Like A Weirdo & Become A Threat
The word epic is often bandied around without much consideration, yet Edinburgh's Lockah deserves an award for this release's artwork alone. A hugely influential member of Scottish music's dance/hip-hop/trap/etc. scene along with bass giants Rustie & Hudson Mohawke, this powerfully-titled release is a compelling listen. Consistently heavy-hitting throughout, Lockah goes hard in every track; as the beautiful Sydney J will hopefully cover in greater depth, this free release from the legendary Jeffree's blog is yet another highlight of 2012 from British shores.
Hopefully you've gained a bit more insight into some of the UK's emerging talents; keep an eye out for other artists & releases coming your way too, as the UK Bass scene is looking very, very healthy indeed.
Like what you heard?
I write about British stuff 'cos I live there too! – @londontimi