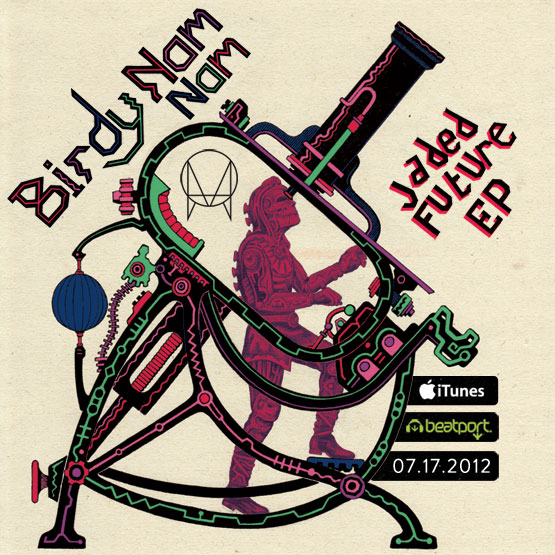 If interested you can buy 'Jaded Future' from these outlets:
French collective Birdy Nam Nam are ready to take over the world of EDM stateside. It seems like everywhere else this four piece have been garnering fans. Their previous release 'Defiant Order' was one of my favorite albums of last year.
Their sound doesn't focus on one genre which always keeps the flow of their tracks fresh and exciting. Ranging from Electro House to Trap, there is enough variety to please almost every listener. The three original tracks on this EP are just the standout songs off of 'Defiant Order'. While the original tracks are great, the remixes included are the what makes this EP a must have. Skrillex, Foreign Beggars, and Culprate are just some of the names featured here. Each remix is fantastic, Culprate's and Skrillex's being the standout ones.
Jaded Future
'Jaded Future' was one of the first Trap songs I heard originally last year, now it seems like Trap is blowing up everywhere. 'Jaded Future' is riddled with textures not normally found in Trap music. Vocal glitches and razor like melodies are everywhere while the bass is deep and hard hitting. Compared to the version released last year the production on this is a lot better. It's the same song but it sounds "clearer" and more finalized. The song is amazing but it feels like it ends to soon.
The first of the two 'Jaded Future' Remixes are done by Foreign Beggars. Their vocals are wonderful here, they fit perfectly with the original beat. The only change they have made to the original is that they have looped a small section. Even though I haven't always liked Hip-Hop, the Beggars have always appealed to me. Their lyrics aren't always about the typical themes found in modern Hip-Hop. This remix is a proper Hip-Hop rendition of the original.
Pelican Fly is the next remix for 'Jaded Future' and it's also stellar. Pelican's remix is riddled with future sounding synths while amping the bass up. It almost feels like a complete new song with all the new textures added. But Pelican retains the original structure while adding his own flavor. Not as great as the previous remix but a great addition to the package none the less.
Goin' In
This song is hard to classify what genre it is. Fusing Trap with Electro House, this song is ridiculously catchy. I've never done drugs before, but the video and the song combined is what I imagine an acid trip would be like. The overall flow of the song is euphoric making 'Goin In'  the standout track on the EP.
Skrillex's remixes are what have brought Birdy Nam Nam into the spotlight for a lot of people. His two remixes included, aptly titled "Goin Hard" and "Goin Down", are both unique takes on this already badass track. The "Goin Hard" remix is a DnB banger that has a fast flow. I had to press repeat multiple times before moving on to finish the EP. I can't express enough how much I love this track. The end drop is one of the heaviest bass lines I've heard in a long time.
'Goin Down' is a trap remix that is just as great as his other. Trap really seems to be blowing up lately, I personally love the genre and I can't wait to see what comes of it. When this song was released I instantly saw comments of people saying "Skrillex ruined another genre." I hate that kind of mentality, its one of the main problems in our community. Let artists experiment with their style, great things will come of it. 'Goin Down' is a great example of that. It keeps Skrillex's signature style while showcasing his ability to experiment, with wonderful results.
French Fries is the last remixed showcased here. He takes a laid back approach to the song, even making the vocals at a normal level. Not my personal favorite but I respect the direction taken here. Its placed perfectly in the EP, it slows down the hectic fast paced feel from the songs before.
Cadillac Dreams
'Cadillac Dreams' is the mellowest original track on the EP. Featuring the vocals of Teki Latex. The song keeps the unique feel that Nam Nam has developed. The entire feel of the song is euphoric and slow. My only complaint with this track is after a few listens it grows slightly old. Luckily the remixes spice this song up again.
One of my personal favorite young producers, Culprate, turns 'Cadillac Dreams' into an awesome banger. His signature bass really compliments the deep vocals of the original. Changing the synth style of the original melody into a more accesible one really molds 'Cadlillac Dreams' into one of my favorite remixes of the year.
The last remix is done by Soufien 3000. Give this song a few replays to really develop. I hated it at first, but with each listen I found another layer that I enjoyed. The bass is easily the heaviest found on the EP.
Birdy Nam Nam is here to stay. This EP is a great way to introduce EDM fans stateside to their unique style. One of the best packages of this year, 'Jaded Future' is a must have. Skrillex, Culprate, Foreign Beggars, and others really make this EP what it is. With their next full length album coming out in October, I for one can't wait to see what they offer. The bird is the word.