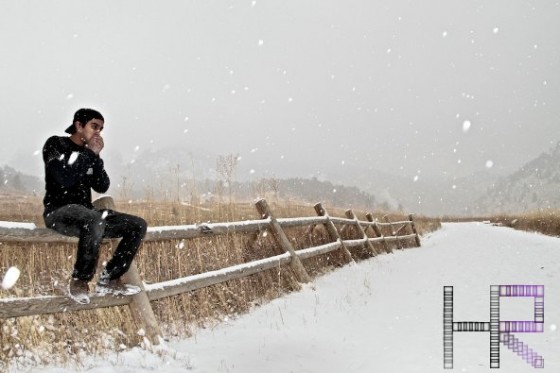 Denver is arguably becoming one of the fastest-growing hubs for EDM, thanks in no small part to a collection of dedicated artists and unique venues capable of hosting some of the biggest names in the game: Avicii, Bassnectar and Zeds Dead, to name but a few. There's undoubtedly an aura of excitement in the air, and Hollidayrain is one of the artists making sure to breathe it all in.
Sreyas Krishnan started experimenting with music production in 6th grade when his music teacher gave him MidiSoft scoring software. Once comfortable with melodies, he developed a taste for dance music upon hearing Tiesto's 'In Search of Sunrise' compilations. Over time his penchant for layering striking melodies over dance-worthy beats led to his comfort producing progressive house and electro house. That doesn't prevent him from releasing something totally off the wall, however, whether it be glitch hop or dubstep. He's not afraid to tackle some well-known songs either, as evidenced by his remix of 'Wake Me Up When September Ends.'
Sreyas attended the University of Colorado in Boulder, though he admits that despite his major in mechanical engineering, he often found his attention elsewhere.
"Instead of taking notes, I would make lists of music goals, and sometimes, I'd even sneak my laptop into class and produce a little bit. It was pretty bad. Nevertheless, I graduated comfortably in 4 years — I guess I did just enough work to make it."
Now that he's earned his degree, he's looking to land a club residency in either Denver or Boulder, and to start pushing out some of his biggest tracks, which he does on a regular basis through Soundcloud. The best part is, there's no sign of slowing for this talented young producer.
"I'm excited that my generation of producers (Madeon, Porter Robinson, Mord Fustang, etc.) are infusing a previously stagnating genre with musicality and originality, and I expect this to continue in a big way. EDM is becoming more about the 'M' than the 'D.' And I think that's wonderful."
When it comes to engineering beats, Hollidayrain is certainly one to keep a close eye on. Look for his new stuff on Soundcloud and Facebook