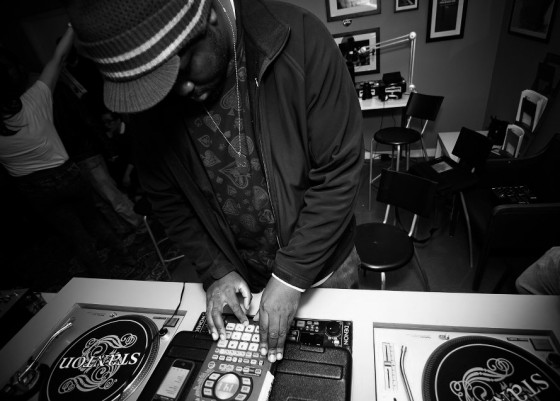 After Kaytranada's recent release on HW&W Recordings I was interested to find out what other gems this Los Angeles label was hiding. This search brought me to the SoundCloud of Ontario producer, Elaquent. I was immediately hooked on his sound after listening to his remix of Huron River Drive, and the tracks kept getting better as I progressed through his catalog. A few words with his manager, William Cole, later and I was sitting in the California sun with a blue Gatorade in one hand and my phone connected to Skype in the other. Enjoying that track up above? Well, read on, there's plenty more where that came from.
—————————
Tell us a bit about yourself.
My name is Elaquent. Beat-maker, producer, hip-hop, a little electronic. I'm from Guelph, Ontario. I've been doing this for a few years now.
What do you produce with?
I'm all software. I use Fruity Loops with a bunch of midi interfaces and I have an SP-404 that I rock with for live sets.
How did you get started making music?
For me, always being a hip-hop fan as a kid my older brother briefly got into rapping and we always had this 'whatever you can do, I can do better' sort of mentality. I wasn't a very good rapper, haha, but I liked production so I got curious in the 8th grade and I've kept doing it since then.
Really? That's pretty young.
Yeah, well I mean I wasn't good back then… I was just clicking boxes and I didn't really care, haha. It wasn't until university really that I tried to be somewhat serious with it.
How would you describe your style?
That's tough to say. I always throw hip-hop as the main foundation, but I think I'm more well known for my laidback, vibing, almost neo-soul type stuff. But I guess I go through phases. Like I went through this video game phase where I did nothing but 8-bit Nintendo kinda stuff. Ultimately though I guess I'd describe my style as… I dunno! I don't really trip out too much on labels, I just make what I like.
Do you think that where you live has an impact on your sound?
Well, Guelph…
…Does it have a good music scene for what you make?
As far as specific stuff that I do… no, haha. At least, if there is a good scene I've clearly been living under a rock. That doesn't really bother me though, I don't want to be defined so much by where I come from. Some people don't even know that I'm Canadian at all and that's fine, all that matters is that I keep making stuff that I enjoy making.
Who would your biggest influences be then? If it's not the city that you're from then you have to have some artists that play a large role in shaping your sound.
I guess it depends on my mind-frame and when you listen to my songs you can make some pretty educated guesses as to who I grew up idolizing. Guys like Dilla and Mad Lib, that's not really a surprise to anyone. Some of my biggest influences come from my friends, to be honest. Guys that are doing good music too.
————
I hope you all enjoyed learning about our Introducing artist this week. Be sure to check out the links down below for more from Elaquent!
Elaquent on:
SoundCloud | Facebook | Twitter