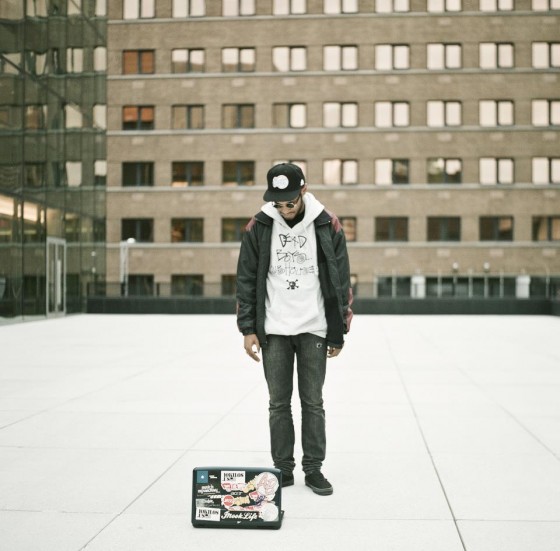 Hands down my favourite up-and-coming Montreal producer, I got a chance to talk music with Kevin Celestin this weekend, better known by his production alias, Kaytranada. He's one of the brightest stars on the East Coast at the moment, and I'm proud to add him to the Introducing ranks.
Tell us a bit about yourself. Where are you from, what sort of music you listened to growing up; that sort of thing.
Well, I was born in Port Au Prince, Haiti. Shortly after I was born, my family moved in Montreal. Growing up, while my dad was painting he used to play a lot of music around me from Pink Floyd to Bob Marley to Michael Jackson to Louis Armstrong and the list goes on. Then my big sisters had this VHS tape full of 90's R&B and Hip Hop music videos that they recorded. So that's where I got my love for the music in general.
When did you get started producing music?
I started making beats in late 2006, I was djing with virtual dj then my lil brother told me about FL Studio. I knew what It was but I didn't know how to use it. Somehow he knew the basics, so next you know, it was on.
What's your setup?
My setup is my laptop with VirtualDJ in it. A lot of people looks at me funny because I use this easy software that has nothing special but really, its how you use it. I'm comfortable with it. Sometimes my homie Dr. Mad lends me his midi controller.
Who are your biggest influences? Do you try to model your work after any specific artist or style?
My biggest influences are Dilla, Madlib, Tribe Called Quest and really anything during the early 80's of r&b & funk in general.
I used to try and model myself after other people, but now I'm trying my best to do me and really break free.
Can you talk a bit about your creative process? (What are the first steps you take when starting a new project?)
To be serious I don't know, everything happens randomly or some things got to happen to me for an example that "If" Remix, I just got back from this amazing Flying Lotus concert so I got inspired. I started doing a 86-bpm at 4 in the morning with that Janet Jackson sample then I randomly speed it up to like 108 bpm and it sounded nice so that was the result.
Correct me if I'm wrong, but you used to go by Kaytradamus I believe. Why the change?
I decided to change the name because I wanted to be unique. I started this stupid "trap" shit randomly and then Flosstradamus existed so I wanted an original name. So I thought Kaytranada like Canada or Nada for Nothing… Kaytra or nada… I kinda wished that I changed my name for Kaytra but it's too late. Oh well.
Which production are you most proud of?
I'm proud of everything I did I put out in 2012 but the one that I'm most proud of is the "Love Of My Life" remix… I mean, I'd never thought I'd find a sample matching the vocals and all of this is done so beautifully.
Are you working on any projects at the moment that you can speak of?
Yeah I'm working on three things right now. First, I've got this EP I have to put out before I release my album, "Kaytra Thomas". Since the album was supposed to be out in June, I decided to put some songs on the EP since I feel they're kinda old and I'm also working on this mixtape with my brother as The Celestics.
It seems as though Booty Bakery and that whole East Coast production crew are very close. What impact has that had on your work?
Well, the Booty Based Mob, they're my people, its all love also the fact that I've been a guest on their events helped me a lot throughout my career, it helped to get me more known in the city of Montreal.
Your new song "holy hole inna donut" was just featured on Lunice's BBC Radio Xtra1 mix – what sort of impact has he had on you?
I mean its an amazing feeling. I met Lunice last summer, he's a cool dude but I'm really glad that he liked that song especially.
Does Noms smell? You can tell me, don't worry.
HAHAHAHA…. Oh shit, Noms smells pretty good actually.
What're your favourite venues to go to in Montreal? To play at?
So far, my favorite venue was at la SAT. Everything was perfect, beautiful lights, dope screens from left to right and I was pretty comfortable.
Your upcoming shows in Toronto| MTL with Sango and  TNGHT  are generating some hype, can you explain a bit about your work with Sango?
Well I've been a fan of Sango since last year, then he actually gave me props which it was cool and I randomly had an idea to do a collab and we became homies ever since we started to work on "Voices from Heaven". I'll be meeting him for the first time physically.
What else can we expect in the future from Kaytranada?
Well… I don't know what to expect for the future, but I only expect some good shit for the people, haha.
Kaytranada in:
Igloofest | Toronto | Montreal
Kaytranada on: