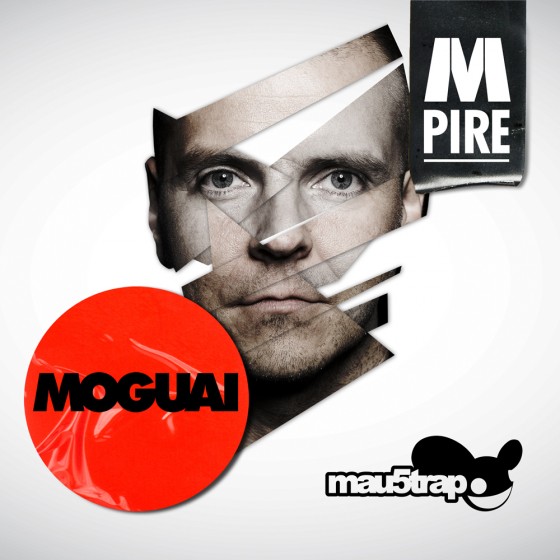 We've been following the updates of Moguai's latest full-length effort Mpire hotly, and today the wait is over. For those of you who have been waiting to grab your copy, you can purchase it on Beatport complete with exclusive 'Monkey Business'.
"What's with all the excitement?" you might ask. Two reasons.
First, his last release 'We Are Lyve' last year was a strong showing as an LP in an era of singles and weak EPs. Mpire is two years in the making; his loyal global fan base has been waiting a long time!
Next, Mpire is the second full-length that he's released on Mau5trap in as many years, which puts him in league with a very small number of the finest producers in the world who share that honour; aside from Deadmau5, only Feed Me and Excision have released full-lengths on Mau5trap, and you can count the other artists with releases on less than two hands.
We also have a cool exclusive for you – we asked Andre to put some words together for the release, and he wrote us a bit about each track!!
Enjoy the read while you stream his album (below)
Moguai speaks about Mpire
1. SMYLES
That track is for me a great opening or closing track for an album or a DJ set.
I decide to take it as the opening one because it brings me always in a good mood and make me smyle. It opens the door. I love it!!
2. MPIRE
I named that track Mpire, because it combines my whole philosophy for my 2nd album. A mixture out of roughness and emotions caused by great melodies.
I wanted to produce an album which you can easily hear in your car, but what you can also play mainstage on EDC Las Vegas festival for example.
That was my main purpose with the whole album and because it's all in my trademark sound, I name it Mpire.
3. DYNAMO
I produced this track a year ago. I played it so often in my sets and it works so well on the floor, so I decided to put it on the album. It has this right dynamic portion and I'm totally in love with the breakdown and the chords.
4. LYME
That's my personal favorite on the album. My idea was to produce another Optinuum but without being another Optinuum. I think it worked.
5. HEIMATERDE
That's I think the most atypical track for me on the album, because it goes in the direction of what everyone is producing now. Easy prog house with nice and easy mellows. When I'm DJ'ing I'm open for a lot of different styles and that style is also a part when I'm on stage. Thats why it has to be on the album.
6. NEO
Just Rock N Roll Techno. Reminds on good old Chemical Brothers stuff.
7. STARTED
The most what I like at this track is the sound. It sounds amazing for me and its reduced to the max.
8. DEAF BY STEREO
At first it was made for Size Records, but then after a long time I decided that it has to be on my album. 1st time I brought it on stage was February 2011 on the NRG in Holland. I played before Avicii and Tiesto and for me it was the track of the night.
9. HUSH HUSH
Hush Hush Baby is the message. Play it, love it. It was the strongest track on my latest Asia tour – people went crazy. It reminds me a little bit of an old The Cure song.
10.IN N OUT
Tommy and me produced this track 3 years ago in my hometown studio. He was in Germany and passed by for 3 days. We had a great time and at the end we had this track. It never came out, but I heard from AN21 that the Swedes played it for a long time. Mau5trap heard it and gave it a go. So after 3 years it comes to daylight.
11. INVISIBLE
That track has a Depeche Mode backing. I passed it to Polina from NYC and she wrote and sang that amazing song on the instrumental. For me a worldwide radio track.
12. STYRUM
It's named after a part of a town, which I daily pass on my way to the studio (same with Heimaterde). I love the real drums and this epic breakdown.
13. OUT OF NOWHERE
Kosheen, my heroes from back in the days. Very proud about this collaboration and my 2nd favorite on Mpire.
14. THRASHER DISCO
Came to trash is the message!
15. SAME AS YOU
I'm in love with Fioras voice, so it was just a question of time when we produce a follow up after Oxygen. We played that one live on the last EDC in Vegas and the crowd went mad as she began to sing. Beautiful and goosebumps guaranteed.