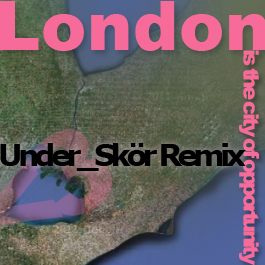 If you're from London, ON or surrounding area you've probably heard what is the laughing stock of the town right now. If not, our mayor has decreed a cheesier than Twlight melodic piece of shit titled 'London is the City of Opportunity' "words to live by".
That said, I recently discovered a remix of the song by an artist named Under_Skörs; when you make something so ridiculous in today's time, you're simply asking for it to be remixed.
Under_Skörs' remix is a dubstep nightmare, which has all the filth and grime you could ever need. It starts with the original slow melody which works its way to the drop, where a deep + darkened voice swing and the lyrics are suddenly flipped in to a dubstep grinder.
It's a hilarious remix of a terrible song, which turned a disgrace into something in rotation on my iPod.
London is the City of Opportunity (Under_Skör Remix)
After searching Under_Skörs soundcloud page I found several other chaotic Dubstep tracks and even a softer Electro House that are defiantly worth listening too and worth checking out Under_Skörs soundcoud page which you can do here.
Make sure you check out