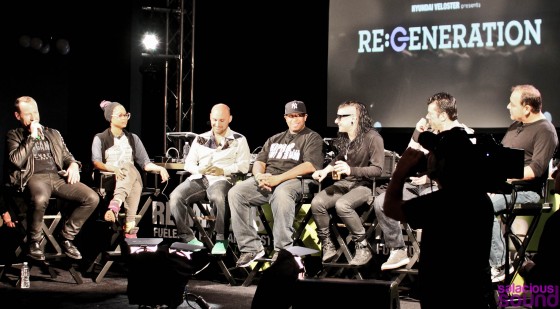 So Re:mix Lab is half over, and I am half dead from the series of open-bar x no-cover parties that have been running this week down at 401 S. Main St. Suffice it to say, the capacity crowds and top notch artists have made for an atmosphere conducive to partying.
There is a weekend full of events left: everything from DJ lessons to DJ dance parties, and of course… Underground Rebel Bingo!! Check the full schedule here, and make sure to RSVP – admittance is free, but only on guestlist!!
Night One – Anna Lunoe, Them Jeans, Yeasayer & College
The first night was not your standard dance party. First up was Anna Lunoe, who threw down some sexy disco jams that got the place properly heated.
Next was Them Jeans. He spun some more disco, and delved in to some throwback rap that, predictably, proved to be a big hit with the fashionable LA crowd.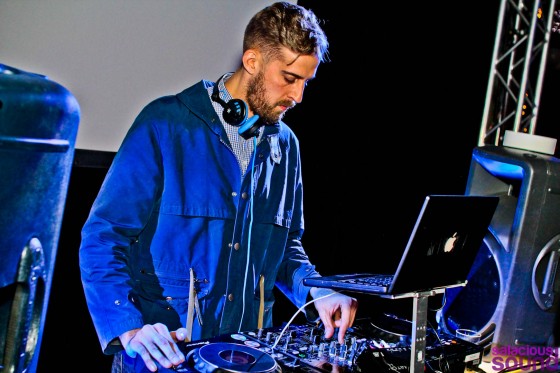 For me the third act, Caught a Ghost, was the feature of the night.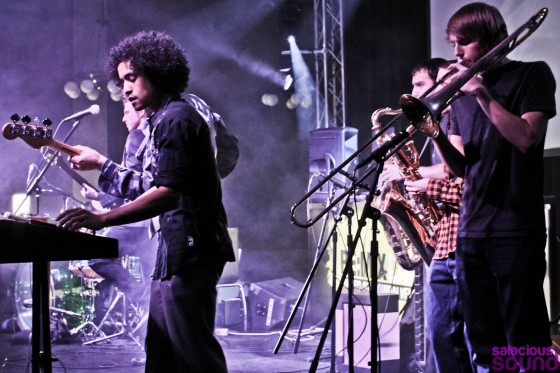 These guys played a rad mix of indie dance and rock, with plenty of disparate influences (northern soul, blues, doo-wop) to keep the musically oriented on their toes.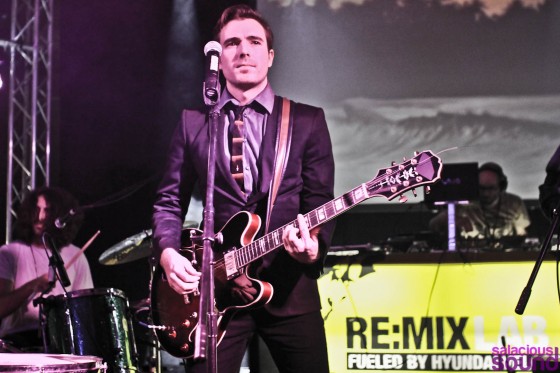 My favourite track of theirs was Sleeping at Night. Video below.
The night capped off with performances by College and Yeasayer, who had us dancing until we didn't have to go home, but couldn't stay there. (Photo gallery below)
[nggallery id="122″]
Night Two – RE:Generation Film Debut and Artist Q&A + Dance Party
The second night in the Re:mix Lab series put several of my favourite artists in the same room: DJ Premier, my favourite hip-hop producer of all time, Skrillex, the biggest artist of the year, Erykah Badu, aka Lady of Rage, aka the First Lady of Neo-Soul, one of the finest female vocalists of all time, and last but certainly not least, The Crystal Method, dance music veterans of over TWO DECADES, were all in attendance.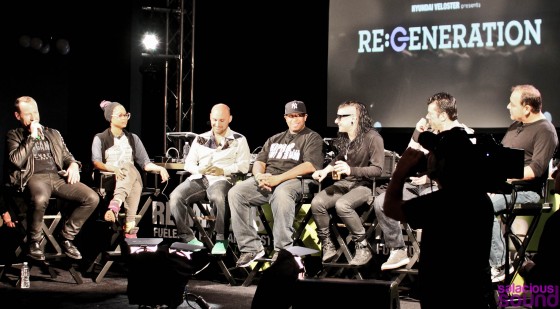 Skrillex:
The beginning of the Doors thing was up in the air, I was nervous to commit to something if I didn't feel like i have a real connection.

Any collaboration you have to have trust and faith in that other person or artist or group, and hopefully they have trust and faith in you because it's a personal thing. You consult with each other… I don't want to do a collaboration if I'm telling someone what to do and vice versa, but if you can be vulnerable for a second and sit back and let them do what they do and vice versa, those are the most successful tracks at the end of the day.
DJ Premier:
Q: DJ Premier, you took on the classical world and really challenged yourself on a whole other level with this project. Why did you choose the classical world, and were you ever sorry that you did?

A: When Richard Bishop and my manager Fat Gary brought the idea to me… once they told me who else was involved, cuz my manager knows I'm picky about what I step in to because I'm very, very, VERY protective of my image, and my reputation. In the hip-hop world I'm a god, and I've established my strategy [huge cheering and applause]. The classical world – I've sampled classical music – but I have a greater respect for it now… I like challenges, and I like stuff that I'm not used to. In the hip-hop world I'ma always do it the way I do it, and he's saying "you're gonna get a tutor, and all this!"

My tutor Bruce, he reminded me of the hip-hop world. He said "we don't like calling it classical, cuz that's putting it in a box". In the hip-hop world we're the same way.. "don't call me nothin." I'm part of the culture and you either know it or you don't. That made me open up even more to him, what he was trying to explain, and try to listen to it in a different way. Now I want to go to an opera!
The best takeaway for me was how passionately Sonny (Skrillex) spoke about the creative process. The key for him, he says, is the willingness to be vulnerable:
Like the drama you were mentioning before… it's not even drama, its the natural progression of when you open yourself up to another artist. When you're willing to share yourself and also share your criticisms, and get that back as well from other people you respect, and at that moment you have mutual respect, if you're open to that you can create something incredible. So to do that with people that are SO before my time, and create something that's really beautiful afterwards and say I wanna have that feeling. The very beginning they started to jam over my loops, and the whole room caught on fire…after that it was like lets make some music, and it wasn't about the cameras.
Once again, there is a weekend full of events left. Check the full schedule here, and make sure to RSVP – admittance is free, but only on guestlist!!
For other premium content generated from the series, including videos from the events, check the widget below: