Some people watch the Grammys to see who's receiving one of the most prestigious recognitions of musical talent, some for Lady Gaga's outfit, but this year I'll be watching to see if they break away from a radio-play-count measure of quality and choose to recognize the most exciting artist to emerge in the last several decades.
No one has had a bigger impact on dance music this year than Sonny Moore, aka Skrillex, and I bet no one has played in front of as many people either. Through the summer he actually averaged more than one gig a day!!
Anyway, Hyundai discovered at Re:mix Lab that I am a swell and cultured Canadian complete with next-level opinions, and has asked me to make predictions about how this awards show in February is going to turn out. I feel somewhat under-qualified and at once over-opinionated to accomplish the task.
I suspect that I use different criteria to assess quality, or best (best is such a stupid and subjective term when talking about music in the first place..)
It's that different criteria that has you reading Salacious Sound in the first place though, amirite?!??
A quick shout out to my sponsor, because they have been really generous with me and have asked nothing in return except that I write about things I love!
This article is fueled by Hyundai Veloster
Best New Artist
Nominees: Skrillex, Bon Iver, Nicki Minaj, J. Cole, The Band Perry
I'm not sure what the criteria is for 'best' new artist, but I find it a bit strange that Skrillex is nominated in to the same category as Bon Iver and Nicki Minaj. I mean for starters, Skrillex didn't actually have anything that charted this year. And then there's the fact that the electro-dubstep Skrillex makes doesn't compare at all to the music by the other nominees.
If I were predicting who deserved it most I'd say Skrillex, but my cynical side says Nicki Minaj will probably take it. As for Skrillex.. he's picking Bon Iver as the favourite.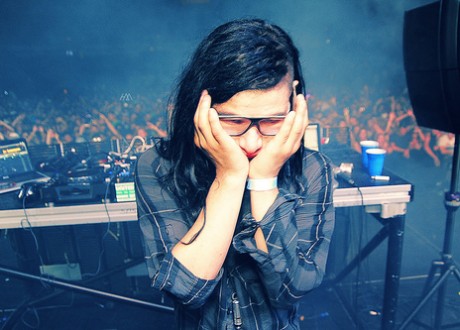 The Winner: Skrillex
Best Dance Recording
Nominees: Deadmau5 & Greta Svabo Bech – Raise Your Weapon, David Guetta & Avicii – Sunshine, Robyn – Call Your Girlfriend, Skrillex – Scary Monsters And Nice Sprites, Swedish House Mafia – Save the World
Again, what are the properties that make a recording the 'best'? Production quality? Number of people who know the words to the hook? Or just the number of people who've heard the song? Number of radio plays? Surely those aren't the things we judge quality by here on Salacious Sound..
My own pick here is Raise Your Weapon, for a few simple reasons. The production quality is as good or better than all of the competition, and the rolling chord progressions are as moving as the lyrics. It also has high remixability – something that made all of Robyn's tracks this year huge. The aesthetic isn't cheesy – it's a lot more substantive, and will be playable years from now, when already Save the World has been over-rinsed.
Scary Monsters is a close second for me. It was an innovative sound, and it pushed a genre thought to be relegated to the underground in to the limelight. But it is a second-best simply because it doesn't move me like Raise Your Weapon does.
The Winner: Deadmau5 – Raise Your Weapon
Best Dance / Electronica Album
Nominees: Cut Copy – Zonoscope, Deadmau5 – 4×4=12, David Guetta – Nothing But The Beat, Robyn – Body Talk, Pt. 3, Skrillex – Scary Monsters And Nice Sprites
This is a no-contest category – if Deadmau5 doesn't win, not only will the judges have made a gross error but they'll have a riot on their hands. Think about the number of gems on 4×4=12: Some Chords, Sofi Needs a Ladder, Animal Rights, Cthulu Sleeps, and Raise Your Weapon. Compare that to Scary Monsters which, while it is a fantastic release, is mostly remixes.
Body Talk , Pt. 3 is a close second, but a lot of the songs are 'soft'. The album IS highly remixable, and to be honest, I enjoyed those remixes a lot more than I enjoyed the originals.
The Winner: Deadmau5 – 4×4=12
Best Remixed Recording, Non-Classical
Nominees: Benny Benassi – Cinema (Skrillex Remix), Leona Lewis – Collide (Afrojack Remix), Daft Punk – End Of Line (Photek Remix), Rihanna – Only Girl (In The World) (Rosabel Club Mix), Foo Fighters – Rope (Deadmau5 Mix)
I'm a bit taken aback here. I'm not sure what monkey they had selecting nominees for this category, but next year they need to get me in on the selection process if they care about authenticity.
That isn't to say any of these songs are bad, though the controversy around Collide makes it a bit of a tasteless nomination in my opinion.
Honestly, all of the tracks' popularity pales in comparison to the Cinema remix. Everyone, bassheads and non-dubstep dance fans alike, know this version of the song if they've heard in the original. Chances are they think this is the original version – it's the main version, anyway. None of the other tracks got as much love on the festival circuit this year, none have the recognizability, and none are as big a flip from the original.
The Winner: Benny Benassi – Cinema (Skrillex Remix)
Once again, a shout out to my sponsor here. They've given me free reign to write about things I love, and they're supporting great art!
This article is fueled by Hyundai Veloster