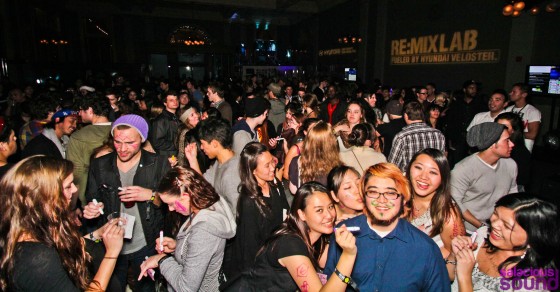 For complete coverage, hit the Re:mix Lab category link at the top right of the article!
The last packed day of events for Re:mix Lab was Saturday, and the evening portion featured my favourite performance of the week.
I showed up early in the day for a hip hop event featuring Cut Chemist, and later a crowd of young'ns going crazy for a local 3 piece (singer, DJ, rapper) act. Hopefully someone in the comments can point out who these talented locals were.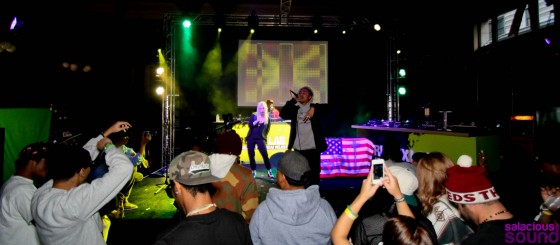 The long wait til the evening events was worth my patience, as the evening could not have turned out more entertaining. First up, there was a long technical-delay in getting the band, Boxer Rebellion, playing. Instead of playing music for the not yet in to their second drink / past their awkwardness crowd, the house let them ruminate.. until your Cal saved the day.
Now obviously this event was sponsored – how else do you think you can throw a week worth of free events with an open bar, featuring some of the finest artists in the world right now? I'll tell you – by placing a tricked out to epic Pimp My Ride'esque proportions Hyundai Veloster on the dancefloor, complete with ridiculous pounding soundsystem more than capable of entertaining a ruminating crowd of 100, and Serato Itch DJ set up in the trunk.
So yea, I "jumped on the decks" and made people move a little bit. This basically makes me an international DJ now, amirite?
Aaaanyway.
Boxer Rebellion played a solid hour-long set that got things properly heated.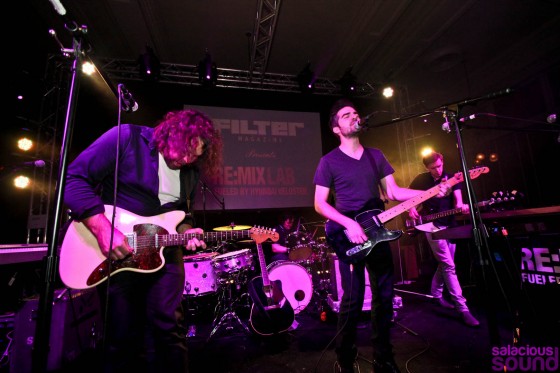 And the event ended with Underground Rebel Bingo, which is a sort of cross between vulgar British street trash, a rock concert, improv comedy, and bingo. Everyone in the audience was handed bingo cards and markers (everyone proceeded to draw on each other), and absolutely loved the no-rules and no-holds-barred fun.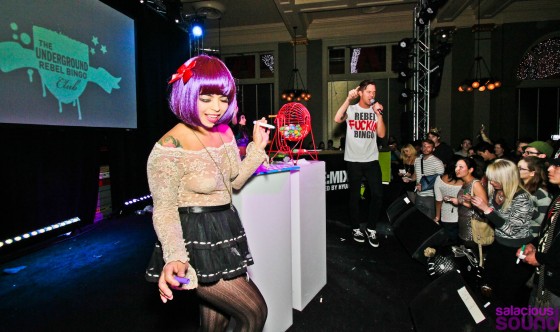 But the real highlight of the night for me was Mike Relm. This guy is an absolute g. A polished performer, talented turntablist, and a salacious selector. He threw down some sick live mashups, did a lot of vocal editing with the wheels of steel, and through the night scratched and mashed several movie samples, including but not limited to a Charlie Brown Christmas and the "O-Face" scene from Office Space. Awesome.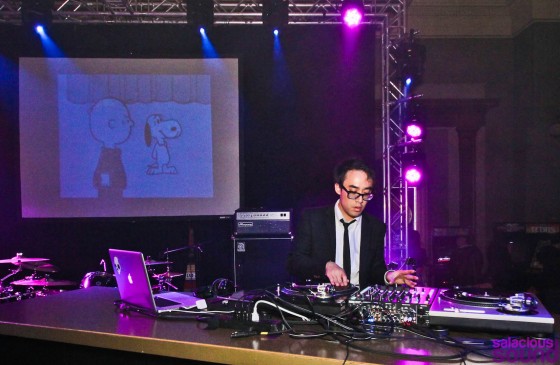 His solid performance was enhanced yet more by the fact that he is also a VDJ – imagine scratching a video instead of a song. It gives you an instant connection with the DJ and how he's manipulating the music, which is an oft-missing ingredient with DJ sets!
I couldn't be happier to have been a part of these events, and feel so fortunate that I was asked to come down and be a part. Thank you SO much to Hyundai Veloster and Antenna Mag – I'm expecting big things from all the forward-looking people behind this fantastic series of events!
[nggallery id="123″]
For extensive high-quality video coverage of the week's events, check the player below!