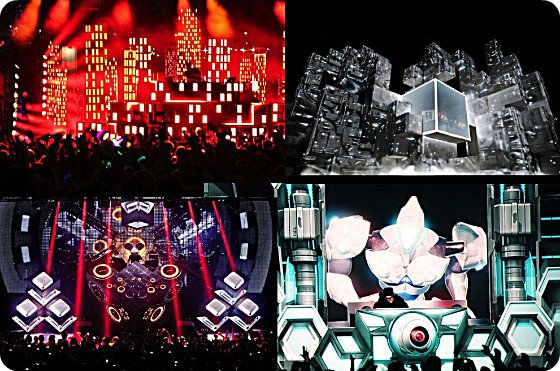 The 3D trend first took its roots in motion pictures, with every mega block-buster company shooting a 3D version for theatres across the nation. Grasping viewers around the world into a new visual realm, this new experience was here to stay. Thus 3D began incubation.

At some point in time, 3D spilled over and crossed onto the musical scene and was adopted by artists and live music production companies. Electronic dance music, being ahead of the curve, was ripe for the picking, and became the host to the new wave of 3D live shows. Artists welcomed these shape-shifting 3D animations because it was a revolutionary experience for the audience, and would quickly ramp up their live performance as being one of the best in the game.

The second 3D wave then began its ripples, with artists such as Deadmau5, Skrillex and Amon Tobin taking stage and being at the forefront of the EDM 3D emergence.

"It's not giant walls of LEDs constantly flashing meaningless visual content at you until you puke. It's completely unique and actually quite bizarre." – Amon Tobin

For us (the fans), as we look forward to upcoming events, our auditive excitement to hear certain tracks is now coupled with a visual excitement to eagerly predict what the artist and their team has constructed for a new block-buster like experience. These days, the seeing is becoming more complex than the hearing. Visual arts companies such as Possible Productions, V Squared Labs & Leviathan are establishing the future of immersive visual entertainment. Synchronized 3D graphics with real-time projection mapping is the evolution of the electronic music live performance. The proof is seen in the footage below…


Amon Tobin's 3D Live Show
Deadmau5's 3D Live Show
Skrillex's 3D Live Show