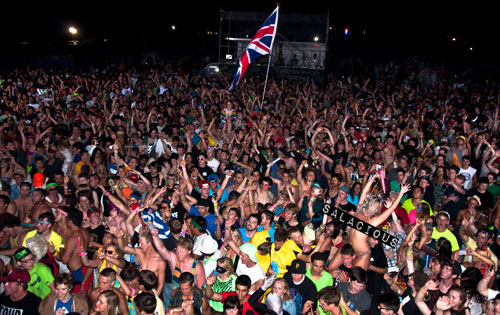 The second night of WEMF was marked by a torrential downpour that came at a fortunate time. The big stages were all shut down during the set times of Doctor P and Flux Pavilion, who did not show up.
I'm not accusing Embrace staffers of summoning the storm gods to fill the gaps in their set times, I'm just saying it's a little too convenient…
Anyway, Cal and I sought refuge in a tent belonging to three other WEMFers during the storm. While we waited out the rain and ate delicious cake (some people bring booze to festivals, others bring drugs, and still others bring baked goods…), Pendulum's set roared to life with The Island: Part 1 (Dawn).
It's a great song, all five of us were excited… But then Cal said: "Oh man, I hope they play part two," titled "Dusk." Cal was answered with a chorus of agreement. This got me thinking… Dawn is, for all intents and purposes, a "bigger" song. It's upbeat, it's poppy, it's the lead single of the album. It has a music video with millions of youtube views, and it has super hooky Rob Swire on the vocals.
Pendulum, of course, went on to have a great DJ set — they got me dancing, which is no mean feat. Why wouldn't they have a great DJ set? Anyone off the street could tell you that. I'm less interested in the set as a whole, and more interested in thinking about The Island, one year later.
Why were we all excited for the harsh, instrumental, dark-sounding, video-less, Dusk? Why was our response to the super-poppy, radio friendly Dawn only anticipatory of Dusk? I think there are two parts to this answer:
First: perhaps Pendulum anticipated certain trends in electronic music while producing Dusk, trends toward the harder and harsher, that had not fully manifested themselves in the mainstream as of its release in September of 2010. Were the pair of songs to be released this coming September rather than last September, I put it to you that Part Two would be the more immediately acclaimed song.
Second: Dusk is more musically interesting than Dawn, and therefore, regardless of anticipation of current trends, has more staying power. While both parts of the song are in an A minor key, Dawn has a hook that stays with you in the way that only a vocal pop song can… but Dawn has all the hook and no shadow, no dark side. Dusk remains relevant and exciting because it is the shadow of Dawn; the active listener can't help but remember the bright, upbeat hook of Dawn while hearing the dark, downward synth stabs of Dusk. Since you cannot listen to Dusk without "filling in the gaps," and imagining the hook of Dawn, Dusk is both the light and the shadow.