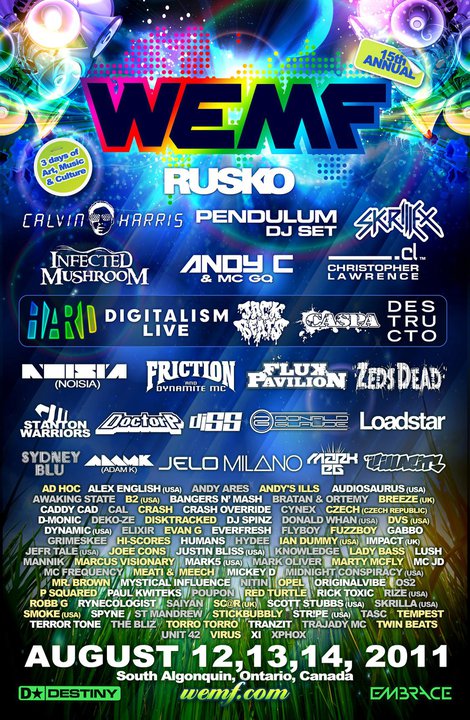 Picture two nights and three days with 200 of the world's top electronic musicians and DJs, in a festival setting across 5 official stages and several community stages. Now picture yourself nestled away in beautiful South Algonquin, Ontario with tens of thousands of other ravers partying all day in front of huge stages, and all night in the BYOB camping areas.
It's happening this August 12-14 2011, and the lineup is ridiculously good, representing many genres and doing so extremely well. This festival is the real deal.
For the full second-phase lineup, tickets, and other information (travelling, camping, etc) click here.
Here's a short list of artists that I'm excited about:

[audio:Rusko – Essential Mix-12-12-2008.mp3]

[audio:Skrillex – My Name Is Skrillex (Skrillex Remix).mp3]

[audio:Zeds Dead – 1975.mp3,The Moody Blues – White Satin (Zeds Dead Remix).mp3,The Rolling Stones – Gimme Shelter (Zeds Dead Remix).mp3,Blue Foundation – Eyes On Fire (Zeds Dead Remix).mp3]

30 min Mix For Media Contender – www.mediacontender.com by thekillabits

[audio:Digitalism – Digitalism In Cairo.mp3]

[audio:Freestylers – Cracks (Flux Pavilion Remix).mp3]

[audio:Torro Torro – 2010 Year End Mix.mp3,Torro Torro – Knockin Boots (Original Version).mp3]
Riviera – 40 Thieves (Torro Torro Remix)128kbps by TorroTorro
AUTOEROTIQUE – TURN UP THE VOLUME (TORRO TORRO/BILLY THE GENT MOOMBAHTON MIX) by TorroTorro

[audio:Poupon – Cooked Up Vol. 1.mp3]

http://www.youtube.com/watch?v=VvUyPUfmwNU
[audio:Doctor P – Sweet Shop.mp3,Doctor P – Big Boss.mp3]

Mark Oliver Live at Guvernment Toronto Canada 18.09.10 Part 1 by Mark Oliver Music

Yes, yours truly is sharing the main stage with Calvin Harris and Mark Oliver. Pretty huge deal for me!