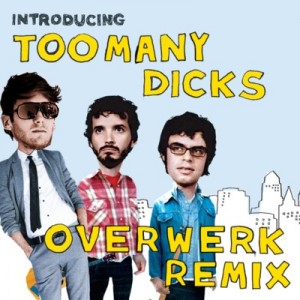 Straight from London Ontario, Overwerk is the solo artist off of The Girls Can Hear Us and a amazing producer. His sounds are very poppy and catchy and his electro is superb and is always a classic on any playlist on my ipod. I've seen him live and his shows are insane, if you get the chance and he's performing in your city make sure you check him out. Very, very young and up and coming talented producer.
The track I'm bringing you today is a remix of Flight of the Conchords "Too Many Dicks" which I'm sure he plays at clubs when there is an obnoxious amounts of dicks on the dancefloor. Make sure you start following him on his soundcloud since ALL his songs are free downloads. Soundcloud here.
[audio:Flight of the Conchords – Too Many Dicks (OVERWERK Remix).mp3]
BONUS
If you haven't listened to his remix of Wolfgang Gartner's "Spacejunk" make sure you do. Probably one of my favourite songs ever. Dead serious, it's a killer.
[audio:Wolfgang Gartner – Space Junk (OVERWERK Remix).mp3,OVERWERK – I Am London.mp3,OVERWERK – Introducing Overwerk (With Intro).mp3]