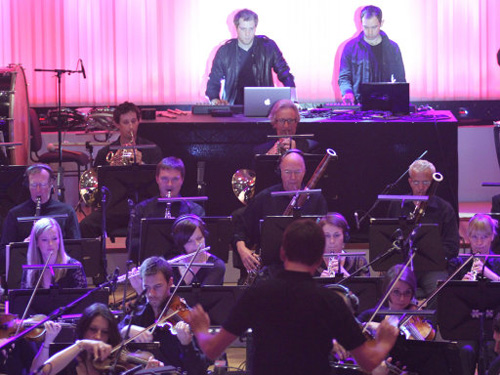 On June 6th 2011, something important happened in the world of music. It was a monumental undertaking – a meeting of two ostensibly disparate worlds. The strings and horns from the realm of orchestral music, known best for opera and classical, meets digital computer production, the pulsing synths, and grinding basslines of dubstep's finest. Only in the UK.
But for Nero, the kings of epic dubstep and drum & bass, perhaps not. The two just executed a collaboration with composer Joe Duddell, the BBC Philharmonic, and BBC Radio 1xtra/Mistajam/Zane Lowe, and the result is a 20 minute composition that may produce goosebumps and actual tears. It's based around two of their biggest singles, and some new stuff off their forthcoming album due August 2011.
HUGE credit to the amazing minds at the BBC that made this important moment in music history possible.
For the next few days, you can actually see a live video recording on the BBC website here. You can also stream the whole program, which included some interviews and lots of great chunes.
[audio:MistaJam – BBC Philharmonic Presents Nero Symphony 2808.mp3]