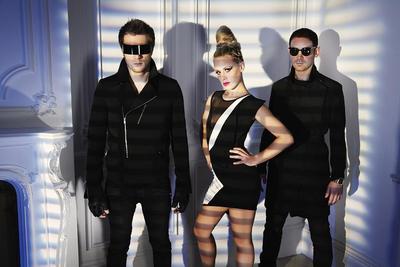 I'd jump at the chance to see a new take on a Nero performance. Each are extremely good DJs – some of the most skilled I've seen on the 1s and 2s.
The live show sees Dan and Joe performing on keyboards, touch screen lemurs and laptops. They are also bringing along guest performer Alana for live vocals.
"We've known her since we were 16," explains Dan. "She's always been part of the Nero gang. She's got a good A&R sensibility, and she's been on all the singles. She helps give us a 'band' feel, a bit like Massive Attack." It is a visual led performance and see's them performing from a custom build booth consisting of ghetto blasters, retro TVs, old amps and an arcade machine centre piece. Additional DJ dates are also announced.
Oct 26 – Burlington, VT – Memorial Auditorium (DJ set)
Oct 27 – Vancouver, BC – Commodore Ballroom (DJ set)
Oct 28 – Magna, UT – The Great Saltair (live)
Oct 29 – Los Angeles, CA – The Music Box (live)
Oct 31 – Denver, CO – 1st Bank Center (live)
Nov 2 – Milwaukee, WI – The Rave (live)
Nov 4 – New York, NY – Webster Hall (live)
Nov 5 – Baltimore, MD – Soundstage (live)
Nov 6 – Atlanta, GA –The Masquerade (DJ set)
Dec 15 – Boston MA Royale NightClub (Dj Set)
Dec 16 – Hartford CT Webster Theater (Dj Set)
Dec 17 – Atlantic City NJ Showboat Hotel & Casino – House of Blues (Dj set)
Dec 20 – Victoria BC 9one9 (Dj Set)
Dec 21 – Edmonton AB Edmonton Events Centre (Dj Set)
Dec 27 – San Diego CA House of Blues (Dj Set)
Dec 29 – San Francisco CA Ruby Skye (Dj Set)
Dec 30 – Miami Beach FL Jackie Gleason Theater – Fillmore Stage (DJ)