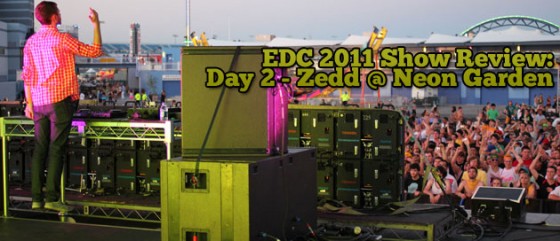 Zedd on Facebook | Soundcloud
Day two of EDC Las Vegas 2011 began early in the day at the Boys Noize Liquid pool party, setting a high bar for the festival. Little did I know, as I awaited an artist shuttle on the Vegas strip in the hot dry breeze, that my expectations would continue to be exceeded.
The small limo bus arrived at about 715pm, 45 minutes before Zedd's opening set, and was a welcome respite from the 40+ Celcius (104 Fahrenheit) temperatures we had been facing for the last five hours. We cracked a couple cold beers, and started chatting up the lighting producers for Skrillex's visual show who waxed rhapsodic about the display we were about to take in. Strange as it may seem to praise a bus ride on a music blog, I have to say the shuttles were one of several small details that made EDC an outstanding festival experience. By 740, as we were nearing the Las Vegas Speedway, throngs of ravers clogged the highway trying to get to the front gates, and our shuttle entered its special priority lane which allowed us to bypass the throngs of arriving ravers and enter through what seemed like a secret rear aqueduct directly in to the artist trailer area. Much to my surprise, we were greeted by the friendliest event staff I have ever had the pleasure of dealing with (indeed, every single staffer, producer, and bouncer that I dealt with this weekend was incredibly friendly and helpful).
We explained to the EDC staff that it was our intention to go check out Zedd's opening set over at Neon Garden, and they offered to scoot us over in one of the dozens of waiting golf carts. In just under a minute we were looking at the back of the impressive array of lights and LCD panels on the stage, where Zedd has just begun his set with Alesso's remix of Party Rock.
[nggallery id=115]
Zedd's performance was the perfect start to day 2, starting at dusk on my personal favourite stage from that evening, Neon Garden. The atmosphere was electric, as the mostly Californian, body-painted, neon clad ravers danced to his selection of electro anthems from the last year and a half amidst the impressive stage visuals and brightly LED-lit fair ground rides, as the sun set on the desert horizon. By the time it had grown dark, Zedd's crowd of several hundred enthusiastic fans had grown in to a frenzied sea, where thousands of dancers shuffled, breakdanced, and perhaps even fist-pumped a little as they sung every hook in unison. Zedd's technical proficiency was the unsung highlight of the show though, as he looped and weaved tracks together to create dizzying drops, and applied mixer effects expertly to create epic breakdowns.
But don't take my word for it – have a listen to this absolutely world class set for yourself!
[audio:Zedd – Live at Electric Daisy Carnival 2011 Las Vegas 25-06-2011.mp3]
Tracklist:
01. LMFAO – The Party Rock Anthem (Alesso Remix)
02. Deadmau5 & Wolfgang Gartner – Animal Rights
03. Skrillex feat. Sirah – Weekends!!! (Zedd Remix)
04. The Black Eyed Peas – The Time (Dirty Bit) (Zedd Remix)
05. Ke$ha – Blow (Circuit Remix)
06. Wolfgang Gartner – Illmerica (ID Remix)
07. Lady Gaga – Born This Way (Zedd Remix)
08. ID (well-known tune, probably Zedd's remix)
09. Steve Aoki & Laidback Luke feat. Lil Jon – Turbulence
10. Major Lazer ft. VYBZ Kartel – Pon De Floor
11. Bart B More – Brap
12. Zedd – Dovregubben
13. The Bloody Beetroots feat. Steve Aoki – Warp 1.9
14. Zedd – The Legend Of Zelda
15. Zedd – ID (his new track)
16. Deadmau5 – Reward Is Cheese
17. Skrillex – Scary Monsters And Nice Sprites (Zedd Remix)