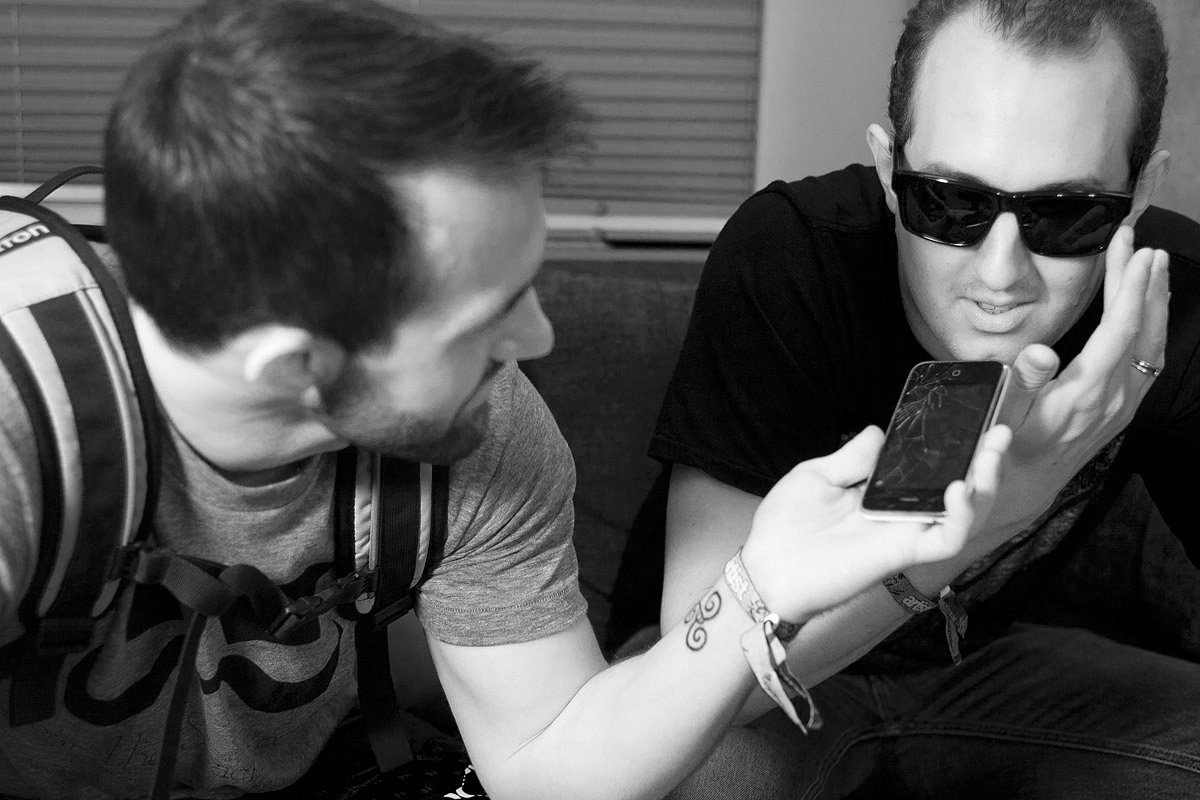 Upon closure of Day 1 at Electric Daisy Carnival it became evident that all senses had been stimulated and well nourished. The festival had begun without a hitch. EDC was proving itself as top-dawg in the arena of large electronic festivals and solidifying Las Vegas as the next EDM hotspot. With a smorgasbord of artists on the festival roaster for the first day alone, it seemed unfair that I could only attend a select few. One of these few…happened to be Wolfgang Gartner. As Joey finished chalking up another mind blowing performance on the board, we had the privilege of stealing a few words from him afterwards. Here are his words from his mouth to your eyes…

ReySon
How do you find your set went tonight, and how are you feeling about the festival itself?
Wolfgang
That was actually the first experience we've had with the festival this year, besides Dallas last weekend. We literally got here an hour ago, and just walked on stage and started. It was great man, it was great. It was kind of an earlier set, 10:45-11:45, just kind of building up and the response was good, everything seemed great. No complaints.
ReySon
Dubstep has seen exponential growth over the past year and seems to have stolen the EDM spotlight, how has dubstep influenced you and your music recently?
Wolfgang
Dubstep has not had any influence on me whatsoever in the slightest bit. I don't listen to it, I don't try and make it, I will never try and make it, and probably never listen to it. There are few people that are very good at making it and occasionally when they send me things I will sort of analyze them from a technical perspective…like Skrillex for example, "like holy shit, how does he do that", but from a musical perspective, it doesn't hit me. His music is amazing, but music to me is house music. There's a reason everything is 128bpm, four-four-four-kick, I could never get into anything that wasn't that.
ReySon
Let's talk about your upcoming album, is it going to be different from previous albums? When can we expect it?
Wolfgang
I think it's just, it's me. It's coming out the second week of September. There will be quite a few tracks that are just instrumental Wolfgang tracks, there will be some tracks with cameos, like the thing we did with Eve tonight. Its all my music and the stuff with vocals is just an addition to that. There are rumors floating around that when it comes out, there are going to be people that are gonna say that "you went David Guetta, you went David Guetta, and got rap vocals on this shit." They like to put categories and say if this has a rap vocal on it then i don't like it anymore, its not cool because everybody knows about it. The more people that know about it, the less cool it is. Its all just bullshit. I just make music, and whatever the fuck people think about, I really don't care.
ReySon
Who would you say owns the game in EDM at the moment? Who do you respect completely?
Wolfgang
I mean there isn't anybody. I'm not saying I'm the best, there are a ton of talented amazing producers out there that make a lot of different sounds, but there's not one person out there right now that just makes me go, "holy fuck, I aspire to be that", you know?
ReySon
Not even Deadmau5 perhaps, you have collaborated with him in the past?
Wolfgang
At one point he was that person, ya. But, he hasn't come out with new music in a while, so I just haven't heard it in a while. Maybe he'll come out with a new album and maybe it'll make me go "wow, that's what I need to do again". But, a long time ago he was kinda that guy and now hes kinda gone a different direction. We did the thing together, so there's less mystique now, since we sort of seen how each-other work.
ReySon
Joey, I'm coming from Toronto, how much do you love Toronto, do you respect the city?
Wolfgang
I respect Toronto. I think maybe some of the choices of venues around that area that I've played at have not necessarily been the best places for me. I think I should probably be playing the Guvernment instead of some of the places I've played. I'm just saying that it seems more of a suitable place for what I play. And, I have had a very limited number of gigs in Toronto. Uhmm…The MOD, that one was fucking insane! That was an amazing gig!
ReySon
How about Beta, you were there just last week for BMF?
Wolfgang Gartner
Ya, that was kool, but I felt like they were kind of jaded. The crowd was good, it was sold-out, it was packed, but I just felt like the responses were…they reacted to the same shit, but just on a level of a 7 as compared to most crowds on a level of a 10, so they were just kind of jaded. Maybe they had been partying for a few days, maybe they took to much that night, I don't know, but they were just a little bit zombied out.
ReySon
Fair enough. Well, thanks Joey for giving Salacious Sound your time, im sure we'll see each other soon enough. Throw down a killer set on Sunday!
Wolfgang
Definitely man, take care.
Wolfgang Gartner on Facebook
[audio:Wolfgang Gartner – Anthology Mashup.mp3,Tiesto and Sneaky Sound System – I Will Be Here (Wolfgang Gartner Dub Remix).mp3]