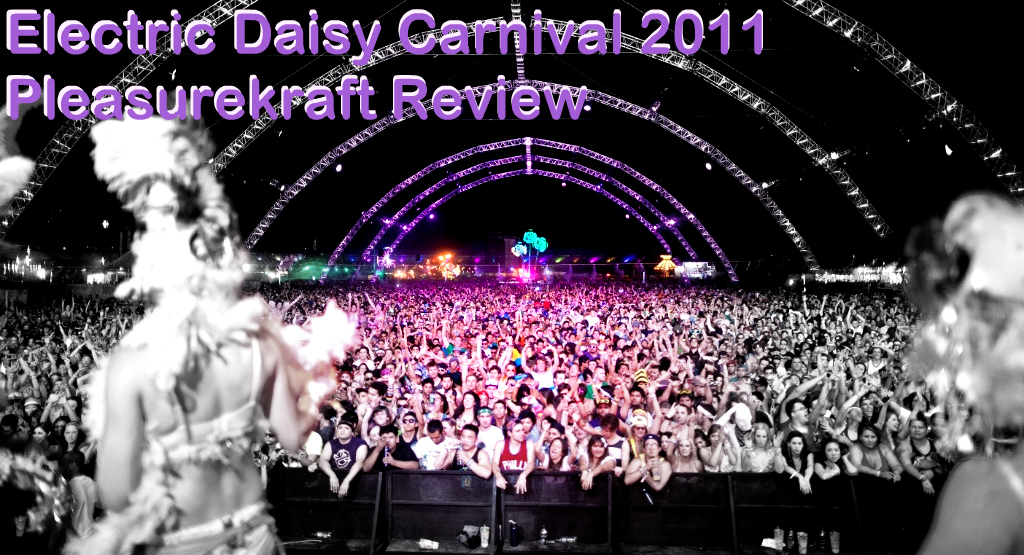 Pleasurekraft on Facebook | SoundCloud
What set the pace for our Salacious Sound author Cal on EDC Day 2 (
Zedd Sets the pace for Day 2 @ Neon Garden
) differed from what would set my pace. Tech-house has a place in my heart and Pleasurekraft at the Circuit Grounds stage is where i needed to be. As Cal and I filtered our way through the crops of rainbow colored ravers we soaked in musical vibrations from all ends, and from every spectrum of the music. Neon Garden stage behind us was hosting Porter Robinson, bassPOD stage to the left of us was preparing for Bare, and Circuit Grounds dead ahead was already putting out hooky house beats. Cal and i were like little kids in a candy store.
As we arrived to Circuit Grounds, overhead misters greeted us with a refreshing cool glaze of droplets on our bodies. We began meshing ourselves deeper into the crowd while the warm house rhythms of Pleasurekraft started to overtake our motor-skills. Within seconds we were head bopping (yes, even Cal), and definitely jiving to the sound. Everything around us could be felt, from the thickness of the kicks and the crisp-clear vocal stabs, to the dust kicked up by nearby shufflers. The energy and atmosphere around us was very palpable. Then came the stage performers…a small cluster of clowns, albeit the sexiest clowns i had ever laid eyes on. These Tim Burton-esque creations slowly made their way around stage giving the crowd a visual snack, and perhaps reawakening them from the trance Pleasurekraft had set them in. As fast as they came, they were gone. They fled off to find their next stage to entertain.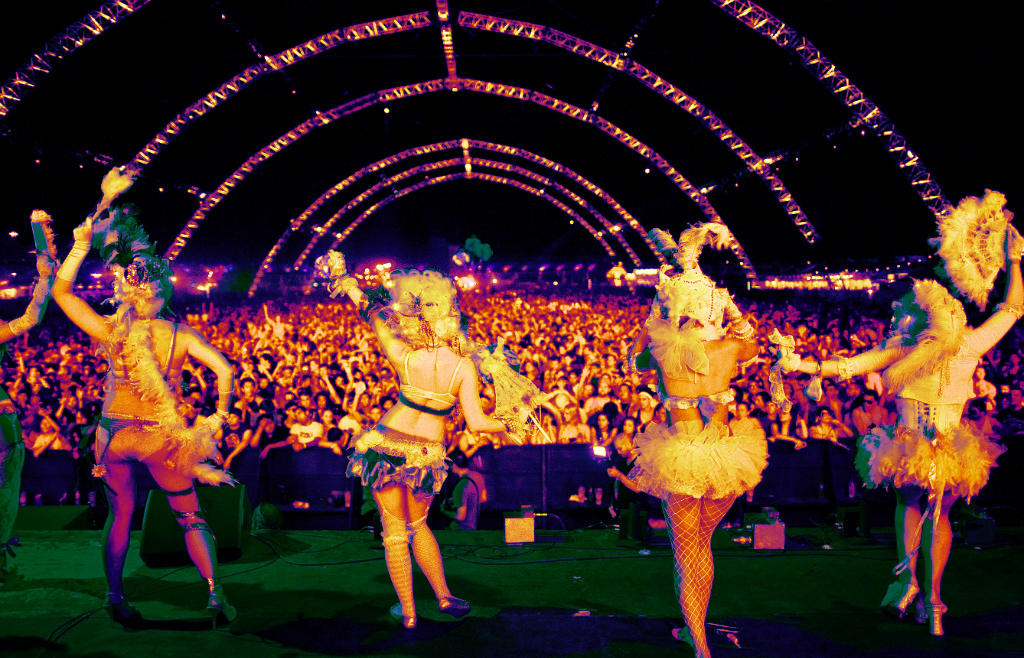 With a dozen or so minutes left to go in their set i suddenly snapped back into reality myself. I began to hear something fresh. Pleasurekraft was laying on us a quirky pattern from a new track entitled Satyr Song, and i was digging it. As Kaveh (one half of Pleasurekraft) smoothly blended the track in, he quickly realized the track was a definite crowd pleaser. In response, with the widest grin and the most joyous hop to the sky, Kaveh reciprocated to the audience an equal amount of energy. Success, the energy had come full circle.
Have a listen and be the critic yourself. Pleasurekraft – Live @ Electric Daisy Carnival 2011…
[audio:Pleasurekraft – Live at Electric Daisy Carnival 2011 Las Vegas.mp3]

Tracklist
01. Green Velvet – Harmageddon (Pleasurekraft Sideshow Remix) 
02. Style of Eye + Magnus the Magnus – The Antidote (Pleasurekraft's 'Gorillas in the Mids' Remix)
03. Sneaky Sound System – We Love (Pleasurekraft Dub)
04. Pleasurekraft – Anubis 
05. Pleasurekraft – Carny 
06. Mike Vale – I'm Gonna (Original Mix)
07. Miles Dyson + Aaren San – Zooloo (Pleasurekraft Remix)
08. Style of Eye – Sexx
09. Pleasurekraft – Satyr Song
10. Green Velvet – La La Land (Pleasurekraft Sideshow Remix)
11. Luca Morris – Lamu (Original Mix)
12. Pleasurekraft – Tarantula (Original Mix)

Newest release…
Style Of Eye & Magnus The Magnus – The Antidote (Pleasurekraft 'Gorillas In The Mids' Remix) by ElectricDaisyCarnival