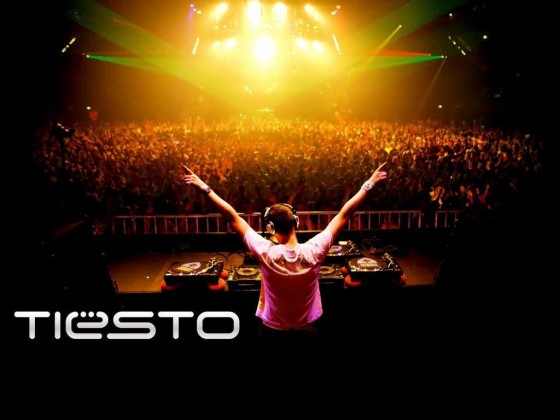 Embrace Presents & Gem Events are pleased to announce the return of TIESTO on Thursday, April 21, 2011 to Toronto as part of the Club Life Canadian Tour. TIESTO will be performing at the Ricoh Coliseum for the first time since his Summer Tour in 2008 and will be joined by American DJ/producer WOLFGANG GARTNER.
Widely regarded as the world's biggest DJ/Producer, Tiësto has worked with global superstars such as Nelly Furtado, the Yeah Yeah Yeahs, Goldfrapp and more. His recently completed Kaleidoscope World Tour spanned more than 15 months and 175 dates across six continents playing to over 1,000,000 people. The tour featured an epic live show including an exhibition of lasers, light shows, and state of the art video content as well as sound from one of the most powerful sound systems ever used. 2011 sees the launch of 'Tiësto In Concert' in Las Vegas, a monthly residency at The Joint in the Hard Rock Hotel & Casino. March 2011 sees the release of Tiësto's highly anticipated 'Club Life' mix album.
Don't miss TIESTO with special guest WOLFGANG GARTNER live at Ricoh Coliseum on Thursday, April 21, 2011.
How To Win a Pair of Tickets to the See Tiesto and Wolfgang Gartner
On Tuesday January 18th Salacious Sound will be giving away one free pair of tickets to the show, courtesy of our friends at Embrace Presents. All you have to do is 'like' our Facebook fan page, and leave a comment on this post telling us why you want the tickets. Extra points if you provide some kind of link (ie to a Youtube video). You can like the fan page directly from the sidebar, or you can visit the link.
Make sure to fill in the email field properly so that I can get in touch with the winner – don't worry, as per our privacy policy, your email is totally private, and it will NEVER be used for anything but contacting the winner of this contest!
[audio:Tiesto ft. Diplo – Cmon (Dskotek Remix).mp3,Wolfgang Gartner – Undertaker (Krafty Kuts Re-Rub).mp3]
Wolfgang Gartner's BBC Essential Mix:
[audio:Wolfgang Gartner – BBC Essential Mix 2010-11-06.mp3]
Tracklist:
Jfk — Beehive – Teenage Riot Records
Steve Angello — Rave 'N' Roll – Size
Noob — Warehouse – Discobelle
Ralph Falcon & Oscar G — Dark Beat (Murk Monster Mix) – Twisted
Gio Ft A Girl & A Gun — Whoop It Up (Mr. Vega Jungle Thunder Remix) – Rot10 Musik
Carte Blanche Ft Kid Sister — Do! Do! Do! (Laidback Luke Remix) – Ed Banger
Où est le swimming pool — Jackson's Last Stand (Hook N Sling Remix) – Hussle
Wolfgang Gartner — Wolfgang's 5th Symphony – Ultra
MSTRKRFT — Heartbreaker (feat Jon Legend) (Accapella) – Geffen
DJ Sneak & Armand van Helden — Psychic Bounty Killaz – Zyx
Mr Oizo & Gaspard Augé — Rubber – Because Music
Tim Healey & Deekline — The Mexican (feat Babe Ruth) – Superstar
Deadmau5 & Wolfgang Gartner — Animal Rights – Mau5trap
Martin Solveig — Poptimistic (Acappella) – D:Vision
Daniel Haaksman — Hands Up (feat Seguindo Sonhos) (Jan Driver Remix) – Man Recordings
Bobmo — Turn On Drop Out – Institubes
Symone — Runnin (JFK Edit) – Teenage Riot Records
Dooze Jackers — Kizzz (Dynasty Kizzz Jizzz Remix) – Rot10musik
Daniel Haaksman — Parolar De Veso – CDR
Van Toth — People Boots – Not On Label
Mark Knight — Drug Music (Acappella) – Toolroom
Style of Eye — Koka Cheva – Tronic Soundz
Hoxton Whores — Bite The Pill (Acappella) – Whore House
Rune RK — Less Rock – Underwater
Martin Venetjoki — Ghetto Tears (Acappella) – Subliminal
Kieran Brindley & Calvertron — Blender – Movement
Popmuschi — Body Heat (Housepussies Remix) – Popmuschi
Mercedes — Shock Absorber (Tony Senghore & Savage Skulls Remix) – Eye Industries
Daniel Haaksman — Senta Senta – Man Recordings
Adulture & Ocd Automatic — Paper Cat (The Phantoms Revenge Remix) – Solid Bump
Studionova — Surra De Bunda – Jetset
Tom Staar — Cannon – Moda Music
Basement Jaxx — Where's Your Head At (Wolfgang Gartner Mashup) – XL
Boys Noize — Yeah – Boysnoize
Wolfgang Gartner — Illmerica – Ultra
Angger Dimas & Static Revenger — Long Time 2010 – Vicious
Martin Solveig — Cest La Vie (The Bloody Beetroots Remix) – Mixture
Wolfgang Gartner — Undertaker – Ultra
Will Bailey Vs Bucketheads — Break The Bomb (Respect To Kenny Dope Mix) – Not On Label
Matteo DiMarr — F This Club – Size
Hipp-e — Static Energy – Soco Audio
Wolfgang Gartner — Latin Fever – Ultra
Playgroup — Front To Back (feat KC Flightt) (Acappella) – Defected
Fatboy Slim — Right Here Right Now (Wolfgang Gartner Mashup) – Skint
Seductive — Heat It Up (feat Lady Bee) (Rene Kuppens Remix) – Dim Mak
The Black Eyed Peas — Imma Be (Wolfgang Gartner's What Dub) – Interscope
Pase Rock — Nights (Nadatrom Remix / JFK Edit) – Dim Mak
Tommy Trash & Tom Piper — All My Friends (feat Mr. Wilson) – Ministry Of Sound Australia
Alan Made — Show You How – Mixmash
Swedish House Mafia — One (Congorock Remix) – Virgin
DJ Trajic — Head Bangers (Paul Anthony & Zxx's 2010 Remix) – Nemek
Black Noise — Knock You Out (Andy George Remix / Wg Edit) – Southern Fried
Hostage — Versatile Sound (JFK Edit) – Teenage Riot
1200 Warriors — The Call Out – 1200 Beats
I Square — Hey Sexy Lady (Laidback Luke Remix) – Interscope
Mr. Blink — Gecko – Burns Remix
Inner City — Good Life (Wolfgang Gartner Mashup) – Virgin
Djedjotronic — Computer Jerk – Boysnoize
Wolfgang Gartner — 818 – Ultra
Marc Romboy vs. Blake Baxter — Muzik (Kink Remix) – Systematic
Phil Kieran — Empty Vessels (Tool 3) – Electric Deluxe
Todd Terry — Keep On Jumpin (Rhythm Masters Thumpin Edit) – Manifesto