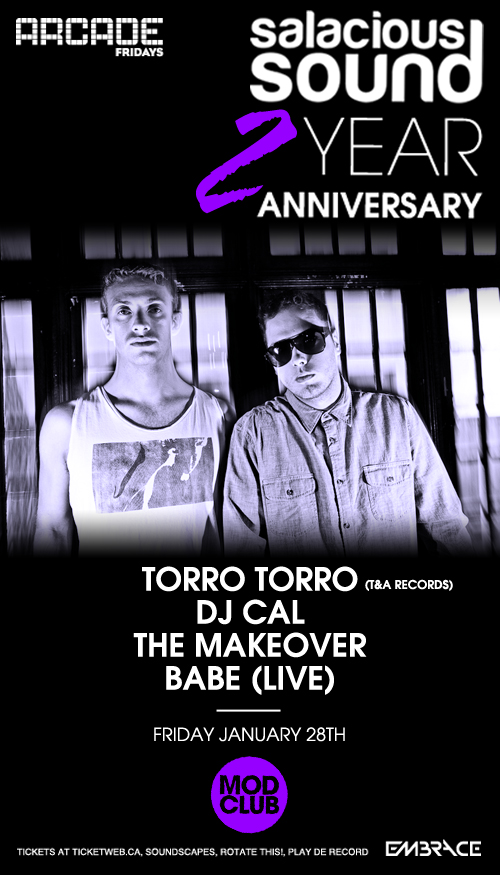 Torro Torro
http://soundcloud.com/torrotorro
So maybe you've already heard Torro Torro's latest single "Knockin' Boots". And if you haven't, you should. When released on September 21, RCRDLBL instantly quoted it as being"Unfuckwithable—it is your song at the club. So perfecto, you wish no one else could gyrate to it". Serato's Whitelabel.net distributed it shortly after, and it reached the Top 10 on Turntable Lab the same day. This Toronto duo is on a crazy rise right now, and they're also getting tons of love from their remixes for "My World" by Kill the Noise and "Banger" by AC Slater, dropping soon on Slow Roast/Fools Gold and Party Like Us Records.
KTN dropping My World (Torro Torro Remix)
Their current label T&A Records from NYC is already stirring things up for Torro Torro's follow-up single "Blue Blouse" (Feb. 2011), and supporting remixes are in the works from Zombies For Money, DJ Ayres, and other peers. If "Knockin' Boots" introduced Torro Torro to the world, "Blue Blouse" is going to propel them to entirely new levels of attention. Let's put it this way, it's already premiered on DJ Tiesto's Ultra Radio Mix.
DJ Cal
http://soundcloud.com/salacioussound
Cal has been a music writer and DJ for over three years, and continues to be compelled by the power of a live performance to move an audience. In that short time he has written hundreds of articles and reviews of cutting edge artists, their music, and their performances. His daily exposure to and interaction with the vast world of new music has garnered his site SalaciousSound attention from an it-list of record labels, management, and forward looking underground artists too long to print, has been cited as a source of exceptional taste by hundreds of blogs and even major publications like Rolling Stone, and was even the focus of a Toronto-produced documentary on underground electronic music.
The vast arsenal of party-rocking tunes Cal has acquired in his work as a music writer and DJ, his image as a tastemaker at the forefront of electronic music, and his tireless work in perfecting his programming and skill on the turntables have made him a performer in demand. He has opened and closed some of the best venues in Toronto, from his humble beginnings at Harmony Lounge to The Liberty Grand, Czehoski, The Barn, Sutra, Rockwood, This is London, Level, Wrongbar, and Mod Club. He's also been asked to play with dozens of Toronto's finest, and some of the most recognizable artists in dance music, including Mansion, Riviera, Azari & III, and Wolfgang Gartner.
DJ Cal – Autumn 2010 Mixtape
The Makeover
http://www.myspace.com/themakeovermusic
With years of combined experience behind the decks and on-stage, The MAKEOVER – Rod Skimmins (Bang The Party) & Jeremy Glenn (YYZ Records) – bring a fresh-spin to the party performance. Taking the concepts of the remix/mash to the live venue, Jeremy and Rod rework their own and other artists' music with live vocals, effects and instrumentation to create a new show for every audience.
With vocal skills and choice track selection, THE MAKEOVER will make you sweat your socks-off..
Sprawl Y'all (Arcade Fire MAKEOVER)
BABE (Live)
http://www.myspace.com/babesound
Toronto is a cultural mosaic, a myriad of many things, so it only makes sense that a band like BABE would emerge within it. A mash-up of different elements, BABE have been best described as, "kaleidoscopic electronica accented by soulful vocals, pulsating beats, smoothed-out by ambient soundscapes, taking elements of turntabalism, world music, hip-hop, jazz and trip hop."
Through their unique sound, manically energetic live-performances, which included an opening spot for P.S. I Love You, BABE have become one of THE bands to see, and have received praise from many outlets including, Salacious Sound, Now Magazine and 1LOVETO.
BABE will most definitely have you stomping your feet and quite possibly leave you scratching your head.
Babe @ The Drake Nov 2010