Just this weekend past, I was invited to come up to Algonquin Park to perform an opening DJ set for WEMF, and then to take in the sights and sounds. What I saw (and heard) was a lineup of world-class musicians delivering amazing performances, some of which were face-melting, most body-moving, some groovy, and otherwise exciting DJ sets all weekend, but none carried the distinct energy of Torro Torro's second set, early on Sunday morning. Why?
Because no dance music out there today carries the sexual energy that moombahton does.
That's why I can't wait to see two of the biggest acts press the moom button this Saturday in Toronto, at The Garrison (address | event details). SLOW3D is the absolute best party in the city this Saturday night, so don't sleep!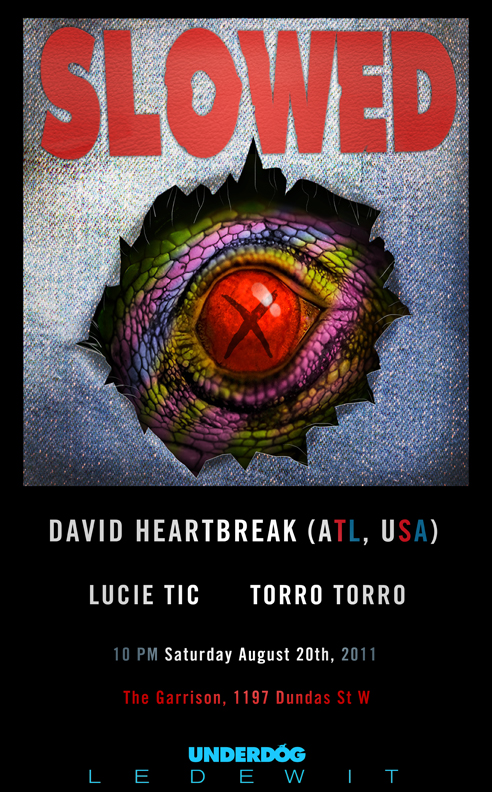 Also, Torro Torro just mentioned to me that SLOW3D Montreal will be returning in September to the Blue Dog Motel. More details as they become available!
David Heartbreak on Soundcloud | Facebook | Twitter
[audio:Emalkay – When I Look at You (Heartbreak Remix).mp3,David Heartbreak – King Kong.mp3,Heartbreak – Doomsday.mp3,Heartbreak and Munchi – Boneknuckles.mp3,Kid Kaio – Hey (David Heartbreak Remix).mp3]
Heartbreak & Toddla T Blaze up ( That Jeffrey ) by David Heartbreak
Torro Torro on Soundcloud | Facebook | Twitter
[audio:Jeremy Glenn – New Life (Torro Torro ReWork).mp3]
One of the biggest moombahton joints this summer (release date Aug 23 on Mad Decent)
Dillon Francis, Diplo, Maluca – Que, Que (Torro Torro Remix) PREVIEW by TorroTorro