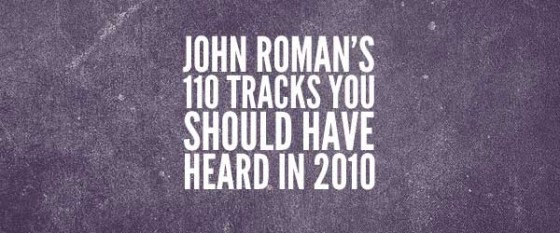 Over the next seven days, SalaciousSound will publish a series comprised of dozens of articles chronicling the best electronic music that 2010 had to offer, across all genres.
You can view the whole series by clicking the category link above '2010 in Review Series', and you can also view every post ever written on SalaciousSound about the artists mentioned herein by clicking on the artists' links at the bottom of the post.
If you like this type of music, you should also try clicking the genre tags at the top of the post, so you can find more.
I hope you all enjoyed and were inspired by electronic music in 2010 as much as I was. It was a special year!
This is the fifth article in the series, and is a guest contribution from influential Toronto Producer DJ John Roman. John has been featured on SalaciousSound several times, and has even guest contributed in the past. I was delighted to have his permission to republish this extremely high quality article, which he originally released on his blog here. He also offered to give us a sneak-peek of his latest track with this personal note:
A groovy tech-banger supported by Sound of Stereo and NT89. "Sphere" was featured in ElectroTO's "Producing for Presents" charity EP that raised almost $1000 for Heart House Hospice in Toronto.

My debut EP "Sing!" on Idiot House Records will be coming out January 15. I'll send out more information on that as well as a free promo MP3 in coming weeks.
[audio:John Roman – Sphere (Original Mix).mp3]
Looking back, I'd describe 2010 as a year in transition for dance music. For some of us, the ideas and elements that first attracted us to the genre had grown tired. And for many others, these ideas and elements were brand-new and exciting; inspiring the same obsession that urged us to dig further into the culture. As a whole, dance music's popularity in North America grew exponentially in the past year, seeing many mainstream milestones (deadmau5 at the VMAs, Pharrell on SHM's "One", the superstar cameos in Duck Sauce's "Barbra Streisand" video, "We No Speak Americano" everywhere) and a stunning amount of new fan enthusiasm and genuine passion.
But as audience expectations became more refined, definitions of what "dance music" is and should be narrowed for the majority. For DJs, the inner-conflict between entertainer and curator heightened, often creating a strange grey area on dancefloors that was, at its best, magical and inspiring, and at its worst, confusing and alienating. Although this is not an altogether new phenomenon, for a new generation of DJs created from dance music's recent explosion (myself included), it was a difficult, and at times stifling, creative challenge. The experience that was once communal became adversarial for some. Honesty and integrity were often put at odds with entertainment and commercial appeal. Through no fault of the audience though – these are just the growing pains of reaching artistic maturity.
The DJ's frustration is inherent given the way he or she listens to music compared to most fans: a greater part of their life is devoted to finding music, listening critically and understanding how tracks function in relation to others. Expecting this same level of interest from the average crowd is illogical and idealistic. To me, a good DJ set is like a good argument: here's what I like, here's what you like, and here's why I prefer what I like. If the DJ and the crowd like the same thing, then this argument is much easier, but if not some convincing is required. A great DJ plays a persuasive role, helping the audience arrive at conclusions naturally rather than educating them against their will.
But expecting great DJ sets to completely shift mainstream tastes is probably just as illogical and idealistic. Popular music is popular for a reason. The emphasis of "lowest common denominator" is more so common than lowest. For something to interest the majority, it has to appeal to people's most base and universal similarities. By their nature these qualities can't be complex, unique or individual, they're shallow, instinctual and the more one grows intellectually and independently, the further one moves away from these basic commonalities.
But this isn't to say that the current state of popular dance music will be accepted passively forever. Art is reactionary – what is now will not be in the future. Nothing is permanently popular, only temporary. And with the pace that we create and consume music, it's temporary and disposable nature will only increase with time. It's very easy to miss some of the amazing, original, and expertly crafted dance tracks within a sea of conventional sound-a-likes and popularity fiends. But the effort of searching to find them is always a worthwhile and rewarding experience.
2010 was a year in transition, but more importantly, it was a year filled with GREAT dance music. I hope this list serves as one of those "magical and inspiring grey areas" between what's popular and what should be. I'm not trying to create an all-encompassing best-of here, or reflect the esoteric taste of some pretentious music nerd. Rather I hope you recognize a lot of these names, check out some of the picks you aren't familiar with, and broaden your definition of what dance music is and can be.
(Baby I Don't Know) What You Want – Jacques Greene
1010 – Boys Noize
1992 – Dexter
1999 (Tim Green Remix) – Cassius
Ancova – Mumbai Science
Antidote – Style of Eye
Arnold Classics (Egyptrixx Remix) – Brodinski
Aspic – Simian Mobile Disco
Avalanche – Boys Noize, Erol Alkan
Babylon – Congorock
Bare Knuckle – Kid Gloves
Beachball (Joris Voorn Remix) – Nalin, Kane
Berlin Booty – Hobo
Best in Class (Soulwax Remix) – Late of the Pier
Beton Brut – Cosmin TRG
Bit This Thin – Djedjotronic
Blitz (Harvard Bass Remix) – Digitalism
Calypso – Round Table Knights
Closed Timelike Curve (Marcel Dettmann Remix) – Traversable Wormhole
CMYK – James Blake
Coma Cat – Tensnake
Coma Cat (Round Table Knights) – Tensnake
Cut To The Top – Round Table Knights
Cvan – Jesper Dahlback
Deeper – Filthy Rich
Dis (KiNK 909 Tool) – DJ T.
Enjoy Music (Riva Starr Remix) – Reboot
Epsilon – Terence Fixmer
Extravaganza – Soul Clap
Fatherless – Breach
Fireworks – Deadboy
Fissa Tune – Homework
Flanter Filnger – Jonas Kopp
Forever This – Phil Weeks, Hector Moralez, Fries & Bridges
Forever You – L-vis 1990
Gain Reaction – Jan Driver
Gare Du Nord – Carte Blanche
Get Funky – Pirupa
Gold – Mumbai Science
Gospel (Super Flu's Antichrist Remix) – Format:B
Haasten – Egbert
Hands Up – Massimo Massivi
Harmageddon – Green Velvet
Hello Chicago – Guilio LNT
Homeless (Canblaster Remix) – Style of Eye
Horse Power (Popof Remix) – The Chemical Brothers
I Can Change (Tiga Remix) – LCD Soundsystem
I Love You So – Cassius
I Need a Dollar (Tensnake Remix) – Aloe Blacc
I Wanna Be Your Telephone (Tiga Remix) – Jamie Lidell
I Want Everything – Mowgli
I Wonder – Erdbeerschitzel
Into The Night – Azari & III
Jack The Potato – Jori Hulkkonen, Jesper Dahlback
Keep Time – Shed
Klavierwerke – James Blake
Kleine Traume – D.I.M.
La La Land (Derrick Carter's 'D's BHQ Business' Remix) – Green Velvet
Lazers (Deepgroove Remix) – Sei A
Left Hander – Martyn
Lemonade – Boys Noize, Erol Alkan
Maybes (James Blake Remix) – Mount Kimbie
Mayor – Mount Kimbie
Miezekatze – Ogris Debris
Motion Sickness – Audiojack
Mr. Spock – Justin Martin, Ardalan
My Sweet Vital Angel – Steve Bug
Never Stop (Erol Alkan Rework) – Gonzales
Not The Only Girl – Dexter
Nott (Shadow Dancer Remix) – Boys Noize
NY is Killing Me (Jamie XX Remix) – Gil Scott-Heron
On Off (Sebastien Leger Remix) – Cirez D
One (Congorock Remix) – Swedish House Mafia
Overshoot (DJ Mehdi Remix) – Zombie Nation
Percolator (Riva Starr Remix) – Cajmere
Pimpin' Ain't Easy (Format:B Remix) – Hugo
Reckless With Your Love (Tensnake Remix) – Azari & III
Robert Schumann, Clara Wieck – Wolfgang Voigt
Say What – Gary Beck
Scat Track – Renaissance Man
Silly Froggies – Electric Rescue
Sing – Deetron, Seth Troxler
Sinister Boogie – Remote
Soda Caustic – KiNK
Soho – Julian Jeweil
Somebody To Love Me (Congorock Remix) – Mark Ronson
Soms – Hermanez
Souvenir – Slam
Squeek – Zombie Nation
Steal Drums (Julio Bashmore Remix) – The Martin Brothers
Supersonic – Mark Henning
Tarantula – Pleasurekraft
Tellyfoam – Jan Driver
The Chomper (Matt Walsh Remix) – Popof
The Dub Track (Len Faki Remix) – Pfirter
The Look – Jacques Greene
The Majestic – Shlomi Aber
The Secret – Joris Voorn
Upside Down – David Keno
Vallee De Larmes (Pleasurekraft Sideshow Remix) – Jean Claude Ades
Vaporizer – Gingy, Bordello
Variations – Gesaffelstein
Wahhagoogoo – Renaissance Man
Without You – Art Department
World Class Driver (Harvard Bass Remix) – Felix Cartal
Yard Birds – Boy 8-bit
Yearning – Black Van
You Gonna Want Me (Hey Today! Remix) – Tiga
You Know It – Jesse Rose
Zzafrika – ZZT
A Youtube Playlist With All the Tracks: