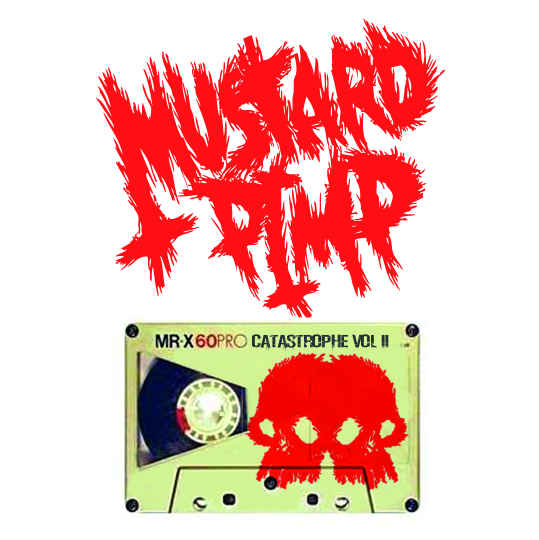 Baron and eKa of Mustard Pimp, inspired by metal, rock, and other notable music that they've tuned in to, are an unclassifiable French dynamic duo who have experimented with eclectic styles in their tracks.
Baron can trace his roots to DJing acid and techno music, while eKa can recognize his beginnings as a guitarist in a French metal band. Both eventually joined forces to make diverse remixes, instantly receiving support from well-established musicians, which include the following: The Crookers, Steve Aoki, Eagles of Death Metal, Shinichi Osawa, Designer Drugs, Steed Lord, Partyshank, A1 Bassline, Larry Tee, Dada Life, Stereoheroes and Bryan Cox.
Mustard Pimp's debut single "Oh La La Satan" was released under Crux Records in September 2008, immediately followed by MP released in their second EP Raging Blood under Idiot House Records the following month. Early in 2009, they released their third EP RER EP, available on the Internet. In July 2009, Mustard Pimp signed the singles, "Cherry" and "Kiwi" under super hot Dim Mak Records. The same year, they released a 12-hour mixtape called Hercules Mixtape, which represented all of their influences. To top it all off, they doubled the number and did it again in January 2010 with a 24-hour Mixtape that was a global hit on blogs.
Mustard Pimp have been featured on blogs from all corners of the world. In addition, they have released more than 25 mixtapes within the last two years. To date, their mixtapes and tunes have already been downloaded over 150,000 times.
Mustard Pimp on Soundcloud
[audio:Mustard Pimp – Catastrophe Vol. 2.mp3]
Tracklist:
0)Intro
1)Beataucue – Folder
2)Sticky K – Prince Of Persia
3)LA Riots – I Want To
4)Moston & Malente – Oh My God (NT89 Remix)
5)Keith – Get Up Ouch
6)Schoolboy – Checkmate (Dave Winnel Remix)
7)Heavyfeet – Here We Go Again
8)Cajmere – Perculator (Dada Life Guerilla Fart 11)
9)A1 Bassline – Bad Boy Sound
10)Tommie Sunshine & Bart B More – Drop Acid
11)Not An Exit – Feel It
12)Benny Knox – Something Happened
13)Bobmo – Bring It
14)Felix Cartal – Love (Green Velvet Remix)
15)Sound Of Stereo – Helium (Paul Chambers Remix)
16)Felix Luker – Mechanical
17)Clouds – Liquid
18)Discosamurai – No & Yes
19)Seductive Feat. Lady Bee – Heat It Up
20)Mr Vega – Bandulu (Puga Remix)
21)Daniel Haaksman – Purr Nana (BeatauCue Remix)
22)Shameboy – Battery Acid (Keatch Remix)
23)Pola Riot – What What (Hostage Acid Remix)
24)Disco Trash Music – Boulderdash
25)Angger Dimas – Are you Ready
26)Gamble & Burke – Let's Go Together (Hot Pink Delorean Remix)
27)Tiga – You Gonna Want Me (Hey Today Remix)
28)Highbloo – Fakirology (Will Bailey Remix)
29)Swanky Tunes – Across The Light (Peacetreaty Remix)
30)Sabertooth – En Brazil
31)Blatta & Inesha And Calvertron – Let's Dance
32)Bart B More & Harvard Bass – Listen To This
33)Hostage – Versatile Sound
34)Modek – Flip Flop
35)Access Denied – Bad Religion
36)Doctor P – Big Boss
37)J.Rabbit – Ninja Step
38)Skrillex – Scary Monsters And Nice Sprites
39)Los Conquistadores – Quien Toma Mas Que Yo