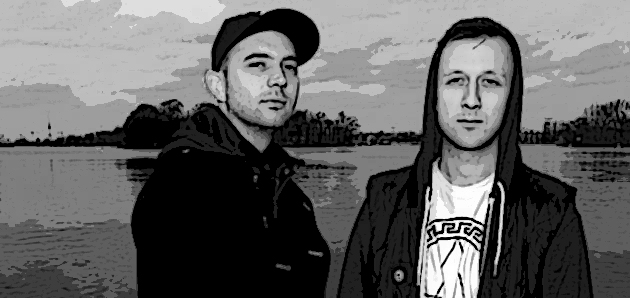 Lucas Hunter & Nat Self are ʻZombie Disco Squad' the multi-talented production duo that are taking house music in a new direction. Taking influences from Balie Funk, African rhythms, Baltimore, Hip-Hop, the so-called fidget sound and making it sound fresh. You won't find any cheesy gimmicks in their records but what you will find are tracks played by some of the most influential DJ's and clubs around the globe. Zombie Disco Squad started life in 2006 after putting on nights around London's pivotal venues such as the The Social and Catch. They made their name with regular mixtapes, which toured the globe via the internet and had a string of internet ʻhits' (10,000 downloads for the track ʻStraight Boy'). Influenced by African percussion, foreign languages and jacking music Lucas & Nat were soon traveling around the world touring the states and across Europe. They had touched down in clubs such as Fabric in London, Panorama Bar in Berlin and Hive in Zurich before even having one official single release. Their remixes, on the other hand, have had plays by Radio 1's Annie Mac, Pete Tong and Zane Lowe to name a few.
ZOMBIES SAY YES – Drums, Birdbrain, MC Jesse Rose, Vintage Gucci, Fast cars, meditation, large stacks of cash, Gantman, Cheesy Dutch House, Cubase 5, Hixept, Radio shows, Dogs with small legs but normal bodies, Bicycles, Sound and San Pellegrino, Jackmode and Salad Nicoise.
ZOMBIES SAY NO – Funky going the way of UK Garage, bad warm up djs, cheap production, war, cocaine, band wagon jumpers (still like disco?), distortion, Cheesy Dutch House (can't decide on that one), dentists, Ryanair, idiots and headaches.
Zombie Disco Squad released a mixtape in the last little while called the Rolex Pills mixtape. Check it!
[audio:Zombie Disco Squad – Rolex Pills Mixtape.mp3]
Tracklist:
We should Bang ZDS INTRO
Johan Vermeulen – Mbaya
Vincent Thomas – Heureka
Hanne, Lore – Und Die SchufaKlausel
BingoPlayers – Chop (Original Mix)
Idiotproof – the bouncer
Blackbox – Ride on time (ZDS BASS MIX)
Riva Starr – Dance me – (Fatjam remix)
Round Table Knights – Calipso
Tok Tok – Circus
Ramon Tapia – Say
Sascha Braemer- Some Sweat
Saeed Younan – Yeah Ha
Detroit Grand Pubars – One Hump Or Two