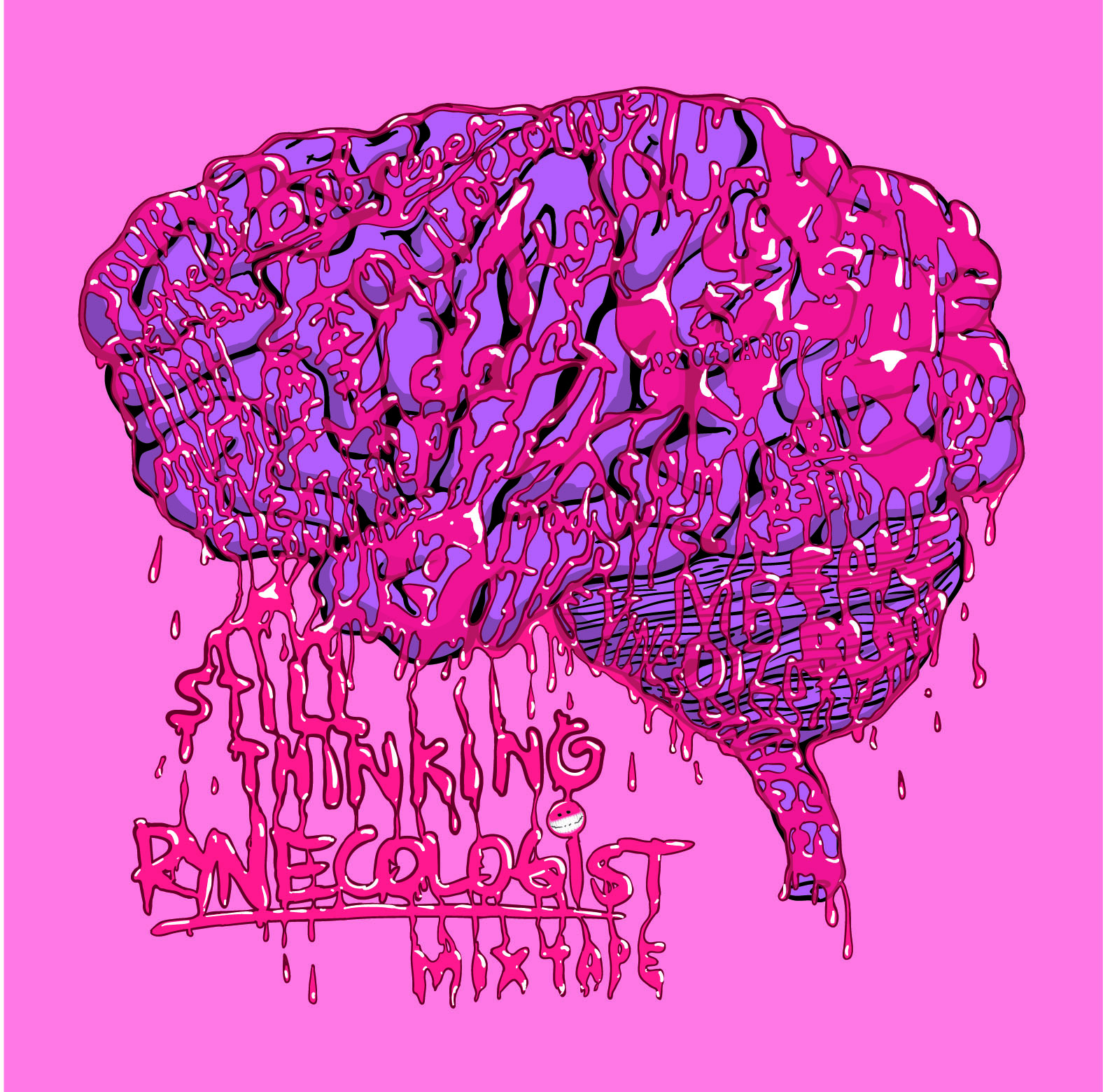 Rynecologist's Still Thinking Mixtape has garnered a lot of attention. As one of Toronto's rising superstars, he is more than just another DJ. His production has a unique sound that has certainly attracted a lot of love across the world.
Wednesday he opened for the Busy P show at Wrongbar and did a phenomenal job. Earlier that day he got matching tattoos with Pedro, a Canadian flag on each of their biceps. Its kind of cool because while the matching tattoo makes a lot of sense for Ryne, seeing as he is Canadian, its pretty badass that Busy P will continue to fly around the world with our flag on his arm.
Rynecologist's eclectic style of genre mash definitely allows him to get crowds moving. With everything for The Rolling Stones, to Mr Oizo and even "OK, BLUE JAYS, LET'S, PLAY, BALL" featured, its easy to see why so many people love how his sense of humor translates into a great party.
We shot an interview with Ryne but due to technical difficulties it won't be available for posting just yet. However, everyone should check out his show at Wrongbar tonight for the official release party.
[audio:Rynecologist – Still Thinking Mixtape.mp3]
Tracklisting:
INTRO – Opening words and The Cariboo Credo
1. RYNECOLOGIST – Teezer
2. HIGH POWERED BOYS – Hoes Get Down
3. KLAXONS – Golden Skans (Switch RMX)
4. DEADMAU5 – Ghosts n' Stuff / GINUWINE – In Those Jeans
5. FAKE BLOOD – Mars / SOMETHING FOR THE PEOPLE – My Love Is The Shhh /
6. RUSSELL PETERS – Somebody's Gonna Get A Hurt Real Bad / FAKE BLOOD – Mars (Herve RMX)
7. DJ DAN – MONKEY BUSINESS (Dj Bam Bam RMX)
8. JOACHIM GARRAUD – Moi Y'aime Bien Moa (JFK / St. Mandrew EDIT)
9. DJ KUE – Don't Get High (Breakdown RMX)
10. THE REAL MCCOY – Another Night
11. HUMANOID – Stakker (Feadz RMX)
12. EMPIRE OF THE SUN – Walking On A Dream (Van She Tech RMX)
13. RYNECOLOGIST – Lose Control
14. ERIC CARMEN – Make Me Lose Control
15. BLUR – Song 2
16. PROXY – Raven
17. THE ROLLING STONES – Satisfaction (Discotech RMX)
18. THE VINES – Ride / RAMMSTEIN – Du Hast
19. DAFT PUNK – Technologic / WU-TANG CLAN – Winter Warz
20. Q. LAZZARUS – Goodbye Horses / TIGA – Shoes / SANTIAGO & BUSHIDO – Head Trick
21. FLIGHT OF THE CONCHORDS – Too Many Dicks On The Dancefloor
22. MR. OIZO – Positif / DES'REE – Crazy Maze (Ricky Gervais COVER)
23. BOB SEGER – Old Time Rock n' Roll
24. GARY GLITTER – Rock and Roll Pt. 2
25. DANIEL BEDDINGFIELD – I Gotta Get Through This
26. THE BLOODY BEETROOTS – Dimmakumunication
27. LARRY TEE – My Penis, (Edu K RMX) My Pussy (Jeff Doubleu RMX)(Autoerotique EDIT)
28. BILLY JOEL – Uptown Girl
29. RYNECOLOGIST – Fire
30. MR. OIZO feat. UFFIE – Steroids (Mr. Oizo RMX)
31. DJ CLASS feat. KANYE WEST – I'm The Sh*t (RMX)
32. GREEN VELVET – La La Land (Play Paul RMX)
33. B.o.B – I'll Be In The Sky (Rynecologist RMX)
34. SIDNEY SAMSON – Riverside
35. MALENTE & DANIEL DEXTER – Hyperactive (Bobmo RMX)
36. TIGA – Shoes (Mr. Oizo RMX) / DEADMAU5 – Hi Friend
37. JOURNEY – Don't Stop Believing
38. PYTHON BRIGADE – Glory Hole Rub n' Tug
39. SANTIGOLD – Unstoppable (Tom Wrecks RMX)
40. RYNECOLOGIST – Guapo / R. KELLY – Bump n' Grind
41. FELIX DA HOUSECAT & P. DIDDY – Jack U (Steve Angello & Sebastian Ingrosso RMX)
42. THE BLOODY BEETROOTS & STEVE AOKI – Warp 1.9
43. THE LONELY ISLAND – Jizz In My Pants (Cousin Cole RMX)
44. MODJO – Lady (Hear Me Tonight)
45. HIS MAJESTY ANDRE – Peep Thong
46. MR. OIZO – Gay Dentists (JFK EDIT)
47. RYNECOLOGIST – Veste En Cuir Noir
48. MARVIN GAYE – What's Going On (Lulu Rouge RMX)
OUTRO – Final words