Whether or not trap is your main ting, chances are you're likely aware of who Stööki Sound is, and how prolific they are in the scene. The London-based duo, comprising of Jelacee and DJ Lukey, recently released their highly-anticipated EP– which is also their first project released under their new label, Ö.N.E Worldwide. Being named after the Egyptian God of transition, resurrection, and regeneration, Ösiris showcases a complete turnaround to the traditional 'Stööki' sound we've come to know and turn up to.
From theme-inspired tracks like Revive and Survive carrying some cultural influences to them – as well as a hint of mystery – to Jelacee himself lending his voice to tracks My G's and Hear That, the entire compilation takes you on a trip that'll bring to light how much of a rebirth the duo's been undergoing.
The duo was also kind enough to provide some insight (in the form of a Q&A) on Ösiris:
What inspired/led to the creation of Ösiris?
It's been 4 years since we released our first E.P. and in that time our sound has matured a lot. Since then we have increased our knowledge of production and also toured the world so gained more experiences and influences. We felt like a lot of early material was good but our sound has evolved a lot since then. Our Ösiris EP showcases [some] of our new work and it was important to us when making it that it was cohesive and tells a story from start to finish.
Which track(s) on the EP stick out to you most?
Our first single 'Endz' is special to us because it's the first track from the E.P. that we started to play live out at shows. It was great to see people's reaction to it when it was untitled and people were positively reacting to it and asking for its ID.
We wanted to push the boundaries with it and sample our friend Cobi, who is a live guitarist, and take a blues riff and put our take on it. It was important to us that the songs on Ösiris were progressive and combine our signature sounds with others, such as African drums including the Dundun and Lolo.
Hear That and My G's – was there any particular person/people that inspired this track?
Not anyone in particular. We have influences from around the UK of people we grew up listening to, P Money being one of them. So being able to get him on Hear That was a big deal for us. But with regards to the tracks we just wanted to continue creating our own style of music with the influence of the music we listen to.
The EP is being released on your new label, Ö.N.E Worldwide – can you tell us a bit about the label?
Ö.N.E stands for 'Originality Never Ends'. Our style and approach to music is quite unique, and we decided that we want to keep doing what we do best, which is staying independent and doing what we love.
It's important to us that the releases on the label are organic, and the reason we started the label was to create a platform for artists to release innovative music that pushes boundaries.
We want to create more of a family like T.D.E (Top Dawg Entertainment) and BBK (Boy Better Know) have done in the past.
Bonus: Some of your favourite artists/songs in the trap/grime scene?
Sonny Digital feat. Mathaius Young – EveryDay
Following the EP's release, Stööki's also embarked on a massive year-end tour! Traveling coast-to-coast across America (plus a couple of stops in Canada), you can bet there's going to be quite a spectacle across the nation. See if/when they're stopping near you!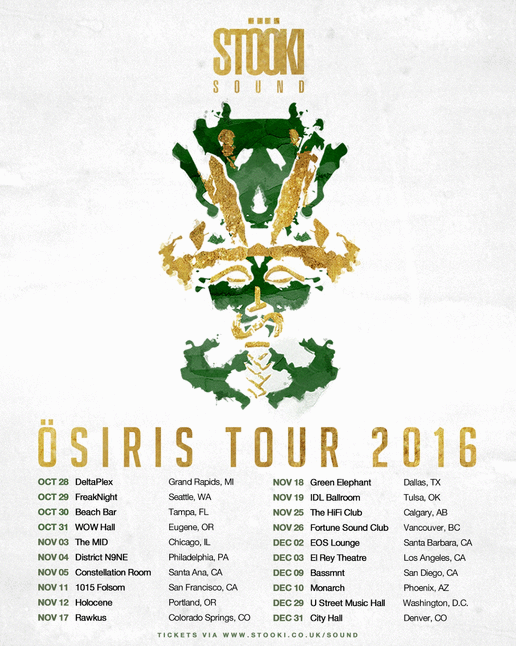 ~Stööki Sound~
Facebook | Twitter | SoundCloud
.