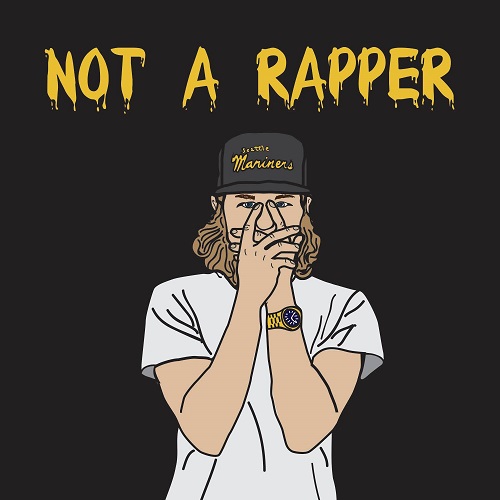 I see there being two types of Hip-Hop/Rap these days – the flashy, bling-laden superficial kind, and that which is real and actually has meaning/depth, by telling a story along with the sound. 23-year-old Cameron Kaminski, also known as Lyrx, doesn't see himself as a rapper (hence the name of his debut mixtape, Not A Rapper). Despite this, he still spits a lot of truth, whether through encouragement to follow your dreams, or about how his past has helped bring him to where he is today.
I had a chat with Cameron, and he discusses how the mixtape came to be, as well as how he's come to establish himself as an artist, and discover who he is by doing so.
Despite the fact that you rap throughout the mixtape, why the name 'Not a Rapper'?
The name Not A Rapper stems from the connotations that come with that word, Rapper. I consider myself more of a writer, or a poet. I write for myself and to release my emotion in hopes that others will relate to what I'm going through. I just enjoy sharing my story as an artist.
Who/what have been your biggest inspirations, for the mixtape and as a whole?
My biggest inspiration for the mixtape was an experience at Electric Forest Music Festival this past summer. I sort of discovered who I was as a person during those 4 days, and it allowed me to open up and write what I really felt, not what people wanted to hear. In terms of inspiration as a whole, Chance The Rapper and his tape Acid Rap. The way he tells stories, and links his rhymes together are unparalleled in today's hiphop game IMO. Behind him are artists like Vince Staples, GoldLink, IshDarr, Mick Jenkins, Drake. This younger generation of artists is more who I've grown up with. Artists like Kanye, Big L, Jay-Z, Eminem, Andre 3000 all have played roles as well.
What message are you trying to convey with your music?
Be whoever you want to be. Let your passion guide you in life, not the opinions of others.
How did you come to decide what producers to use for your mixtape?
I got really lucky to be honest. Almost all of the instrumentals used in the project were released as part of a producer's past project. I would scroll through SoundCloud until I found a production that inspired me and would just start to write. After I was finished I would send what I had to the producers to see if they would be cool with me adding to their creation. Artists like Pink Slip, Aaron London, Flamingosis, and Halpe have all been amazing in terms of their support and I couldn't be more grateful. I have probably 15-20 songs written on productions of others that I won't release.
What makes you different from the notion of a 'stereotypical rapper'?
I'm a poet. Under the technical sense yes I'm a rapper, but I view myself as an introvert using rhyme schemes to relate to society. Every single one of my songs is a different story or experience that I have gone through and learned from.
The title, artwork and shout-out to Kayne at the beginning all seem like more than a coincidence – how did Dropout come about?
Dropout came to be after a failed trip to SXSW due to a shady promoter. After a series of events he called me out on Facebook for being a dropout and told me I should go back to school. So I sat down and wrote that. The beat produced by soon-to-be-super-producer Pink Slip gave me that old school soulful sample that I felt brought vintage Kanye back into relevance. Kanye and his passion/determination/confidence is a major influence of mine, and I aimed to bring out that in that track.
What are some of the biggest challenges you've come across in your journey so far?
Believing in myself. Like any other craft it takes time to get comfortable and to mold your own style. For a while I was afraid to find my own style, and felt like I could ride the coattails of others. But the moment I realized I could do exactly what I wanted to do, everything else just seemed irrelevant.
Now that the mixtape is complete and out there for the world to listen, what's next on the Lyrx agenda?
Well I'm working on an album that was also inspired by my time at Electric Forest. It's nowhere near complete but it's heading in the right direction. But in the meantime, I have a show in NYC at the Knitting Factory Nov 7th, and then one in DC November 13th at Backbar. I want to help grow this DMV (D.C., Maryland, Virginia) music scene and show that there is immeasurable talent in this city. We just need to work together.
Check out Not a Rapper on SoundCloud (it's also a free download)!

~Lyrx~