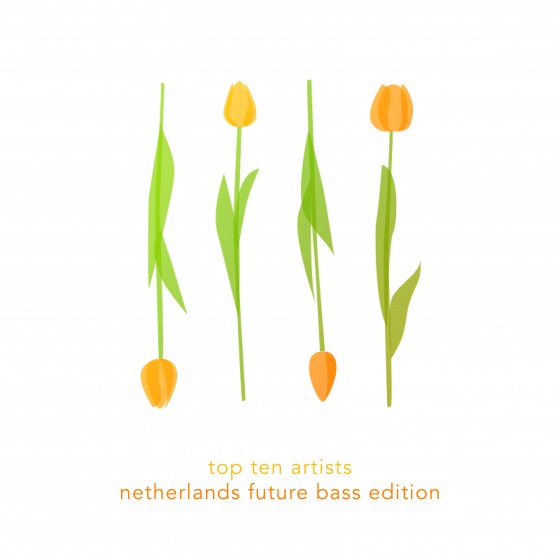 There was a point in time where I thought Australians were the kings of "future bass". Being that they were a few time zones ahead of me, that explained why they were so on top of the game. Today I realized, that isn't the case. The Netherlands is slowly taking over as the "future bass" hotspot, and cranking out nothing but heat.
The first artist on our list is Jarreau Vandal. This Soulection artist just put out a seductive twist on Alina Baraz & Esta's Paradise. Get lost in his smooth vibes on this remix.

Although it may have been a little while back, but Ganz is no newcomer to Salacious Sound. If you're some what of a veteran here, you may remember us covering his track Bonecrusher. His newest 'flip' is of A$AP Rocky's Ghetto Symphony; it's probably our favorite from Ganz.

Subp Yao on the other hand hasn't been featured on Salacious Sound yet, and it's about time we show him some love. This track may be a bit older than some of his more recent productions, but it's probably our favorite of all time from Subp Yao.

The next two artists seem a bit inseparable. Along with near infinite amount of collaborations together, Jailo & Kappa Kavi have had songs remixed from two of the artists on the list. They are completely killing the game over in The Netherlands, yet they lack the coverage they truly deserve. Over the past two months, the majority of their work has been together. We could sit here and cover our favorite songs off of their Asteroid EP, but we feel it may be a bit more appropriate to show you a bit of each artists' personal work.
Jailo gives us nothing but wavy vibes with his tracks. His most recent solo work was easily the waviest remix of Travis Scott's Upper Echelon. We've heard so many remixes of Upper Echelon, but Jailo's easily takes the cake.

The king of kawaii, Kappa Kavi, recently put out an amazing record on Basserk Records. Talk 2 The Heart does exactly what the track's title says with it's soothing vibes.

BeauDamian's recent track is a flip of Chance The Rapper's Good Ass Intro. With arpeggiating chords, and distorted bass lines, this song will leave you smiling– even with a sore neck from nodding your head.

We  recently featured a track from Deon Custom's Bliss EP. Just because we shared one already doesn't mean we can't share another. This time around we're showing you his title track off of his Terrorythm EP.

One of the two artist's who remixed Jailo & Kappa Kavi was Boeboe. Not sure if it was the 808s or the lead, but his remix of Why Don't You really caught our eye.

You might know the name WRLD from our recent post, 16 & Killing It, or the name may be completely new to you. Whatever the situation is, you need to get the name WRLD stuck in your head. WRLD's most recent record was released on Monstercat. I recently had a moment to speak with WRLD, and he told me his favorite artist was Owl City. With his inspiration, and this record, you can see that he is shaping a new path for future pop music.

The last on the list is FS Green. The most recent track from FS Green was released on that same Basserk Records compilation as Kappa Kavi. This song is a remix of the classic record from Midnight Star, Midas Touch. FS Green has helped pave the way in The Netherlands for future bass, club music, moombahton, and much more. This won't be the last time you see FS Green here, and definitely won't be the last you hear about all of these artists.