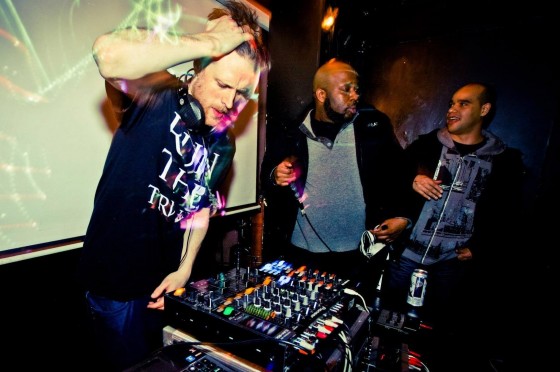 I would like to take this opportunity to introduce you to one of my favorite underground Toronto producers. Riggadale has been crafting sounds behind and – on the scene for years now. Working from the beginning with Toronto heavyweights like Zeds Dead and The Killabits since 2004. More recently, Riggadale has switched up and matured from the rest of the dubstep scene, becoming a champion of pitched up soul samples, and down heavy basslines. Except this time it tastes a lot more like love, and the robot sex sounds have been left at home.
Although he's been producing for years, has a UKF release, and several TeamSupreme cypher creds to his name – Riggadale is just now deciding to start releasing some stuff. Unbelievably exciting and it seems like he hasn't even broken a sweat gaining the approval of all these authoritative ears.
I had the chance to ask the man a few questions about his experiences producing and where he's taking it all from here:
B: Tell us about the switch from the heavy dubstep we saw you premiere with on UKF and this future smooth sound you sport now? Would you say its internal or externally influenced?
R: I guess I've been trying to stay a half step ahead of the scene in Toronto and explore genres as they evolve. When underground hip hop stopped inspiring me I looked for something new, eventually trying to fuse clubbier UK dubstep aesthetics with North American hip hop sampling styles. In turn when dubstep "saturated" into sterility,  it was time to move on.
B: What's your favorite night of music in your career/life show in or at?
R: The show that sticks out in my mind most was a Pharoahe Monche performance at The Opera House in Toronto. Hunter Siegel and I had faked having a website to get CMW media credentials as nineteen year olds. Simon Says absolutely murdered the place. As far as my career goes, coming on after DJ Shadow a couple months ago was a really big moment for me.
B: What is Cuddle Season? 140 characters or less, Twitter style…
R: When winter hits hoes hibernate, listen to the song by K. Locke.
B: What have we got coming from you next up? And in the future?
R: I'm playing March 5th with Sinjin Hawke and April 11th opening up for Mr. Carmack , Djemba Djemba, and Sweater beats. I plan on commemorating the end of this year's Cuddle Season by releasing something a bit heavier. Probably won't leave the studio much though.
—
I leave you with Riggadale's latest mixtape, the valentine's day drop Cuddle Season Vol. 2 and one of his TeamSupreme extended edits
Riggadale on: