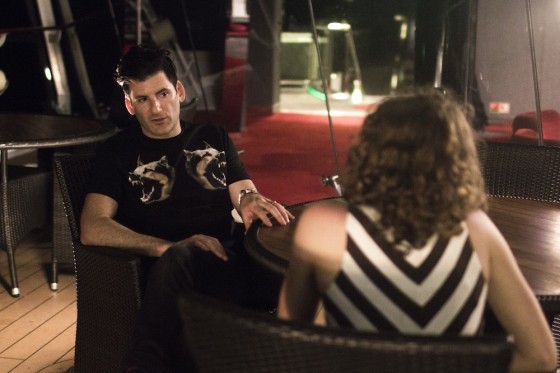 On the last night of this year's Holy Ship, I got the chance to catch up with Gary Richards — better known to the music world as Destructo — owner of HARD events and notable musician. We sat down together on a warm Caribbean evening to talk about his thoughts on the industry, where music is going and how it should be, and what's been happening in his adventures at sea.
SYD: I know that you believe Less is More when it comes to your events, so is that why you stay so close to LA?
DESTRUCTO: Well, I was born in Washington DC and went to high school in LA. LA's kind of my hometown. I feel like I want to put it on the map. We're getting around, we're doing things in Australia. We had a HARD stage in EDC in London, Miami, New York. Governor's Island. I live in LA, I know the locations and the people, but I'd love to do more events on the east coast.
SYD: You sort of want to foster your own community when it comes down to it. I think we feel that in Toronto, definitely.
DESTRUCTO: Oh man, yeah, I love Toronto. The people in Toronto, man, they know their music and they know how to party.
SYD: So this is the first year you've upgraded the Holy Ship boat size.
DESTRUCTO: Oh man, this year's ship's amazing. Last year's ship was called the Postia, and that ship was like the 93 Volkswagon Jetta, and this is like the 2014 badass Audi turbo. It's just a brand new boat, and they happened to get it to Miami, and it worked. To have a bigger capacity was a really big factor to get more people on, but also, this boat is brand new.
SYD: What we really like about this festival is that it's like a DJ convention. It's not like anybody has to leave directly after their set, everybody seems more relaxed. They're spinning records for their friends.
DESTRUCTO: HARD's like that. I've always felt like all these guys like Boyz Noise, Deadmau5, Calvin Harris, Diplo, these guys are like family. I feel like we're all together, even though they've all spawned off into their own crazy shit, we all get a chance to come together because we all have a common theme of genuinely loving music. When we all get together, it's like a huge party.
SYD: Even with the fans, everyone's super polite and enthusiastic and happy to be here. Running this thing can't be easy.
DESTRUCTO: Yeah, I got a great team. Live Nation's not a huge factor in this event, but they've really helped me with HARD, and made that thing a dream for me. For this, we have two other partners, Cloud 9 and Foundry. Cloud 9's great with the cruise ship industry, we have a great team. I'm able to sit here and chat with you and not have to deal with bullshit.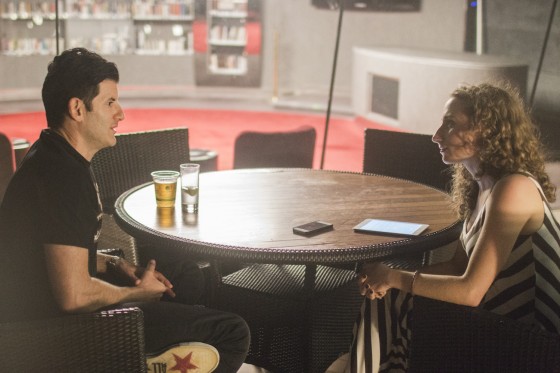 SYD: Yeah, and you get to DJ the events you actually want to play at. You've been DJing literally since the year we were born.
[Destructo Cringes]
SYD: Sorry, that must feel sorta weird.
DESTRUCTO: It makes me feel amazed that people actually care about it still. I mean, in 2005 I told my wife 'Maybe we should just sell our house and move to Portland Oregon, South Carolina… I'll buy a bar… I'll DJ at the bar, we'll put our kids through a good public school, and just live a normal life. So we went to Portland to look at some houses, and we were there for a couple hours before we both said man, Fuck this. I was back in LA having dinner with some friends and they just said 'You're fuckin Gary Richards, why don't you do something like… put that to use. Don't fucking move.' And then I saw what Pasqualle was doing with his events, and said, well, Fuck. I was always trying to make records, selling CDs, and people stopped buying it. My business went away. So I tweaked it, after seeing all this, and started HARD with a different angle and different music. Instead of being 20 years ahead, I was four. I didn't have to retire. You know, I still have all my vinyl. My wife is still trying to get me to throw all the vinyl away… I said, 'You don't understand! When our kids are older, I'm going to give them this vinyl, and tell them their dad was a Really Cool Techno DJ and people actually cared.' It's great to be finally recognized for that, instead of having that never happen. There are guys on the boat now that are recognized for that, but not to this level. There's a lot of good DJs from back then that nobody cares about that were as good as if not better than those who are making hundreds of thousands of dollars today. It's bittersweet.
SYD: What are your thoughts on EDM as a genre versus EDM as a method of musical creation.
DESTRUCTO: Well I think just being a good DJ doesn't matter anymore. I learned that you have to be a producer; For myself I could be a good DJ, and it'd be great to do an eight hour set and I can take people to mars and back, but if you're not playing your own records what's the fuckin point. So I wanted to make more records I could play… I got noticed a lot more that way. I think the last guy who was big on just being a DJ was DJ AM. There's very few people that are like that. You have to have the complete package, you have to produce your own music and be a great performer. You have to have a brand, you have to do quality shit and be different. Everybody in this business wants to be the same, in some weird way. Not the guys I've worked with, but in EDM in general. To me, EDM is just pop. It's fucking pop music, disguised as what We do.
SYD: We heard you work with a guy called Matt Goldman for all the design you do with HARD?
DESTRUCTO: Yeah, Matt's company's called MFG. He's been with me from… I tried to get him to design the first HARD poster, but he was unavailable, and my partner at the time did it and it looks like a Pepto Bismol bottle and it's horrible. The second one Matt did, and I kinda told him what I wanted. He's helped me formulate the look and feel of the brand for HARD and Holy Ship. He worked with Shephard Ferry for years, he was one of the top designers. He's fucking amazing.
SYD: Every sort of material we get on this festival is amazing. Even the drink cards, it's so cohesive.
DESTRUCTO: Now if I make things and I don't go through him he gets so mad. I think I'm helping him 'cause it's one less thing he's gotta design, but he takes such pride in it… We've been together for something like seven years, and I couldn't have the look and feel of HARD without Matt. He's a great dude.
SYD: A lot of high-profile artists now are starting their own labels, they're trying to get into the management and business side of things. What do you feel about that as a person who's worked all sides of the industry?
DESTRUCTO: I would never limit anyone's goals or dreams or ideas or work ethic, or whatever they want to do. I do think as a record label veteran of fifteen, twenty years, I think people don't really realize what it means to have a record label. I had a label with Interscope, Doing a tweet and putting something on Beatport and iTunes isn't running a record label. In this day and age god bless 'em, they're trying. I think what's happening is that there's so much music coming out so quickly that records come and go in a month. When I put out Higher, I worked it six months, a year. To me, I'm old-school where if you have a band, you make a record, you do a tour, you go away, and then you do it again. If the record's a hit you do two, three more tours. In this world, shit's 24/7. Eventually, you'll burn out unless you keep making great music. Sometimes, you really have to go away to come back refreshed. In this music industry, specifically in record labels, it's a bit different… I think that method will stand the test of time. The Beatles didn't play forever. I think there's one statistic where Led Zepplin played like… 270 shows in their entire career. Steve Aoki probably did more than that this year. I mean, Led Zepplin, you'd think fuck, I bet they did more shows than Steve Aoki, but no. But that's why they were so dope, they were mysterious. You couldn't see them anywhere unless you went to their concerts. And all of us guys, you can see my fuckin' stupid picture fifty times on Instagram in a minute. It's too much! I guess if you keep making good music, that's the key.
SYD: Do you think you can go away for too long and expectations grow too big?
DESTRUCTO: As long as you can deliver the goods with the music, you can do whatever the fuck you want.
SYD: Any plans for music? You keep talking about how 2014's gonna be your best year ever.
DESTRUCTO: Really?
SYD: Yeah, that there are gonna be so many surprises.
DESTRUCTO: Well, I have a new EP coming out called the Westcoast, and I did a song with Ty Dolla Sign. It's kind of a mix between Ghetto rap and Ghetto house, and I think we're onto something new and fresh that nobody else is doing. People have been responding to that really well. This isn't trap, my shit's smooth, but the lyrics. I put it all over a house groove. The lyrics are like a crazy party, but the beat flows, so you don't feel like you're getting shot in the head while you're listening to it. It's sexy.
SYD: So it goes down like a good Whiskey.
DESTRUCTO: Totally. I mean, I love what everybody on the boat is doing, this is just my take on it with more subtle approach to tempo and baselines.
SYD: There's definitely room for Subtlety in music today.
DESTRUCTO: My shit's all about the build, taking you on a ride. Most people change songs every ten seconds, but I'm old school. I like to groove for a while.
SYD: Do you think there's a difference between styles of DJs who are brought in from different styles of music, like hip hop as opposed to, say, trance?
DESTRUCTO: Definitely. I try to make music that I'd play in my own sets. So everything is always concentrated on the build. That's always my goal.
SYD: And you've built up to this!
DESTRUCTO: Look at the fuckin' engine on this boat.
SYD: Yeah, that shit's terrifying.
DESTRUCTO: Let's hope they don't blow the horn while we're back here, it's fuckin' loud.
SYD: Well, I think we'll be okay, We've had our ears messed up this weekend anyway.
DESTRUCTO: They've been rinsed out! Sounds good, right.
SYD: The sound quality's great on all these stages, I will say.
DESTRUCTO: Well, I told them, you don't need to spend a lot of money on lasers and bullshit 'cause you've got the ocean. Just make it sound good.
SYD: Well thanks so much! Enjoy the time you have left on the boat, man.
DESTRUCTO: You too!
Destructo on