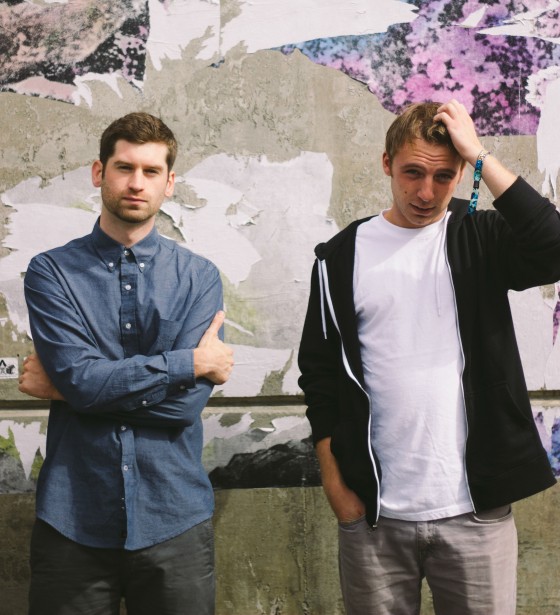 ODESZA has been busy, to say the least. The duo is comprised of Harrison Mills and Clayton Knight who met at Western Washington University. Attending the same school as them, sharing a group of friends, I have been able to see the two grow from playing in house parties and tiny bars around Bellingham, WA, to taking the main stages at some of the largest venues in the nation. Between photo shoots and touring, ODESZA was able to find time to answer a few questions with me before hitting the main stage at Capitol Hill Block Party back in July. Sunny and sweaty, we met up and walked to a corner near the Marination Station on Capitol Hill, Seattle. Posted up in a corner, I was able to get a sneak-peek into ODESZA's habits, places of residence, favorite things, and of course their music.
SS: You guy's played CHBP last year. How has your sound and your live show evolved since then?
Harrison: I think probably half the set is nixed at this point from what is last year. We have a lot of new songs, we have a lot of renditions from older songs. We have remixed a lot of things, and changed things, and changed the order quite a bit. It's always different for different crowds we play, so this one is definitely geared for tonight right before Matt and Kim.
Clayton: We added some new gear as well. We have the SPD drum pads, which is our new addition to the set, which are fun.
SS: Nice, bringing a few more elements to your show.
Harrison: Yeah, shows that we are not just DJing.
SS: Yeah. It is hard for the audience to see what you are doing behind your computer.
Harrison: Exactly.
Clayton: It's impossible.
SS: You guy's just signed with Counter Records and have an album coming out in September. How did that come about?
Harrison: It was kind of like a long process. We were trying to find the right people who felt as excited about the album as we did. And I think that the hardest part is finding people who care as much as you. You don't want people who either feel like you're their ticket to some money or a quick phase, you want people who believe in you, and Counter Records was definitely those people. And they are a subsidiary of Ninja Tune, which is like my favorite label. So, definitely a lot of cred behind them.
Clayton: Yeah. They would push it like where we can't basically, individually. So, just the exposure in itself is fantastic.
SS: That's exciting. Do you guy's plan on keeping your home base in Seattle?
Harrison: Yeah, neither of us plan to move anytime soon.
Clayton: I'm diggin' it, yeah it works well.
Harrison: We love Seattle.
SS: Where in Seattle do you live?
Harrison: I live in the University District.
Clayton: I live in Magnolia
SS: I am up North as well. So, when is your guy's favorite time of day? When do you find yourself most productive?
Harrison: Really late at night when there are no distractions. It's really nice to just get into the headspace and not have like random people showing up at your house or feel like you have to go grab food or whatever. It's just like that late-night-by-yourself, really focused.
Clayton: I'd say between 12 and like 3am. Those are the hours I am most productive. Or really early in the morning. I wake up at like 6 sometimes because I can't sleep and start working on stuff and that is a good time. But, yeah, middle of the day sucks.
Harrison: It's funny too, because we share a Dropbox account and that's how like when we are not next to each other we share music. So we will be alerted when the other person is working on music and it's almost like a kick-in-the-ass, at least for me, where I'm like oh shit he's working on that new song I gotta go start doing that.
SS: So you do most of your production at home?
Harrison: I mean, we meet up every day and just kinda like show each other stuff. We jam together. Or decide a route to take, and then we both kinda jam separately and bring it together at the end. Or just jam and do the whole thing together.
SS: And you both seem to be bringing in more vocalists as well.
Harrison: Yeah, that's the new thing on the album, I think about 7 or 8 tracks.
Clayton: Yeah. About half of them are featuring a vocalist, and like full songs basically that we've written. It will be interesting to see how people receive it.
SS: So you guys have been basically touring all the time as well as making an album. So far this year, which city has given you the most feels from this tour?
Harrison: You know, it is always different because it can be like 200 people in a venue and still be like really, really fun. As long as they're into it it's great. But I would say as far as if we had to count like in advance before the show, San Fransisco has showed us probably the most support. But, um as far as actually playing the shows it's been, LA, San Fran, New York, Salt Lake City, Austin Texas. Those have been like the really big ones.
Clayton: Of course, Seattle [laughs].
Harrison: Well yeah. That's like a given for me. Obviously, we have like the best support here.
SS: What's the best brunch you have had in the past month?
Harrison: What was that place we went to where it was too much food?
Clayton: Melt? In San Diego.
Harrison: Nah…
Clayton: Hash House!
Harrison: Yeah, Hash House! That place is crazy. It's like 18 meals served in one meal. And it was super good, it was like overwhelming cause it was so much food. But it was really good.
Clayton: Some true American portion sizes.
Harrison: Yeah [laughs].
SS: And that was in San Diego?
Harrison: Yeah
SS: When you go into a bar would you rather play pool or air hockey?
Harrison: Pool
Clayton: Pool
Harrison: Air Hockey is fun but it's usually like the same guy hitting it at one angle, and he's like, "Fuck you. Fuck you. Fuck you."
SS: Last question. What are the top 3 artists each of you are listening to right now?
Clayton: Top 3 right now, in my playlist, M83, Aster, I have to say that name cause it's a new one. And third would have to be, uh, I am just drawing a blank. Tame Impala, I've been going back to that one quite often for some reason, like this past month I've listened to their shit quite a bit. So Tame Impala, Aster, and the first one I said [laughs].
Harrison: For me I've been listening to this guy named Kania. I've been listening to Animal Collective a lot actually lately. Probably Slow Magic, I've been listening to a lot of Slow Magic.
SS: He's Playing on Sunday so I am excited for that. I saw him at decibel before you guy's actually.
Harrison: He's the homie.
Clayton: It's a cool show. It's actually unfair how good it is.
SS: Were you intimidated by playing after Slow Magic at Decibel?
Harrison: Quite a bit [laughs].
Clayton: Very much so!
Harrison: I was just standing side-stage trying to unplug his mask the whole show. No, just kidding. But yeah it's crazy.
Clayton: Don't bring it up, it's way too good!
Harrison: He does a great show, it is just a great show. Actually, you know what, I want to add a 4th and say Kodak to Graph cause his new stuff is fantastic.
SS: Yeah he is really great, been putting out some great sounds lately.
Clayton: I would say Hundred Waters too, I've been recently digging that new album.
SS: Well I know you guy's are busy and about to hit stage, but thank you!
ODESZA: Yeah! Thank you!
Make sure to check out ODESZA's album, In Return, available now. Worth it, obviously.
ODESZA On:
Soundcloud | Facebook | Twitter
-Hallie