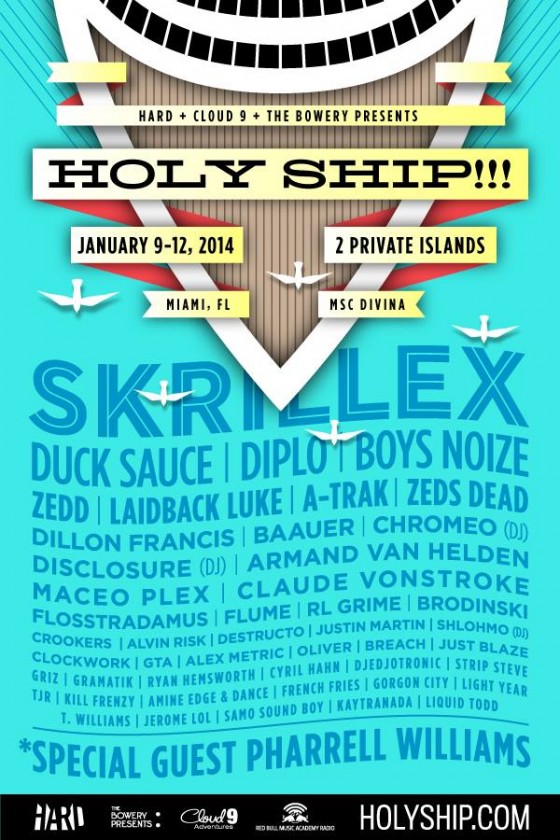 So, Holy Ship is a thing that you probably know about, and statistically isn't a thing you're going to. Sorry. I mean, with reports varying from thirty thousand to seventy thousand people on the waiting list, you're bound to either be a disappointed person or know a disappointed person. If you're a fan, you probably already know every minute of what's going on during the three day cruise, and if not, here's a run down. Holy Ship — this year in its third iteration, aboard a larger-than-ever cruise ship — is a music festival fit for the high seas. For many, it's a better New Year's celebration than New Year's was, and a wordless resolution to get them through the holidays. With multiple venues onboard the ship and a limited crowd size (ship capacity maxes out at around 3500, which for many used to large venues is fairly small) each 'stage' promises to deliver a one-of-a-kind party. There's an interesting mix of acts, from big name crowd pleasers like Skrillex and Diplo to lesser-seen legends like Duck Sauce and Chromeo to extra quality acts like What So Not, Kaytranada, Shlomo and Gorgon City.

In addition to the acts, ship-dwellers can spend their days participating in various activities of varying degrees of sanity. There are Yoga classes run by Gina Turner, Tai Chi & Kung-Fu with Laidback Luke, a Poker Tournament hosted by Zedd, Dillon Francis' Get Low Limbo, and a Scotch & Cigar hour hosted by none other than Zeds Dead. Audience participation is optional, but events like these are part of what makes Holy Ship so special. It's not a place where artists have to jet off to another gig right after their festival set; they're there to have just as much fun as you are and play their favourite tunes for their friends. What else could a music lover ask for?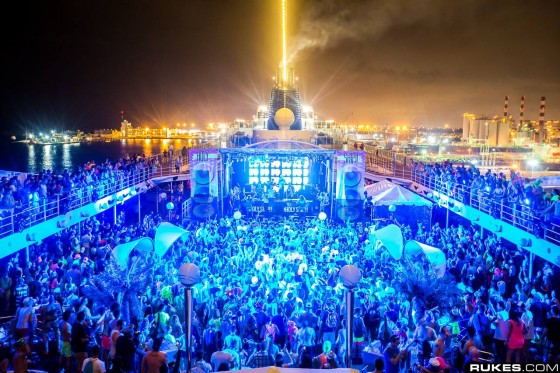 Personally, there are tons of artists I'm both curious to check out and ones I know I don't want to miss. Sets from the legendary Armand Van Helden are so few and far between that it's a must-see. Brodinski is always a great choice, and I really want to see the premiere of his alter ego 'The Boogieman' (We all thought he was kidding. WE THOUGHT HE WAS KIDDING.) Flume, French Fries, Baauer b2b-ing with RL Grime, Oliver, any one of the many headliners… I could go on forever, but the point is, there's going to be a lot of running involved. Possibly some dancing, or alternatively some fancy parkor. If I kick you in the face: I'm sorry in advance.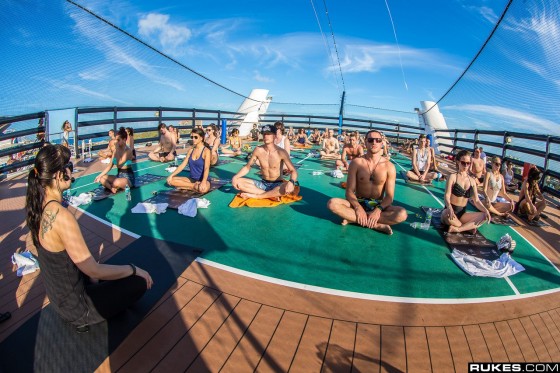 That said, if you're not going, we here at Salacious Sound are going to strive to bring the party to you with full photo coverage, day-by-day play-by-plays and reviews. Be sure to check out our social media streams to keep updated on what's going on, or hang tight (ten?) for our final report after the show's over. If you're local in Miami, why not check out the Wednesday night pre-party at Story?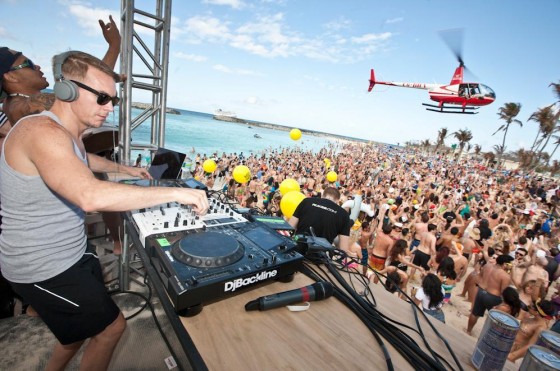 If you're one of the lucky people onboard the MSC Divinia this year, feel free to give us a shout if you see us! We'll be mermaids with eyepatches. Or something else equally ridiculous, toting cameras and sparkling. We're friendly, we swear.
(Sorry.)
Photos courtesy of the Holy Ship facebook page