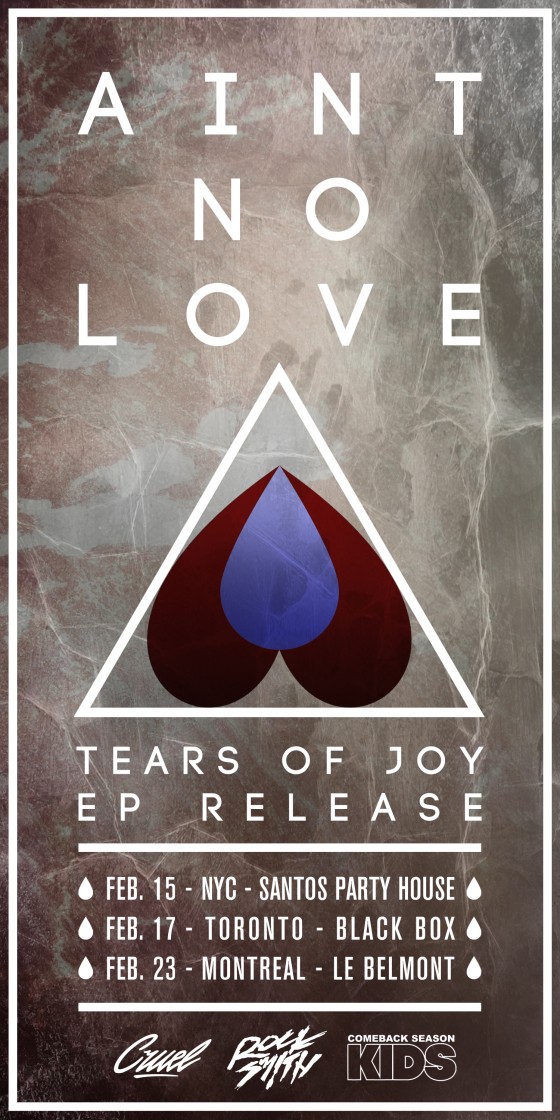 'Gone Already' is the 2nd single from Ain't No Love's sophomore EP: Tears of Joy, which will be available on iTunes just in time for Valentine's Day. The track has a dreamy pop sound mixed with an 80s dance vibe. The eerie chords set the stage for Ain't No Love's rappers to lure you in, while Saidah's hook gives listeners a powerful reality check. Producer Liam Clarke delivers once again with a dose of chill-inducing production on Gone Already.
A MuchFACT-funded music video for Gone Already is slated for release through MuchMusic & MTV the week of February 18th. The video was directed by Switzerland's Samuel Fluckiger and produced by Mike MacMillan of Lithium Studios. You can also catch Ain't No Love live in NYC on February 15th @ Santos Party House, in Toronto on February 17th @ Black Box Theatre, in Montreal on February 23rd @ Le Belmont, and in Austin, Texas for SXSW 2013 in mid-March.
SoundCloud link
Contest Blurb:
Win a pair of tickets to see Ain't No Love live in Toronto on February 17th at Black Box Theatre. Enter by following @thisaintnolove and @salacioussound on Twitter and then tweeting both with the hashtag #SalaciousNoLove. Contest closes at noon on February 16th.