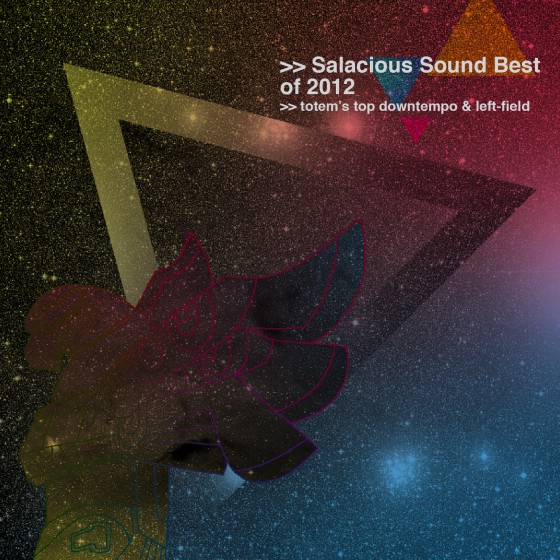 totem, here, checking back in with everyone before this year comes to a close. Now, it wouldn't be New Year's at Salacious without some year-end lists would it? You've already had the opportunity to peruse Statik's extensive 'Bass Music Awards' but that's not quite the end of our "Best of 2012" series. Featured below is the second edition of my top 25 downtempo and left-field remixes. As with last year's edition, this list focusses on the best remixes in 'left-field', 'experimental', or chillout electronica. I spent a great deal of time crafting this list and ranking the tracks accordingly. I hope that you enjoy listening to and reading about the tracks I've chosen as much as I enjoyed putting this list together!
Firstly, I'd like to thank all the Salacious readers for making 2012 a landmark year for this site! Your continued support is much appreciated! Also, a big thank you goes out to Cal and the entire Salacious Sound team, you all have been awesome friends and co-workers, many of you have helped me to develop my musical knowledge as well as my writing skills. I look forward to working with all of you in the new year! Last but not least, shouts out to the multi-talented SYDNEYJ for contributing that sexy cover art seen above.
That's all for my opening remarks, let the countdown begin:
25. Canyons – When I See You Again (Duke Dumont Rain On Kilimanjaro Mix)
24. Frankie Rose – The Fall (Fort Romeau Remix)
23. Jesse Boykins III & MeLoX – The Perfect Blues (Jacques Greene Remix)
22. Flight Facilities – With You (feat. Grovesnor) [Danny Daze 5AM Mix]
21. Lianne La Havas – Lost and Found (Maya Jane Coles Remix)
20. Humans – Horizon (Nautiluss Remix)
19. Yuna – Lullabies (Jim-E Stack Remix)
18. Rudimental – Not Giving In (Stay+ Remix)
17. Korallreven – Sa Sa Samoa (Elite Gymnastics Remix)
16. Blood Diamonds – Phone Sex (feat. Grimes) [Lemonade Remix]
15. Disclosure – Tenderly (Kidnap Kid Remix)
14. The Weeknd – Enemy (Poupon's 'Take It Slow' Edit)
13. Bibio – Lovers' Carvings (Chateaubriand Remix)
12. Hauschka – Radar (Michael Mayer Remix)
11. AlunaGeorge – You Know You Like It (Bondax Remix)
10. Lianne La Havas – Forget (Laurel Halo Remix)
British soul crooner Lianne La Havas may have lost the battle for UK R&B diva supremacy (to Jessie Ware of course) but when it came to 2012's most 'remix-friendly' artist, La Havas was the sure-fire winner. Songs from her debut album 'Is Your Love Big Enough?' received the remix treatment from such esteemed electronic artists as Shlohmo, Ryan Hemsworth, Maya Jane Coles, Lapalux, and Melé. Said artists all contributed quality remixes, nevertheless, it was Brooklyn-based experimental producer Laurel Halo's next-level remix of "Forget" that really stood out. With its rippling synths and exacting drum-snaps, Halo's remix re-appropriates  La Havas' original vocals so that they take on a sense of urgency. Resultantly, the listener is left with an eerie feeling of being held captive.
9. Cat Power – Cherokee (Nicolas Jaar Remix)
Already a magnificent track on its own right, "Cherokee" could easily have been butchered at the hands of a tactless producer. Good thing, then, that the discerning Nicolas Jaar was chosen to re-interpret Cat Power's fragile masterpiece. With shimmering ambience, Jaar delicately cradles Chan Marshall's expressive vocals, transforming "Cherokee" into a somber lullaby.
8. Jeremih – 773 Love (Daedelus' Pacific Mix)
Mike Will Made It and Jeremih's ode to late-night bootycalls toes the line between lustful seduction and starry-eyed romance. While most remixes of "773 Love" emphasize the former quality, Daedelus' eschews slow-burn carnality for puppy-dog love whimsy. The quirky L.A.-based producer's approach is simple yet ingenious: speed up the tempo and inject a buoyant footwork beat. Stimulating indeed!
7. The Golden Filter – Kill Me (John Talabot's Killed In Room 616 Refix)
2012 will undoubtedly go down as a landmark year for the venerable Spanish producer John Talabot. Not only did he release one of the best electronic full-lengths of the year, ("ƒin") but he also held down some quality remixes. The most impressive of which is this blissful 'refix' of synth-pop duo The Golden Filter's "Kill Me". Swanky nu-disco meets icy house? Oh, John Talabot, you kill me!
6. Zola Jesus – In Your Nature (David Lynch Remix)
Who knew the legendary cult director David Lynch could be so darn good at remixing? As evidenced by this eerily uplifting re-work of art-goth Zola Jesus' "In Your Nature", film-making is just one of Mr. Lynch's many talents.
https://soundcloud.com/souterraintransmissions/zola-jesus-in-your-nature
5. Elite Gymnastics – h e r e,  i n  h e a v e n 4  &  5 (CFCF Remix)
This year, genre tags like  #vaporwave, #eccojams and #new age circulated extensively throughout the blogosphere. Essentially, this just means that elevator music is no longer exclusive to elevators. On paper, it sounds kitschy but the music itself, particularly this CFCF remix, is profoundly affecting.
4. Ry & Frank Wiedemann – Howling (Âme Remix)
Âme 's inspired take on "Howling" is a meticulously arranged chill-out epic. The German duo are masters of progression and atmosphere. Not one second of this 8-minute masterpiece sounds unnecessary, every new element builds to a cohesive whole. Dusky yet exhilarating, casual yet precise; this was the best deep house remix of the year, hands down.
3. Tomas Barfod – November Skies (Jerome LOL Remix)
Tomas Barfod's sublime "November Skies" is easily my favourite single of this past year, so, you know I was expecting a lot from Jerome LOL's remix.  I didn't think he would be able to replicate the unrestrained euphoria of the original but he totally did. The organic, jazzy brush percussion, crisp finger snaps and pitch-shifted vocals give "November Skies" a very LOL Boysian (R.I.P.) feel but Barfod's poignant synth stabs are not lost. The final result is nothing short of stunning.
2. Grimes – Genesis (Ryan Hemsworth Remix)
My boy Ryan Hemsworth str8 up killed the remix game in 2012! From his bootleg edit of Frank Ocean's "Thinkin Bout You" to his deep mix of Mikky Ekko's "Pull Me Down", this twenty-something dude from Halifax was on point! I had a tough time deciding which of all his fantastic remixes released this year was the best but eventually, I decided on   his superb hip-hop re-touch of Grimes' "Genesis". There's just something about those flowery synths and incisive left-field trap percussion that keeps bringing me back. Forget all that EDM-trap shit, this is the definitive instrumental hip-hop track of 2012.
1. Jessie Ware – Running (Disclosure Remix)
DUH!!! The fresh-faced lads of Disclosure and their uber-funky remix of Jessie Ware's "Running" was destined for year-end list domination since the moment it was released. Its elastic drum snaps, rolling hi-hats and rippling synths mesh flawlessly with Ware's butter-smooth vocal refrains. There's nothing not to like about this remix, it's perfect for the club, the car, the house party or the iPod earbuds. No human being could possibly resist Disclosure's downright infectious UK funky production and that's a fact. Go ahead, hit play below and see if you can restrain yourself (yeah, that's right, you can't)
totem, signing off.