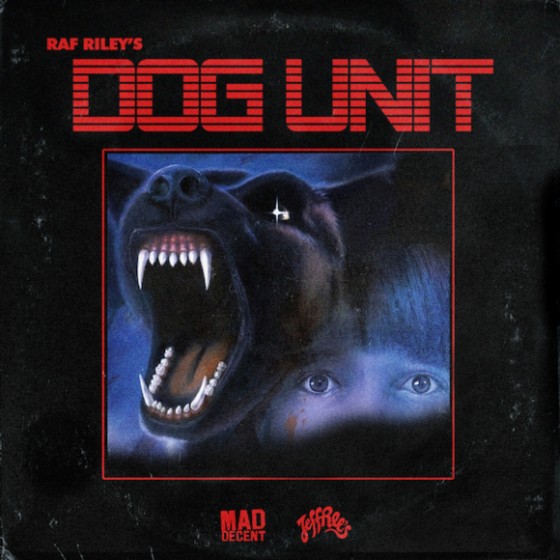 London's Raf Riley has a track record that clearly doesn't have him fitting into any one genre; appropriate, perhaps, that with the new EP Dog Unit on the Jeffree's label — notorious for being wonderfully eccentric in their releases — labels have become even more unnecessary. Upon listening, two things are immediately apparent:
1. The genre is literally listed as 'huh'
2. Everything old is new again and 80's movie soundtracks are here to punch you in the face.
It's difficult to take any one track on the album out of the context, as Dog Unit succeeds best as a single unit, more of a series of movements than a collection of songs. Eleven minutes of a strange, robo-cop horror movie dubstep symphony and there's really no better reaction than to listen to it all over again.
The harpsichord hits that herald the beginning of Dog Unit Part 1 are as good a sign as any that if you're trying to pick out the genre between chip tune, moombahton, or dubstep you're probably just going to give yourself a headache. Halftime beats and rewound cut siren samples turn the opening into a trap track straight out of 90's video game hell, with sharp melody hits that could have been taken straight out of a final fantasy game. It's short but sweet, and concisely heralds the music to come.
If Part 1 was a chase scene than Part 2 is a march; it's probably the most dubstep-esque track on the album and never seems to forget its roots. Chiptune melodies and sound effects carry on throughout build ups and releases of tension, accompanied at times by a more organic piano and some synthesized electric guitar riffs. If you forgot that the EP is named Dog Unit, Part 2 does more than enough to remind you, with entire rhythms created based on dog bark samples.
Despite starting like an Imperial Death March, Part 3 makes use of the most modern-sounding vocal samples with a few scattered voice hits here and there. SNES-era horn sections lend a bass-driven track a royal air, with backing chimes and arpeggiated chords outlining the most cinematic of the three tracks. It's a fitting ending and nicely encapsulates the 'storyline' of the EP.
If you're looking for something off the beaten path, you've come to the wrong place, because this EP is squarely positioned on the moon. Possibly in the future. It's the album you should go to when you're convinced that there's no originality left in music and you have nowhere left to turn but somewhere far away (probably after robots have taken over) where this music may make some sort of sense. But in the meantime, it's a collection of tracks worth listening to (preferably repeatedly) when in need of a good video game synth fix. If this is any sign of the kind of variety that Jeffrees will be giving us in the future, it's safe to say that we won't be bored anytime soon.
You can download Dog Unit for free off of the Jeffrees Webpage or stream it on the Mad Decent Soundcloud