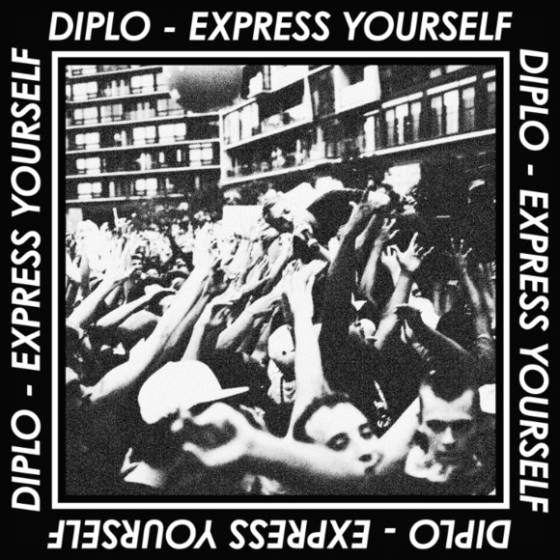 Express Yourself is available on Beatport and iTunes.
The long-awaited 'Express Yourself' EP has been a long time coming; originally scheduled for release before Christmas of 2011, it was pushed back to January for release on the newly minted Jeffrees label, and later to June upon complications with arranging artists and album launch specifics (Diplo himself would later tweet that he had clearly meant Juneuary when he had first said January). In the meantime Wes Pentz has been a busy man, producing for artists and creating hit single after hit single. A solo artist album has been long overdue, and he's taken all the experience he's gained along the way to create an EP that bridges nearly every en vouge genre that's been bubbling through the cracks of the underground in his absence.
The album opens on the title track 'Express Yourself', previously released as the first single off of the album. What hasn't been said about this track? It's a rip roaring exploration into the genre of New Orleans Bounce (which Diplo has done a short youtube expose on in the past) that works to astonishing levels of success. Nicky Da B provides perfectly quick call and response style vocals that skitter over the track like claps rattle off the beat, with a tone not often heard in electronic music. It's fast, it's fun, it's happy. It's got aggressive, persistent claps and trademark percolator bubbling noises that force you not just to dance but to shake, and I dare you to find a more energetic track in the scene today.
The next two tracks are quite similar in tone; both are moombahcore tracks, both feature sultry female vocalists and big-name dubstep producers. However, in collaborations like these it's most interesting to see in which direction the song is taken. Barely Standing is a fairly straightforward (well, as straightforward as Diplo can be, anyway) track that features vocalist Sabi and dubstep big name Datsik. It's the only track that really strives towards employing any overt dubstep influences, and even then it doesn't reach very deeply into the genre. Datsik works best in collaboration and this track is no exception; his trademark robotic noises  are used sparsely, and in their isolation hit far harder than they would when layered. No Problem was originally released as the b side to the Express Yourself single. It's a nice track in its own right; the vocals are deliciously sexy, and as the track breaks down Diplo and Flinch show a great deal of restraint, choosing to create sonic emphasis through muffled, revving bass instead of in-your-face crunches. It's a different sort of aggressive than Barely Standing, yet still manages to hit just as hard.
When the bubbling percolator noises kick in at the start of Move Around, you know that you're in for another genre jump. It's a perfect dancehall track and wouldn't be out of place in a Major Lazer album, complete with strong, organic bass drum hits that give a human element to the song that synthesizers just can't replicate. If there's any one track that'll get everyone moving this is the one. The beat simply screams rolling and winding.
'Butters Theme' is the only straightforward moombahton track on the album, and even then it's just flat out refreshing not to hear any of the wailing sirens that seem to bookend the genre. Sections sound more Middle Eastern than South American in origin, with compressed, whining string sections intermingling with pulsing, incessant bass. In any case, Diplo once again succeeds in finding some of the most hottest-sounding vocalists around, layering them in and around wooden percussion hits. As for the name — well, it's hard to say exactly what it means, as nothing about this track is ugly. Is it a tribute? A sly dig at the term 'butterface'? We may never know for sure.
'Set it Off' is the most unexpectedly mellow track on the album, perhaps harkening back to the recently released mellow sounds of 'Get Free.' Floating, dreamy chords accompanied by modulated vocals frame a laid-back rhythm that's definitely not overly concerned with proving anything to anyone. Bells accompany dance breaks that juxtapose nicely with the airiness of the opening, yet still manage to work together as the two layers later intermingle. It's always clear when an artist steps back and lets the groove that's established in a track do its own thing; it's not pretentious, it's simply letting a song work its own magic once all the parts are in place.
Wes Pentz is nothing if not a master of restraint; he knows exactly the right ways to bring genres together in a format that appeals to nearly anyone who hears his music. Every track on 'Express Yourself' has its own time and place to work magic over the listener. A bubbling beat here, a spastic rhythm there, and anyone and everyone can be motivated to move. It's a solid, well put together EP, and definitely the sort of artist statement you would expect of somebody as eclectic as Diplo. It's got his trademark sounds without slipping too far one way or another and breathes new life into genres which are frankly in dire need of a pick-me-up. Sure, Diplo may be a controversial figure to some, but damn can that man make some music.
Want to know what Diplo is doing in this bubble? Check out our photo review of the Major Lazer performance at EDC Vegas 2012.