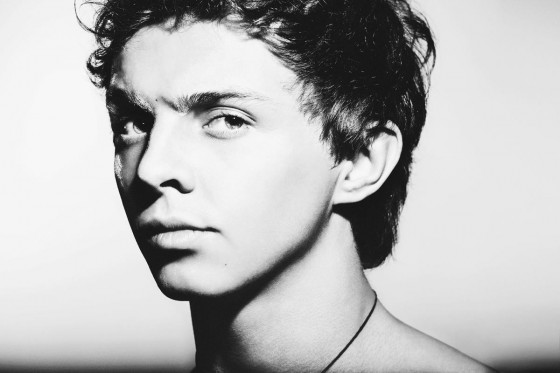 Art on Facebook | Twitter | YouTube | Soundcloud
There is nothing like walking in on two DJs chatting after a performance. At Arty's trailer, Adam K was suggesting that Artem Stolyarov (stage name: Arty) visit his Toronto studio the next time he is in town so they can work on something together. The nonchalant Stolyarov said he was quite busy that day, but offered his email address.
Stolyarov, 22, is a wunderkind of sorts having started as a musician three years ago. He has shared the stage with Armin van Buuren, toured with Avicii and is steadily climbing the world DJ rankings.
"I don't want to put myself above or beyond some DJs," he explains. "There are a lot of talented guys from Russia; it's a market that is growing right now."
While his music has been lumped into three genres: trance, progressive house, electro house, he said his passion right now is progressive house because it makes people dance.
"I started with trance music and I have slowly started to move towards progressive songs," says Stolyarov. "When you are playing it, if people like it, it means you did something right. For me, it's not about a genre; it's about how you feel about a track."
As a teenager, he says he use to listen to a lot of Orbital and Daft Punk and that their albums to this day still inspire him. "There are so many cool ideas on them," he says with a smile. "That's what you need to listen to some days."
As for new artists he enjoys, he says the M Machine's Metropolis Pt. 1 is an amazing release and he is looking forward to his work with Porter Robinson and Axwell finally being released in a few months. In June, Anjunabeats released his song 'Open Space' and he says his remix of Zedd's 'Spectrum' is finished as is the song 'Together We Are' (expected to be released by the end of August).
In terms of videos, he said a vocal version of Kate is nearly ready and will be used for a music video staring his girlfriend who inspired the song. A release date for this is unknown as he's touring all summer.
"I have an upcoming remix that I'm working on that is really big," Stolyarov hints. "It's not a pop artist, but it's my favourite rock band so I'm pretty excited about it."
On his current tour he is playing the unreleased songs every night to gauge the crowd reaction. Narrowing down what he played, it's a good guess that the artist in question is Coldplay.
For a guy who grew up in a small city in Russia, hearing music often involved his computer. "In Russia there are not big shows every week or month," Stolyarov explains. "Madonna came once. Coldplay came once. It's really rare and it's always at the mosque in St. Petersburg. So he did want most teenagers in small towns do, listen to albums over the internet or watch YouTube clips.
A year ago he completed university and said it was a struggle graduating and convincing his parents that being a DJ was a legitimate job.
"I said to them, this is what I like; this is what I want to spend my next 10-15 years doing," he says. "I have a lot of ideas in my head and I need to realize [them]."
His life currently involves the cycle of touring, going back to Russia to see family and finding time to put down song ideas on his laptop while on the move. Earlier this year he performed in Singapore, Argentina, Brazil, Japan, and Cyprus.
"Sometimes when I have a lot of shows I do not sleep well," says Stolyarov as he rubs his eye. It's close to midnight and he admits he only got five hours of sleep last night.
"There is a reason why I travel," he says then pauses, "to see the people and to feel the passion."
Travelling DJs know that they aren't always going to feel well or perform their best, but Stolyarov says he always feels happy once the music starts.
"You have some kind of [emotional] turn when you see people raging on the dance floor."
So enjoy his music, after all it's from Russia with love.
Related Links:
Ottawa Bluesfest – http://ottawabluesfest.ca/
Arty – http://artymusic.net/