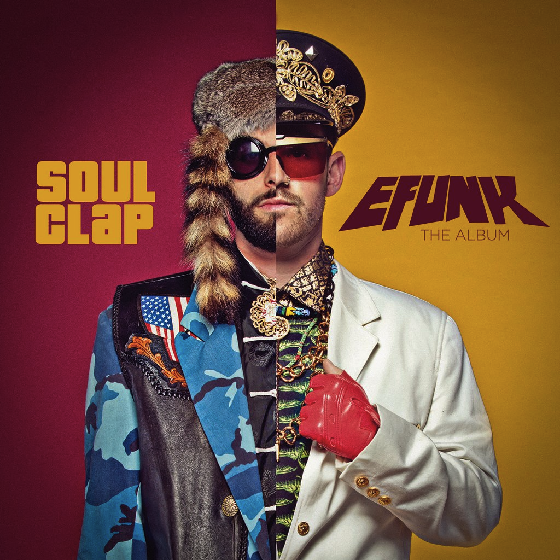 Buy the album here, or get just the singles
Get your booty ready to groove, because the debut record from Boston-based duo Soul Clap is a fun, freaky throwback to 80s-style disco house that would sound right at home playing in the basement of some smoky vice den.
The acronym 'EFUNK,' which stands for "Everybody's Freaky Under Nature's Kingdom," gives you a good idea of what you're in for, and indeed, the album delivers on the promise of groovy soul music infused with modern production sensibilities.
Now, having said that, the album begins innocuously enough, with a spacey musing on the nature of "interplanetary dopeness" before swinging into the chilled beats of 'Take it Slow.'
The next track, a remix of the 80s classic 'The Alezby Inn,' is a bit of a mixed bag — it's a smooth little porn groove that would be perfect music to make love to your old lady to, were it not for the jarring vocals breaking your concentration. It's cheeky, for sure, but in this case it just doesn't seem to come together.
'Let It Go' rights the ship with its funky bass line and synth chords, but for me the album really hits its stride with the one-two punch of 'Let's Groove On' and 'Ecstasy,' with the meandering brass notes of 'When the Soul Claps' to set the mood.
'Let's Groove On' lays down a swinging bass line under freaky keyboards spiced with cowbell and conga drums, and then obligingly winds down for the appropriately named 'Ecstasy,' featuring the voice of Mel Blatt from All Saints. Now we're no longer in chilling at a party mode, we're squarely in getting your sex on territory — at least until 'When the Soul Claps' barges in with a bunch of drunk party girls in tow to start up the dance beats and the tongue-in-cheek vocal samples all over again.
The album rounds out the night with the pair of tracks titled 'Islands in Space' taking you on a cosmic joyride of jazzy string bass and dreamy piano lines.
Despite the fact that some of the vocal samples can be a little too frat-bro to meld well with the general formula, the album as a whole is a welcome shot of retro funk that's guaranteed to get at least one part of your body moving. Which part that might be is all up to you — and hey, we won't judge.
Stream the whole thing here, or listen to the singles in the player below:
Album Tracklist:
Side A:
EFUNK Intro
Take It Slow
The Allezby Inn
Let It Go
When the Soul Claps
Let's Groove On
Ecstasy
Side B:
The Clapping Song
TroubleTroubleTrouble
Walk With a Clap
Need Your Lovin
Islands in Space Part 1
Islands in Space Part 2