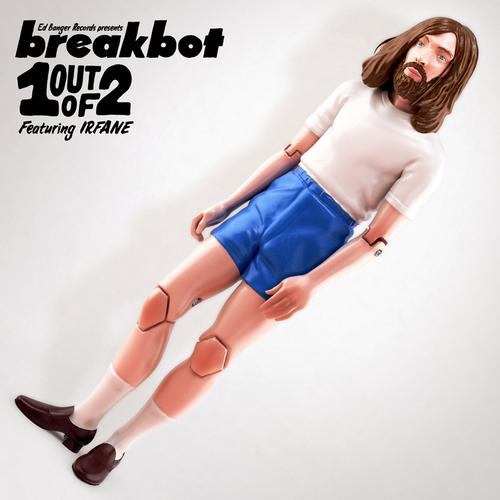 Breakbot's Nu-Disco vibe is infectious. I've yet to find a person who can resist the appeal of songs like "Baby I'm Yours" or "Fantasy".
This latest release from the long-haired Frenchman delivers his signature disco-funk aura, but be warned: not all the remixes on this release are really worth their $2 on Beatport. Here's the link to the album page on Beatport.
First on the EP is the original, "One Out Of Two (feat. Irfane)". Really, this track is just a fantastic song. Catchy, fun, light, funky, different, and just so very Breakbot. I personally adore the violin synth/disco bass combination, and Irfane's vocals really bring out all of the strong points in the production. And there's a guitar solo! All we could hope for now with this track is for a music video that's half as good as that of "Baby I'm Yours". (If you've never seen it, watch it here!!!!!)
The next song is a remix of "One Out Of Two" by Oliver. In my personal opinion, I think it's by far the best remix on the EP. It's also the most similar to the original, maintaining a lot of the disco vibe that makes the original so incredibly appealing. While it still sounds quite similar to Breakbot's original at some points, Oliver make some key changes. They add a lot of depth to the track, with some nicely placed reverb and spacey filter effects. The main difference is that they take a lot of the empty space of the original out, and I think it sounds great.
The next remix is by DJ Sneak, with the tag "Sneak's Dream Dub". Someone somewhere will absolutely love this song, but it doesn't do it for me. It represents a lot of bad stereotypes people have against House music as a genre: repetitive, unimpressive, and too long. Sorry.
[wpaudio url="http://geo-samples.beatport.com/lofi/3541204.LOFI.mp3″ text="Breakbot – One Out Of Two (feat. Irfane) (Sneak's Dream Dub)" dl="true"]
The next track is another Breakbot original, entitled "Programme" (Salacious has a review of this already, here, but this is mine!). It's subtle, clean, and calming, and still lives up to all the standards of production excellence we've come to expect from Breakbot. It's more guitar-centric than "One Out Of Two", and carries a lighter mood. There's a single chord that is playing through the background of probably 75% of the song, which unifies a lot of the soulful melodies and ties together all of the instruments. The synths have a sort of disco glitter to them that adds a lot of texture to the sound, without making it overcomplicated or leaving too heavy of a presence. Very elegant.
The next remix, still of "One Out Of Two", is by Get A Room!. This song is too much for me. I think that the music itself is quite good, but for some unfathomable reason, Get A Room! put a god-awful vocal edit over the otherwise satisfactory remix. It just echoes unintelligible words over the funky bass line, and even by the end of the Beatport sample I couldn't wait for it to be over. The annoying vocal line isn't even in the same key as the synths (that's just sloppy!), and is muttering something about machines. Ugh.
[wpaudio url="http://geo-samples.beatport.com/lofi/3541206.LOFI.mp3″ text="Irfane – One Out Of Two (feat. Irfane) (Get A Room! Remix)" dl="true"]
Next is a Tech House remix by DJ Sneak again. Thankfully, it's much better than his first "dub". He calls it, "Sneak's For The Ladies Club Mix". Whatever floats your boat, Sneak. In any case, the Tech House synth-pad and offbeat hi-hat work pretty well for Irfane's vocals. It isn't excellent, but I see how it could a useful addition to a club DJ's set. Then again, anything would sound good after that last remix.
[wpaudio url="http://geo-samples.beatport.com/lofi/3541207.LOFI.mp3″ text="Breakbot – One Out Of Two (feat. Irfane) (Sneak's For The Ladies Club Mix)" dl="true"]
My final breakdown is this; Breakbot, Irfane, and Oliver: Well done. I think the album on Beatport would be a better value if they omitted the rest, because $10 is a bit too steep for three good songs. But again, Breakbot continues to deliver as a Nu-Disco powerhouse, and I look forward to his full-length album coming in September!