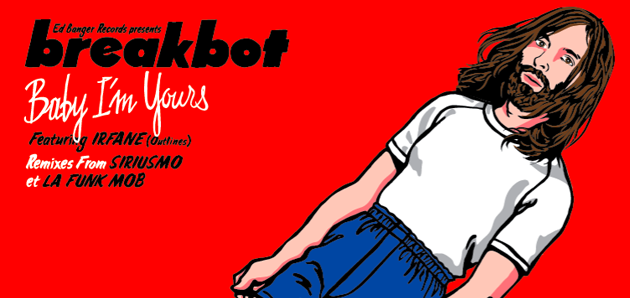 Breakbot is bringing electronic music to an audience that has otherwise dismissed it as repditive noise with little musicality, my father. Ultimately, Breakbot is Pop musi. This isn't Top 50, but it definitely is Pop, Disco, and House all with a beautifully simplistically complex musicallity. Breakbot, Breakbot Breakbot, need I say the name again? This is the music that makes me happy, the music that goes beyond appreciation, the music that keeps me moving, grooving and loving the dancefloor. I can dance alone, I could dance with you, or we could dance in a line moving side to side, back to front, sliding and shaking accross the dancefloor. Sitting here listening to Baby I'm Yours has facilitated this effotless flow of words. Breakbot keeps making my wishes come true, and I understand that this is going to be one of the biggest things to come out of France since Justice. Ever since hearing his Dance on Glass Mix, I have been a fan. Just wait for summer 2010 where dresses and high heels will  move accross a wooden patio as the sun sets to the sweet sound of disco.

I posted his remix of Royksopp a while ago. It was one of those songs that I feel helped provided Breakbot with new ears. Due to the popularity Royksopp's 'Happy Up Here' EP, popularized largely because of Boys Noize's remix of the song, Breakbot's superior remix stole many hearts, and my headphones.
[audio:Royksopp – Happy Up Here (Breakbot Remix).mp3]
This remix of ARROW!!! got a lot of love from other members of the blogorati. Take a listen and see why. Breakbot is one of those artists that will continue to receive uncontested praise from the music blogging community. A refreshing step away from medicrity and imitation, Breakbot is bigger than blogs, and everyone wants to rest upon the shoulders of the mighty.
[audio:ARROW – Does (Breakbot Remix).mp3]
So what promted this post was the song Baby I'm Yours. I found it today while going through my RSS feeds. Too Many Sebastian's posted it up in the tracklist for this Valentine Mixtape. A lot of artists become famous for producing remixes, mixtapes and becoming bigger than their own production. You can't make that argument after hearing Baby I'm Yours. Breakbot is the type of artist from whom you want a full album, of original material, that even Justice would be hard pressed to remix into something better.
[audio:Breakbot – Valentine Mixtape.mp3]
Harvey Scales – Keeps Getting Better
BB and Q Band – It's Over
Cerrone – Look for Love
Dimples D – Sucker DJs
Bumblebee Unlimited – Lady Bug (John Morales Edit)
Prince – I Wanna be Your Lover
[audio:Breakbot – Baby Im yours feat Irfane.mp3]
Breakbot feat Irfane – Baby I'm Yours (Siriusmo Remix)
The Dells – What a Night
Michael Jackson – Johnny Raven
Donna Summer – Bad Girls
Sugarhill Gang – Lover in You
The Escorts – I Can't Stand to See You Cry (Breakbot Edit)
Chic – Funny Bones
Bob Sinclar – Gym Tonic
Second Image – Is It Me
Change – Miracles
Push – My Heart
Blue Magic – Clean Up Your Act
Joe Bataan – Mestizo
The Bombers – Shake
Cheryl lynn – Got to Be Real
Nice and Nasty 3 – The Ultimate Rap
Lew Kirton – Here's My Love (Come and Get it)
Mary Clark – Take Me I'm Yours
Droids – Tchoung Fou