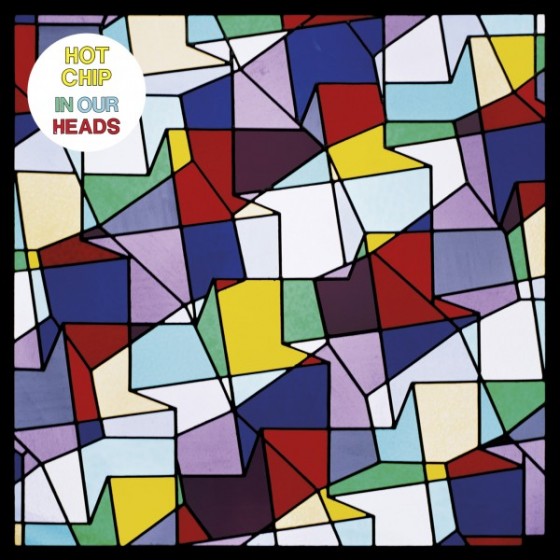 It's groups like Hot Chip that make me optimistic about the current state of the music industry. This week, the London-based septet released their fifth full-length album "In Our Heads" on Domino Recording Co. and let me tell you, it's a beauty. In my opinion, Hot Chip have produced some of the best singles and LP's of the past decade and 'In Our Heads' only solidifies that thought in my head. As many artists (particularly electronic ones) in this day and age are ditching the album format for singles and EPs, Hot Chip continues to perfect the art of the full-length record as well as the single.
'In Our Heads' may not surpass the brilliancy of 2006's "The Warning" or 2008's "Made In the Dark" but it certainly comes close. Hot Chip is one of those rare acts with the vitality it takes to consistently release original and exciting new material. I have to admit, I didn't think Hot Chip could pull it off. Before even listening to 'In Our Heads', many questions regarding Hot Chip's future were eating away at my sanity. However, those doubts and questions immediately evaporated upon listening to 'In Our Heads' for the first time. I was blown away by the inventiveness of tracks like "Motion Sickness", "Don't Deny Your Heart" and "Flutes". Even after all these years Hot Chip still sound fresh and exciting. I don't know about you but I think that's quite a remarkable feat for a group of 12 years whose breakthrough success was released six years ago. Without a moment's hesitation, I can say that 'In Our Heads' is Hot Chip's most mature and unified effort to date.
I don't think there could be a better opener than "Motion Sickness". Organic percussion and a throbbing synth line build anticipation before a funky horn sample followed by a steadfast drum beat emerge. Thereupon, idiosyncratic front-man Alexis Taylor  interjects with the line: "remember when people thought the world was round/everything spins, everything spins on my head". All of this occurs within the first two minutes of 'In Our Heads' but that proves to be more than enough time for Hot Chip to affirm the legitimacy of their return. As "Motion Sickness" flourishes into a whirlwind of rapturous instrumentation, irresistible hooks, witty yet absurd lyrics and groovy rhythms it becomes  clear that Hot Chip have developed into a solid, thriving unit.
If "Made In the Dark" was Hot Chip's "Sgt. Peppers" then 'In Our Heads' is their "Abbey Road". 'Made In the Dark' is a wild, exuberant album full of odd detours whereas, 'In Our Heads' is a mature, focused effort that encompasses a full range of sounds. On "Don't Deny Your Heart" Hot Chip demonstrate how to craft a cheesy 80's disco-pop song and still make it sound modern. Taylor's soothing vocals sound as sharp as ever amidst glitzy synths and Owen Clarke's jerky guitar licks. There's no denying that a significant portion of Hot Chip's music has 80's new-wave/synth-pop written all over it but in Hot Chip's case, that's a good thing. Unlike many other 80's -obsessed bands, Hot Chip do the whole disco/emotionally overwrought piano ballad thing properly. 80's nostalgia is something that they obviously take pride in. Rather than plagiarizing the sounds of the 80's (*cough*chillwave*cough*) Hot Chip unabashedly pay homage to 80's artists like New Order, Soft Cell, and The Art of Noise.
Of course, there is a fine line between paying tribute to your influences and entrenching yourself in derivation; Hot Chip's last album "One Life Stand" favoured the slow-burn Tears for Fears-esque serenades a bit too much for my liking. That being said, Hot Chip have learned to balance the playful, dancefloor-friendly jams with  sensitive synth-pop on 'In Our Heads'. Their ability to go from upbeat nu-disco tracks like 'Don't Deny Your Heart" to sultry, downtempo pop songs like "Look at Where We Are" would make even Gary Numan proud.
The vocal refrain "you got me workin' night and day" from the chorus of lead single "Night & Day" is highly appropriate in lieu of the many side-projects that members of Hot Chip have been at work on recently. Alexis Taylor joined the improvisational project of Charles Hayward About Group in 2009, Joe Goddard tried his hand at solo work as well as forming The 2 Bears with Raf Rundell in 2010, and Al Doyle and Felix Martin released an album as New Build earlier this year. So yeah, they have been working night and day. Actually, the side-projects were a significant source of my scepticism regarding 'In Our Heads' before it was released. I was concerned that their time spent on non-Hot Chip related ventures would affect their synchronicity. Or possibly worse, that they would change their sound altogether.
Obviously, I had no reason to worry because it seems as though the side-projects have had a positive effect on Hot Chip's music. They sound as tight as ever on addictive single "Night & Day" and as inspired as ever on "Flutes". The one-two punch of those two tracks is the focal point of 'In Our Heads' and with the exception of "Ready for the Floor" and "Shake a Fist", Hot Chip's most commanding singles. The video for "Night & Day" (featured above) which includes guest appearances from comedian Reggie Watts, model Lara Stone and actor Terrence Stamp matches the alacrity that permeates through your bones when the chorus takes off. When it comes to singles, Hot Chip don't play around…or do they?
"Flutes" was the first single released from 'In Our Heads' and for good reason. Its chant-like vocal samples, surging electro synths, energized drum pad rhythms, and sheer grandiosity easily make it one of the best tracks on 'In Our Heads'. Hot Chip are not only masters of the single but they are also masters of integration. Any old musician can make a catchy single but fitting it into an album tastefully is where it starts to get tricky. Hot Chip have pulled this off quite successfully on all of their albums and 'In Our Heads' is certainly no exception. The graceful shuffle of "These Chains" acts as the perfect interlude for "Night & Day" and "Flutes" the perfect accompaniment. The final four tracks of 'In Our Heads' are yearning, wide-eyed numbers that work well in juxtaposition with the soaring "Flutes". "Let Me Be Him" actually sounds like a sort of counter-point to "Flutes" with its spiralling melodies and aching vocal refrains. You could complain that the album sort of trails off after "Flutes" but that would be to ignore the true vision of 'In Our Heads'. Hot Chip know that making a cohesive album is an art-form and thus, 'In Our Heads' has been constructed with extreme deft and precision. The album's first half explores Hot Chip's playful side with pit-stops in 80's new-wave splendour. We reach the climax on "Night & Day" and come-down on "Flutes". The final half of the album alleviates the whimsy, focussing on themes of love and loss. "Always Been Your Love" is a contemplative, downtempo tune that closes 'In Our Heads' off quite elegantly.
Indeed, Hot Chip have matured considerably since the days of "Coming on Srong". They've dabbled in quirky electro-funk, danceable indie rock, shimmering disco and soulful synth ballads but never has their sound been as fully realized as it is on 'In Our Heads'. Hot Chip are a rare breed of highly talented, self-aware musicians with a sincere artistic vision that even the snobbiest of music critics has to approve of.
Purchase 'In Our Heads' from the following outlets: