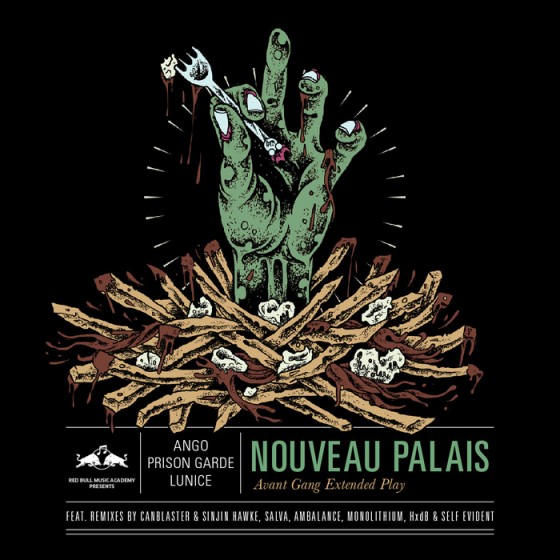 The term "super-group" has a long history of disappointment. In the past forty years alone, there have been dozens of so-called "super-groups" that, to put it nicely, were not so super. However, after scouring Google for lists of the most infamous 'super-groups', it occurred to me that there have been very few unsuccessful electronic 'super-groups'. In fact, the majority of electronic 'super-groups' have met with considerable success. Don't believe me? Think of Swedish House Mafia, (Axwell, Steve Angello and Sebastian Ingrosso) Moderat (Apparat and Modeselektor) or VCMG (Vince Clarke of Depeche Mode, Yazoo, and Erasure and Martin Gore, also of Depeche Mode). Certainly, these three acts can be classified as electronic 'super-groups' that have experienced moderate to substantial acclaim. Thus, it appears to me that electronic 'super-groups' tend not to fall into the same trap as rock or alternative 'super-groups'. For the most part, electronic super-groups are actually quite good.
Enter Nouveau Palais; the collaborative project of Vancouver-based DJ/producer/rapper Vaughn Robert Squire (a.k.a. Prison Garde, Sixtoo, Speakerbruiser Rob & one half of Megasoid) and bass-inclined Montreal producers Lunice and Ango. I hesitate to call Nouveau Palais a super-group only because Prison Garde, Lunice and Ango aren't exactly household names. However, Nouveau Palais is definitely a super-group in a very literal sense, as they are a group and they are quite super.
On the heels of their North American premiere performance last week at MUTEK, Nouveau Palais have released their debut EP 'Avant Gang' for the Red Bull Music Academy. Boasting a 47-minute runtime, including six original tracks and five remixes, 'Avant Gang' is a consistently engaging effort. Oh and did I mention that it's free?!
Right from the get-go, it's obvious that Nouveau Palais have a penchant for hip-hop and R&B just as much as they do for house and bass music.  Opening track "Drama" begins with a pounding 4-on-the-floor house beat and a vocal sample that repeats the track's title. plinky 8-bit-esque synths work their way into the mix along with wah-wah pitch effects, giving the track a nu-disco, by way of house, by way of R&B feel.
Second track "HARDLYTRY" follows in a similar vein with its repetitive vocal refrain and clubby synth stabs but instead of a steady house beat, broken-beat snare claps and whirring juke patterns abound. "HARDLYTRY" is grounded in hip-hop but its polished production is made for the dancefloor.
"Ex Girl" sees Nouveau Palais enter more melodic, spaced-out territory. The vocal sample evokes Drake on helium and although the lyrics are incoherent, I think I can guess the gist of them, considering the title of the song. Stuttering hip-hop rhythms and footwork flourishes are balanced out nicely by twinkling, ambient sound washes, making this one of Avant Gang's more enjoyable tracks.
"She Won't Leave" picks up where "Ex Girl" leaves off; oscillating synths pair with twitchy hi-hat and a hovering bassline. The impassioned vocal refrain: "who's that girl?/she's everything I need/who's that girl?/she won't leave me" invokes a lusty R&B song about a drunken, late-night club encounter.
"To Be" slackens the pace a bit before the astounding closer "Over You". Every album has its missteps and "To Be" is Avant Gang's. The sole mediocre track on the album, "To Be" sounds like a re-hash of tracks one to four.
Closing track "Over You" tops 'Avant Gang' off with subtle poise. The subdued coos of vocalist Bobbi Kay complement NP's lavish production stylings and funky house percussion brilliantly. The track builds to a climax where Kay finally confesses "I'm over you" and fades away, leaving the listener feeling satisfied yet still searching for more.
And 'more' arrives in the form of five respectable remixes contributed by: Salva, Canblaster & Sinjin Hawke, HxdB & Self Evident, Ambalance, and Monolithium. All follow in a similar fashion of house mixed with bass and UK funky. The highlights are Salva's 808 house remix  of  "HARDLYTRY" and Ambalance's groovy, sample-based take on "Drama".
BONUS! Halifax native and rising hip-hop producer Ryan Hemsworth donated a non-album remix of "Drama". Grab it below:
[wpaudio text="Nouveau Palais – Drama (Ryan Hemsworth Remix)" url="http://www.salacioussongs.com/files/Drama (Ryan Hemsworth Remix).mp3″ dl="true"]
Download the Avant Gang EP in its entirety from Red Bull Music Academy