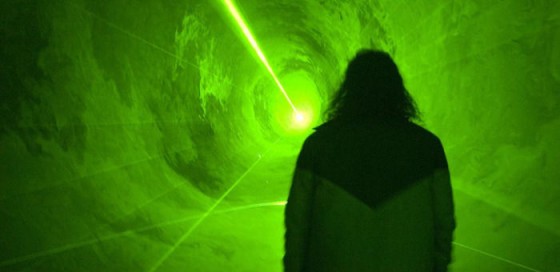 Forget WEMF, Electric Daisy, and Shambahla…Montreal's annual MUTEK Festival is the place to be  for die-hard electronic music fans. In a span of only five days, MUTEK showcases some of the best electronic artists from Canada and all over the globe. Notable additions to this year's festival are rising house producers Nicolas Jaar and Deniz Kurtel along with veteran sound experimenters Keith Fullerton Whitman and Lustmord.
A self-proclaimed "international rendezvous for original and avant-garde programming", MUTEK is certainly not your typical music festival. With the exception of Sunday's MUTEK PIKNIC, all of the performances are held at unique indoor venues throughout Montreal. This year, a ten-screen installation lab site for panoramic performance know as the 'CineChamber' will make its North American debut at the festival. Furthermore, the Quartier des spectacles has been transformed into an "open-air laboratory for the digital arts, with the façades of eight major locations being transformed into canvases for the work of multiple visual artists".
A specialized combination of  rare art, music, and technology is what makes MUTEK stand out amongst other electronic music festivals. The 'MU' in MUTEK stands for mutation, a perfect descriptor of the festival's yearly advancements and transformations. For those of you attending this year's festival, (or those that are simply curious) I have compiled a list of the top ten must-see acts with two for each day. Full steam ahead!
Wednesday, May 30
NOCTURNE 1: Blondes @ the SAT  – Metropolis, 10pm
"Blondes craft enveloping, cosmically smooth melodies, born out of a shrewd mélange of synthesizers, sequencers, and other drum machines. Founding members Zach Steinman and Sam Haar met while studying electroacoustic composition in school, but they officialised their duo during a trip to Berlin, and their music project began taking off upon their return to Brooklyn. Since releasing their first EP, Touched, on Merok Records, they've refined their sound through the release of a trilogy for New York label RVNG. Inspired by their personal experiences, they explore the concept of duality through a number of track pairings: Lover/Hater, Business/Pleasure, and Wine/Water. For their debut album, they added Gold/Amber to their ever-growing list of dichotomies."
A/VISIONS 1: Biosphere & Lustmord present TRINITY @ Monument-National, 8pm
"Two of the world's most inventive orchestra conductors – both working with custom-built instruments and hybrid performers – come together on the MUTEK stage for a singular performance they call Electronic Folkways.  France's Pierre Bastien has built an entire private orchestra made out of Meccano robots, outfitted with traditional music instruments or, on occasion, everyday objects. He records albums and gives concerts with these machines, known collectively as 'Mecanium'. Bastien, who performed at MUTEK in 2006, returns to the festival this year with his orchestra of hybrid, part-digital, part-analog instruments devised by Norway's Espen Sommer Eide (Alog, Phonophani). An Oslo-born multi-instrumentalist, Eide has developed the Concertinome project – a custom-made instrument combining the concertina accordion with the monomer style keyboard – which he's presented at Europe's most prestigious concert halls and venues. Recording for Biophon Records (run by Biosphere, also performing this year), Eide has released a number of records as Phonomani, while also collaborating with noise-guitarist Dag-Are Haugan as part of the ALOG duo."
Thursday, May 31
NOCTURNE 2: Shackleton @ the SAT – Metropolis, 10pm
"[CANADIAN DEBUT]Shackleton belongs to the community of dubsteppers that emerged out of London's FWD>> Club, where many say the scene first began. But Shackleton is a unique dubstepper in that he draws on his intimate knowledge of African culture to shape his music. His tracks are remarkable for their minimal, often industrial-leaning approach to dub aesthetics, qualities which have opened his work to minimal techno masterminds like Ricardo Villalobos, who began dropping Shackleton tracks into his DJ sets last year and recently remixed Blood On Your Hands into an 18-minute minimal epic. Shackleton began releasing singles in 2004 and quickly moved on to start his own label, Skull Disco, which draws its name from the rituals of a tribe in Cameroon. After a half-dozen singles on Skull Disco, Shackleton has gained a reputation for reactionary politics and a morbid sense of humour (track titles include Soundboy's Nuts Get Ground Up Proper, I Want to Eat You, Hamas Rules, Soundboy's Ashes Get Chopped Up and Snorted, etc), as well as their compulsive beatscapes."
NOCTURNE 2: Shlohmo @ Red Bull Music Academy Stage – SAT, 10pm
"Henry Laufer, better known by his Shlohmo moniker, is a young Los Angeles-based artist whose star has been rapidly ascending thanks to the release of his record Bad Vibes (2011) on Friends of Friends. Gravitating to the same mystical realms initiated by Flying Lotus, Shlohmo produces unsettled emotional soundscapes of abstract hip-hop and trip-hop. His latest effort, Vacation EP, continues to develop on his splintered musical template while casting a more polished, less distorted light on the future. To mark the EP's release, Shlohmo got the remix treatment courtesy of Nicolas Jaar, Teebs, and Airhead, among others. MUTEK is proud to welcome him to the festival for the first time."
Friday, June 1
NOCTURNE 3: Deniz Kurtel @ the SAT – Metropolis, 10pm
"Multidisciplinary artist Deniz Kurtel has been cultivating her penchant for electronic sonorities since her school days. Presented as part of the Wolf+Lamb Experience Tour, as well as at Burning Man and Communikey, her impressive computer-programmed, LED light sculptures allowed her to quickly establish herself in New York's experimental art scene. Music-wise, she produces deep, hypnotic, refined house cuts, largely inspired by her association with Wolf+Lamb. After drawing the attention of Damian Lazarus, her first record Music Watching Over Me was released on Crosstown Rebels in March 2011. One month later, her mug graced the cover of DJ Mag with the caption "the new queen of house". 
NOCTURNE 3: Nicolas Jaar @ the SAT – Metropolis, 10pm
"Since his first visit to MUTEK in 2009, Nicolas Jaar has met with resounding success on the international stage. Born in New York but of Chilean heritage, Nicolas Jaar was brought up between Soho and Santiago, where he played his first scales on the piano. At 17 years old, he released his first tracks on Wolf + Lamb, Circus Company and finally, on his own label, Clown and Sunset. He quickly garnered praise for the sensitivity and refinement of his output. In 2011, he issued his Space Is Only Noise, his widely acclaimed debut album, a work that relishes in a slow-moving journey to navigate some troubled waters. The record delivers on dreamy, melancholy melodies akin to Erik Satie and turn-of-the-century electronic poetry. Since then, the young artist's musical maturity has made headways around the world. MUTEK has welcomed Nicolas Jaar more than once, in Montreal, Chile, and Spain. This year, he comes to us with full band to present a live performance."
Saturday, June 2
A/VISIONS 4: Tim Hecker & Stephen O'Malley @ St. James Church, 8pm
"For MUTEK 2012, Montreal ambient producer Tim Hecker himself reached out to programmers to suggest an unprecedented performance with guitarist Stephen O'Malley, of mythical band Sunn O))), using the organ at St-James United Church, a monument in the heart of downtown Montreal. These leading lights of sonic architecture will each perform independently, meeting along the way for improvisational passages as a duo. A festival favourite, Hecker currently stands at the forefront of ambient and experimental music, his international renown having grown steadily over the years. Beginning in 1996 under the Jetone moniker, early on he moved to working on increasingly complex compositions under his own name, melding dissonance, noise, and melody into a unique signature. He has released many albums on the Substractif, Mille Plateaux, Alien8 and Kranky labels. The latest, Ravedeath, 1972, released last year, is nominated for a Juno Award in the Electronic Album of the Year category."
NOCTURNE 4: Keith Fullerton Whitman @ the Satosphere, Metropolis, 10pm
"Boston-based producer Keith Fullerton Whitman has spent the past two decades exploring the many faces of electronic composition, often delving fearlessly back as far as the mid-20th century to find inspiration in the likes of Karlhein Stockhausen, Steve Reich, and other pioneers of the genre.  He began his production career as Hrvatski, focussing on the breakcore and drill n' bass ends of the spectrum, but by the early 2000's his music had grown significantly quieter and more disciplined. 2005 album Multiples, his third for American label Kranky was heralded as a high watermark for its incorporation of academic precision and haunting instrumentation, and ever since Whitman's reputation has continued to grow with releases on Kranky, Carpark, Digitalis, and Editions Mego. Generators, his latest album, was released earlier this year on Editions Mego. He runs the Mimaroglu Music Sales boutique, the Entschuldigen label, and the Reckankomplex studio. For MUTEK, he'll perform a multi-channel piece for modular synthesizer incorporating analogue video feedback."
Sunday, June 3
MUTEK//PIKNIC: Valentin Stip @ Parc Jean-Drapeau, 2pm
"A trained pianist who grew up playing Rachmaninov and Mozart, Valentin Stip was recently turned on to the compositional possibilities of computers, and in doing so, to electronic music. Having moved to Montreal two years ago, he signed his first EP, Anytime Will Do, in spring 2011 on Nicolas Jaar's imprint Clown & Sunset. His musical output doesn't rush to the finish line, embracing space while crafting woolly atmospheres. After a summer tour that will take him to New York, London, and Berlin, he'll premiere his latest collaborative project later this year."
MUTEK//PIKNIC: Wolf + Lamb @ Parc Jean-Drapeau, 2pm
"Wearing an assortment of hats comes easy to Zev Eisenberg and Gadi Mizrahi: label heads, producers, DJs, and party promoters operating under the Wolf+Lamb banner. Since making a name for themselves with their legendary underground bashes at New York's Marcy Hotel, the duo has opened a club, begun producing their own sultry house grooves, and founded their acclaimed leftfield imprint, easily one of the most buzzed-about labels in the electronic arena. Part of a new generation of exciting, in-demand American producers, their W+L stable of artists (Deniz Kurtel, Nicolas Jaar, Soul Clap, Tanner Ross) churns out an uninterrupted stream of forward-thinking house, techno, and disco gems, while the label maestros pack up their funky, wandering bass lines to headline events around the globe." 
All quotes via www.mutek.org