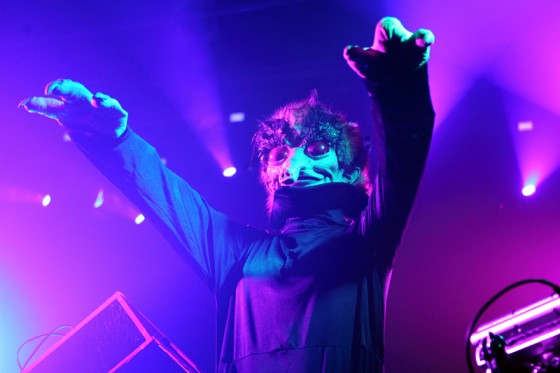 My recollection of M83's sold-out performance at the Sound Academy this past Sunday is somewhat of a hazy blur, thanks in part to a wisdom teeth operation I underwent the day after. Admittedly, I can't remember much of what happened yesterday (other than drinking half of a chocloate milkshake from McDonald's) however, I couldn't possibly forget the euphoric rush that surged through my body as Anthony Gonzalez and co. dove into the sublime opener "Intro". Although Zola Jesus was not present to deliver her howling vocals, Morgan Kibby (whom also has a fantastic solo project called White Sea) astounded with her flawless rendition of Zola's eerie croons. For a minute there, I was convinced that Zola in fact, had made a guest appearance.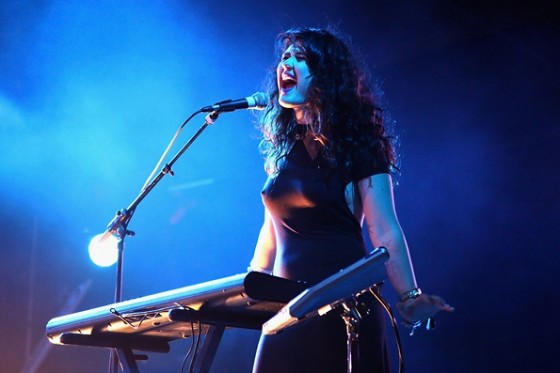 After the rousing 'Intro', the euro synth-poppers didn't waste any time, immediately launching into their enchanting classic "Teen Angst". As soon as those arpeggiated synth tones hit my eardrums, I was overcome by a wave of nostalgia. M83's music has a very wistful and nostalgic feel to begin with but every time I hear "Teen Angst" or for that matter, anything off of "Dead Cities, Red Seas & Lost Ghosts"  my thoughts instantly harken back to March of 2010,  where I'm staring out of a bus window at the Autobahn highway, snow lightly falling, and nothing but M83 echoing through my headphones. There's just something about their gauzy, dream-like sound that really strikes me emotionally. I just can't help but swoon over the heartfelt sincerity of Gonzalez's lyrics mixed with his exultant synths, the cascading guitar riffs of Jordan Lawlor, Kibby's gorgeous incantations and Loïc Maurin's reverberating percussion. To see them live was truly a revelatory experience.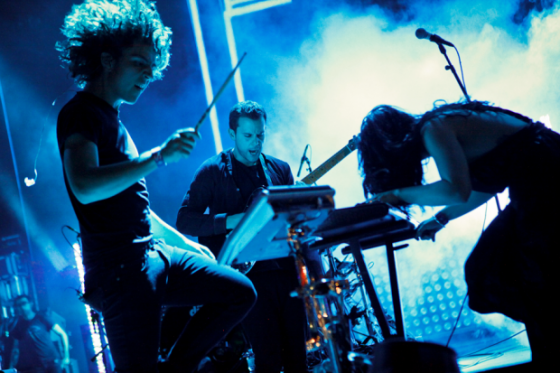 The only thing that I found disappointing about this show was its runtime. M83 blasted through their set in just about an hour (including the encore). It really was quite a condensed show with the opener, Swedish M83 sound-alikes I Break Horses playing for only about half an hour and M83 themselves playing from about 10:00 to 11:15. However, I didn't mind it too much considering that they managed to concentrate the majority of their crowd-pleasers into just one hour. They played basically everything I was hoping they would from "Graveyard Girl" to "Steve McQueen" to "Skin of the Night". The only songs I thought they snubbed were "Unrecorded" off of 2003's "Dead Cities, Red Seas & Lost Ghosts" and "Kim & Jessie" but overall, their set-list was quite satisfying.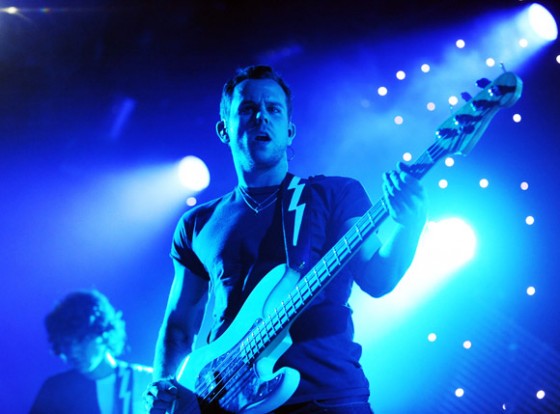 What really astonished me about M83 was their versatility. Gonzalez, being the musical mastermind that he is, effortlessly transitioned from bass, to guitar, to synths, and back to bass, all the while cooing breathy lullabies. Morgan Kibby manned keyboard and synths while belting gorgeous vocals and whoa-oh-oh's. Lawlor played his part impeccably, thrashing about with his curly mop of hair and black skinny's stopping only to pummel the drum machine now and then . Being a drummer myself, I was thoroughly impressed with Loïc Maurin's spot-on fills and downright thunderous beats. Live, M83's sound is very tight and a number of the songs they played ("Reunion","Wait", "Midnight City") sounded almost exactly the same as the studio recordings. This proved to me that M83 are technically skilled musicians but what I really wanted to hear was some variation. Sure enough, on "We Own the Sky" Maurin threw in a new drum beat and they added an atmospheric segue into "Steve McQueen". Sure, it wasn't total improvisation but it showed that M83 are capable of manipulating their sound in a live setting.
As expected, the song that sent the crowd into a frenzy was hit single "Midnight City". If you weren't there, you can watch the mediocre quality fan-shot video above. It was certainly one of the highlights of the night but I was surprised that they didn't save it for the encore. In any case, I was actually glad that they didn't; instead they happened to play two of my favourite tracks off of "Saturdays = Youth" for the encore: "Skin of the Night" and "Couleurs".  "Skin of the Night's" spacey drum pads and seraphic vocals of Gonzalez and Kibby enveloped the crowd in a meditative reverie before propelling into the rapturous 8 and a half minute dance number "Couleurs". Almost entirely instrumental and one of M83's clubbier tracks, "Couleurs" was a perfect song to cap the night off. Swaying and nodding along to the four-on-the floor beat, flaring guitar, and star-like synths, I felt as if I was drifting off into a narcotic haze. Hmmm…sounds familiar.
Full Setlist:
Intro
Teen Angst
Graveyard Girl
Reunion
Sitting
Year One, One UFO
We Own The Sky
Steve McQueen
Wait
Fall (Daft Punk Cover)
This Bright Flash
Midnight City
A Guitar And A Heart
Encore:
Skin Of The Night
Couleurs