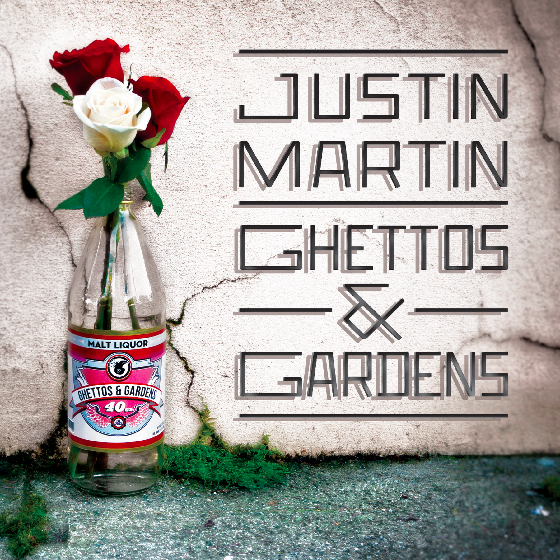 Bay Area native Justin Martin's debut album, appropriately titled 'Ghettos and Gardens,' is an elegant offering that flips effortlessly between melodic, acoustic electronica, full-bodied bass-driven grooves, and heart-pounding drops. It's the kind of album that conjures images of colorful flowers in sunlight — and then darkness slams down and the flowers become lit neon and start pulsing in time to the music. This particular balancing act can be tricky, but Martin pulls it off by sticking to a graceful minimalism that has you nodding along even as you mentally kick back.
The opening track, 'Hood Rich,' begins with a brief rap interlude promising plenty of booty-shaking before veering off in a completely different direction, interlacing soaring strings and lush harmonies with pulsing basslines and intricate synths. This particular song is a good example of how the day-and-night shifts between disparate sounds seems to evolve organically instead of seeming forced.  There's even some castanets thrown in for good measure.
Following on its heels is the more sprightly and laid-back 'Don't Go,' more of a casual suggestion than an exhortation, where the pulsing of the bass is tempered by the acoustic flavor of woodwind instruments and harps.
The album's title track meanders through some rich chords as it builds slowly towards the big wobbly bass that drives the rest of the song.  'Butterflies' features flittering synth arpeggios over a square dance beat and funky bassline. The Goldie remix 'Kemistry' intersperses complex tones with spacey blips and a grooving chromatic bass. Other notable tracks include 'Molokini', with its graceful filtered harmonies and cricket noises, 'The Gurner,' with its touch of brass, and 'Ladybug,' a nimble yet daydreamy slow jam. The entire album is beautifully evocative and has a kind of sparseness which works well with the material — even the heavy parts have a languid elegance about them.
Overall, it's a very promising debut indeed. Grab it over at beatport.