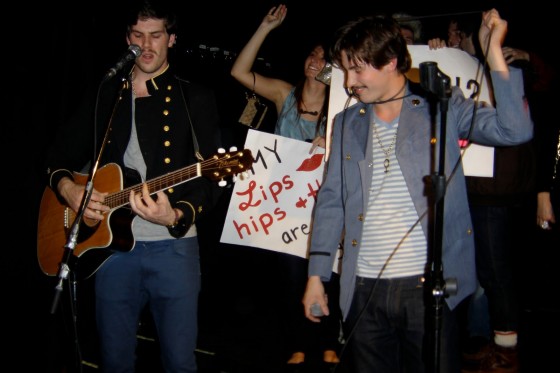 The Wheel Wells are back with another track, this time it's an edit that they made for their live sets.  They take the classic Daft Punk song 'Something About Us' and spice it up by adding the catchy vocals of LA producer/songwriter Goldroom.
As you might know, Goldroom (aka Josh Legg) was in Toronto to play Mansion's Pop Kult party, which was a great time all around.  Rumour has it that after the show, he went over to the Wheel Wells place for an after party and put this song on.  If you haven't heard Josh's new song 'Fifteen', I recommend you check that out.  Pitchfork and HypeM both seem to think it's worthy.
Now on to the Wheel Wells. These guys have been ripping up the Toronto scene lately. If you haven't made it out to one of their shows, I would highly recommend doing so.  They are the Friday night residents at Czehoski and the Saturday night residents at Wrongbar.  Both places have been known to get crazy.
Here are a few upcoming Wheel Wells shows that I would recommend hitting:
May 18th they are bringing San Francisco producer Viceroy to Czehoski to play with them
May 19th w/ Juan Maclean @ Wrongbar
May 26th w/ Lindstrom @ Wrongbar
June 9th w/ The Magician and Plastic Plates @ Wrongbar for Pyramid Club
Word has it that they have a new original that will be out in a few weeks.  Definitely look forward to this one.
[wpaudio dl="true" url="http://www.salacioussongs.com/files/Something-About-Us-Wheel-Wells-Angeles-Edit.mp3″ text="Goldroom vs Daft Punk – Something About Us (Wheel Wells Angeles Edit)"]