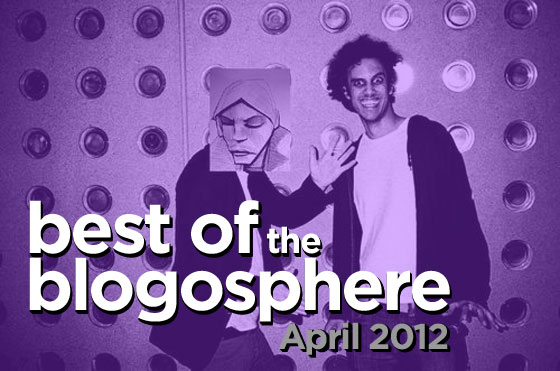 Sometimes it's hard picking my standout track of the month. In March there were several that might have been in contention for the April 2012 edition of The Best of the Music Blogosphere.
Notably, Diplo just about took the top spot two months in a row, this month for his collab with Nicky Da B (last month his collab with Usher was the top pick).
Also, Torro Torro's tremendous BBC-Radio-1-rinsed remix of super-hot-Dim-Mak-up-and-comer Clockwork's 'Squad Up', The Magician's take on Sam Sparro's latest, and pretty much everything Gigamesh did in the last four weeks were strong showings.
But in the end, it really wasn't difficult choosing the top pick. Burial and Four Tet's new collaboration Nova stands above just about everything I've heard this year.
Hope you guys enjoy this edition as much as I did!
As usual, anything that is offered here as a free download is also available for free download from the artist or label, and anything that's for sale we can not offer as a download.
Standout track of the month
Burial + Four Tet – Nova
Top three disco releases
[wpaudio dl="true" text="Foster The People – Pumped Up Kicks (Gigamesh Remix)" url="http://www.salacioussongs.com/files/Foster The People – Pumped Up Kicks (Gigamesh Remix).mp3″]
Sam Sparro – Happiness (The Magician Remix)
[wpaudio dl="true" text="Housse De Racket – Chateau (Hey Champ Remix)" url="http://www.salacioussongs.com/files/Housse De Racket – Chateau (Hey Champ Remix).mp3″]
Top three moombahton releases
Clockwork – Squad Up (Torro Torro Remix)
Diplo ft Nicky Da B – Express Yourself
[wpaudio dl="true" text="Dooze Jackers – Katenya" url="http://www.salacioussongs.com/files/Dooze Jackers – Katenya.mp3″]
Mashups
[wpaudio dl="true" text="Adele vs Daft Punk – Something About The Fire (Carlos Serrano Mix)" url="http://www.salacioussongs.com/files/Adele vs Daft Punk – Something About The Fire (Carlos Serrano Mix).mp3″]
[wpaudio dl="true" text="The Hood Internet – Whats My Noise (Snoop Dogg vs Dillon Francis + Kill The Noise)" url="http://www.salacioussongs.com/files/The Hood Internet – Whats My Noise (Snoop Dogg vs Dillon Francis + Kill The Noise).mp3″]
Remixes
[wpaudio dl="true" text="Guinevere – Crazy Crazy (No Big Deal Remix)" url="http://www.salacioussongs.com/files/Guinevere – Crazy Crazy (No Big Deal Remix).mp3″]
[wpaudio dl="true" text="Dr. Dre – Still D.R.E (Shatterhors Refix)" url="http://www.salacioussongs.com/files/Dr. Dre – Still D.R.E (Shatterhors Refix).mp3″]
[wpaudio dl="true" text="Lana Del Rey – Video Games (Joris Voorn Edit)" url="http://www.salacioussongs.com/files/Lana Del Rey – Video Games (Joris Voorn Edit).mp3″]
The xx – Shelter (Beat Culture Remix)
[wpaudio dl="true" text="Bronze Whale – Everything To Me (Bronze Whale Remix)" url="http://www.salacioussongs.com/files/Bronze Whale – Everything To Me (Bronze Whale Remix).mp3″]
[wpaudio dl="true" text="Calvin Harris ft Kelis – Bounce (Keljet Remix)" url="http://www.salacioussongs.com/files/Calvin Harris ft Kelis – Bounce (Keljet Remix).mp3″]
[wpaudio dl="true" text="Gotye – Someone I Used To Know (Brass Knuckles Remix)" url="http://www.salacioussongs.com/files/Gotye – Someone I Used To Know (Brass Knuckles Remix).mp3″]
[wpaudio dl="true" text="Grouplove – Tongue Tied (Gigamesh Remix)" url="http://www.salacioussongs.com/files/Grouplove – Tongue Tied (Gigamesh Remix).mp3″]
[wpaudio dl="true" text="Lana Del Rey – Radio (Love Thy Brother Remix)" url="http://www.salacioussongs.com/files/Lana Del Rey – Radio (Love Thy Brother Remix).mp3″]
[wpaudio dl="true" text="Michael Jackson – Maria (Hype Jones Remix)" url="http://www.salacioussongs.com/files/Michael Jackson – Maria (Hype Jones Remix).mp3″]
[wpaudio dl="true" text="Missy Elliot – Work It (Cheapshot Remix)" url="http://www.salacioussongs.com/files/Missy Elliot – Work It (Cheapshot Remix).mp3″]
[wpaudio dl="true" text="Noah + The Whale – Life Is Life (Yuksek Remix)" url="http://www.salacioussongs.com/files/Noah + The Whale – Life Is Life (Yuksek Remix).mp3″]
[wpaudio dl="true" text="The Ting Tings – Hang It Up (Banana Dynamite Remix)" url="http://www.salacioussongs.com/files/The Ting Tings – Hang It Up (Banana Dynamite Remix).mp3″]